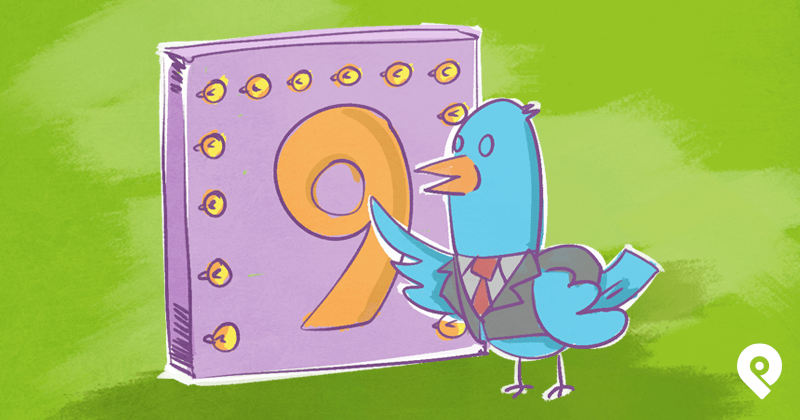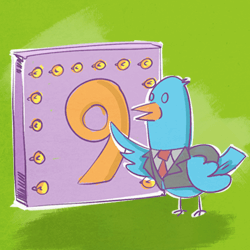 Think you understand how Twitter works?
You probably do.
For many people, not a day goes by that they don't tweet what they had for breakfast, or retweet the latest political or celebrity scandal.
As a user you may have it all down pat...
...But as a marketer, you need to know how to get a piece of the action and get a mention.
You need to know it inside and out, and that includes the features that can make life a lot easier for you.
Here are 9 Twitter features many marketers (and most users) don't know about Twitter.
9 Twitter Features That Will Make You a Marketing Star
1. Keyboard Shortcuts
As a marketer, you probably work from a computer rather than your phone or tablet.
Twitter has a bunch of keyboard shortcuts to help you easily manage your account.
Each one could save you just a couple of seconds...
...But those seconds can add up to a significant amount of time if you use them often.
Below is a list you can use as a reference (PC users) after hitting (?) to get started: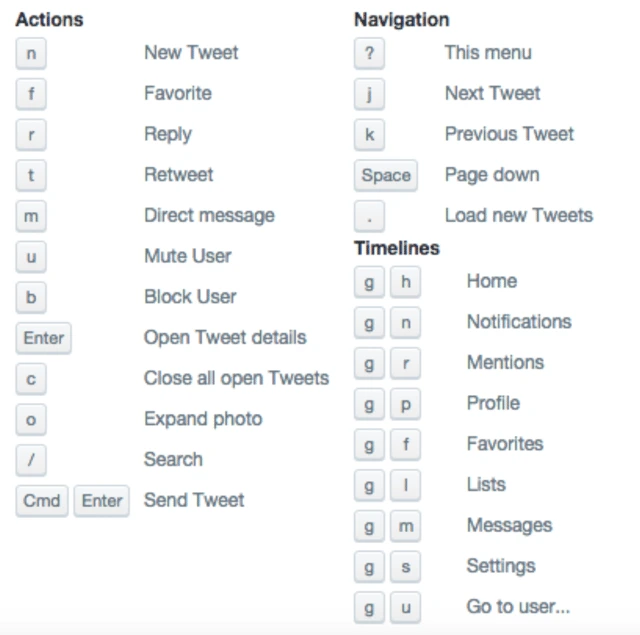 Source: Huffington Post
Note: These shortcuts only work on the Twitter home screen, and may not work if you access your account from a third party app.
For Mac users: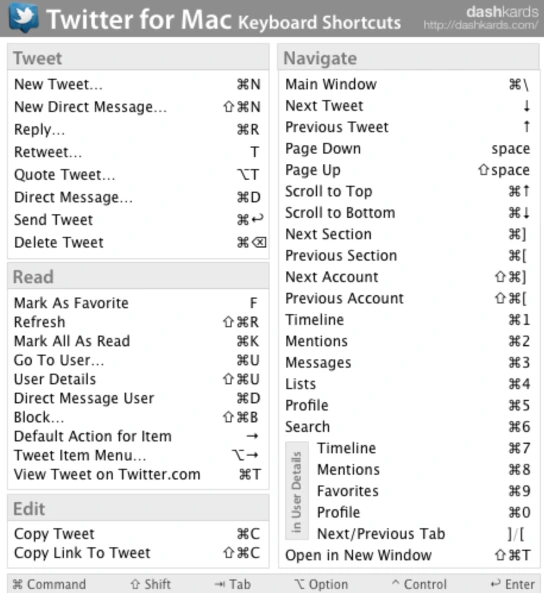 Source: Dashkards
2. Pin a Tweet Permanently
Twitter is a great marketing tool for any business, big or small...
...And that's why it's so important to have a perfect Twitter profile.
The good news is Twitter allows you to pin one tweet permanently on your profile.
The purpose of doing this is to highlight a particular tweet so that you can promote it more effectively.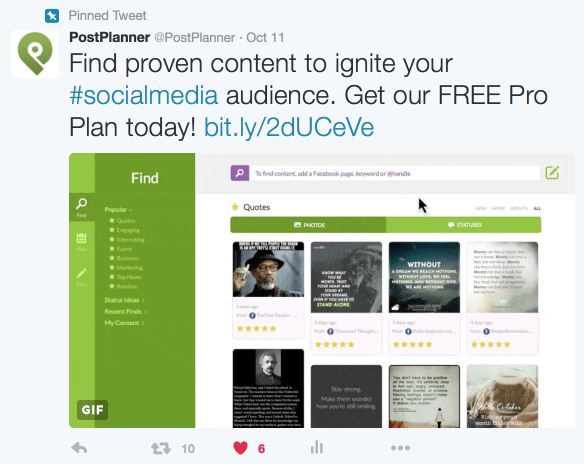 Just log in to your account and choose a tweet you want to pin. Click (or tap when on the mobile app) on the menu symbol at the bottom right of the tweet.
Now choose "Pin to your profile page" (or "Pin to your profile" on mobile).
That tweet will be on your profile page until you change it.
3. Attach Up To 4 Images in a Tweet
Adding images to your tweets can drive engagement by more than 300% and it makes sense to put in relevant photos to go with your message.
However, did you know that you can put as many as four images in a tweet?
But that's not all!
You can also tag as many as 10 people for each photo, quadrupling your exposure without using up your 140-character count.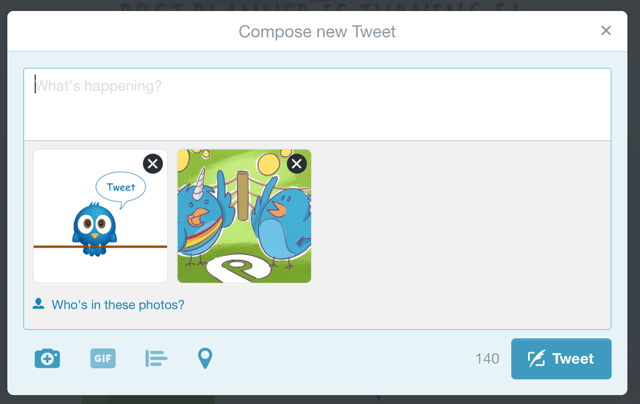 Note: While you can attach up to 4 images to a tweet, you can only attach one animated gif.
You can attach images to your tweet through: the Twitter app on your iOS or Android mobile phone, your computer on Twitter.com, or a third party app.
The importance of images in a tweet cannot be overstressed...
...And don't forget that images can help you extend your message without going over the 140 character limit.
But you have to make sure that the images are relevant and add value to your brand message. Adding images just for the sake of it isn't going to give you the results you expect.
4. Use IFTTT to Add a User to Your List
Did you know that you can add users to your list using IFTTT?
Simply connect your Twitter account to IFTTT and you can automatically add users by specifying an action.
If This Then That is a handy free service for automating repetitive tasks through the creation of "recipes"...
...Thus saving you from doing them manually.
For example, if a Twitter user mentions you, your company, or brand, you can use your IFTTT account to create a recipe.
Here's what it can state: "IF you get a new mention in Twitter, THEN add user to the list for" to a specific account.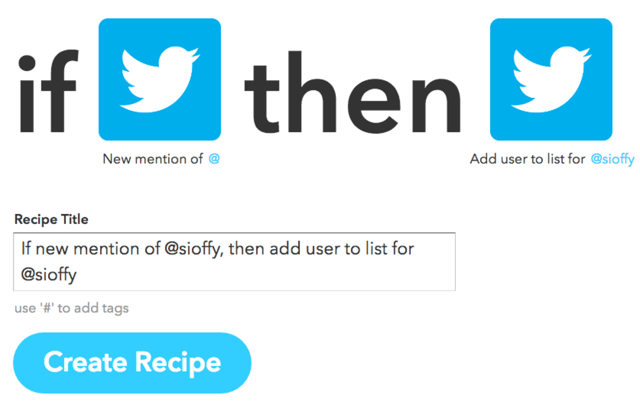 If you are handling several social media accounts, this kind of automation can save you some serious time ...
... AND prevent you from missing out on anything.
This is one third-party app that kicks it.
5. Advanced Search
You can also use Twitter's Advanced Search feature to get ahead of your competition if you know the search terms. You can:
Find tweets originating in your locality
Track brand mentions
Do in-depth research
Find out how people feel
See interactions between your account and other accounts
Save previous searches
Keep up with the news
Follow the right people
Advanced Search is only available on the web app.
To access it, type a keyword in the search window, click on "More options," and choose "Advanced Search." Fill in the fields you want and click "Search." Voila!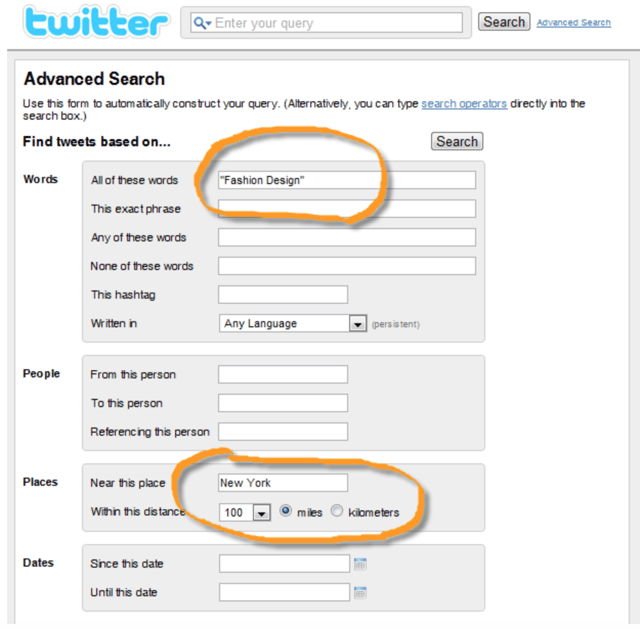 6. Customize Tweet Alerts
Chances are, you deal with a large number of tweets on a daily basis, so you may miss out on important ones over lunch.
If you want to track tweets from certain people or companies, you can customize your Twitter account to send you SMS notifications when a new tweet is posted.
This way, you won't miss it.
For example, if you want Hugh Jackman to get interested in your brand, you need to know what interests him.
You can do that by setting up a tweet alert on his account.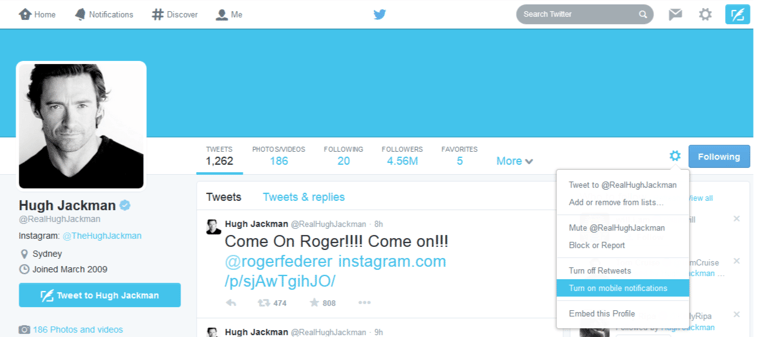 Setting up alerts for specific users is as simple as pie.
All you have to do is log in to your Twitter account, go to the user profile you want to follow, and click on the button next to the "Following" button.
Select "Turn on mobile notifications," at which point Twitter will ask you to "Set up phone." Follow the online instructions, and you're set.
Note: Not all mobile carriers are supported by Twitter. If your carrier is one of those out in the cold, you will not be able to use this feature.
So, find out if you need to switch carriers anytime soon!
7. Create Twitter Moments
Previously, this features was only available to select organizations and influencers, but not anymore.
Today, anyone can create Moments on the web or mobile app.
Twitter Moments is an RSS feed of anything happening on Twitter that's important to you, as it is happening.
It is a great time-saver in that it keep you updated on everything without any additional effort on your part.
You can also create a story for your brand using Moments, and share it easily as a curated post.
To create Twitter Moments, log into your account. Click on the Moments (lightning bolt) tab on your profile page. Select "Create new Moment."
Give it a title (up to 75 characters), add a description up to 250 characters (important if you plan to share it), and then add tweets.
You can do this from the "Add Tweets to your Moment" you will find at the bottom of the page, and choose from:
Tweets I've Liked
Tweets by account
Tweet link
Tweet search
When you're done choosing tweets, tap on "Set cover" to choose an image from a tweet or from an uploaded image on your computer.
When you are satisfied with your Moment, click on Publish.
If you want to refine it further, click on "Finish later" to save the draft and avoid doing it from scratch.
You can also create a new Moment or add to a draft from a tweet by selecting the More (three dots) button and "New Moment"or from among any drafts from the drop down menu.

8. Download All Tweets
This Twitter feature is particularly useful for documenting your activities on Twitter in one place.
But why would you want to do that?
It could be simply to keep a record, to access tweets you want to repurpose or review.
The process to get to your tweet archive is quite simple...
... Go to Settings > Your Twitter data. Enter your password and click "Confirm."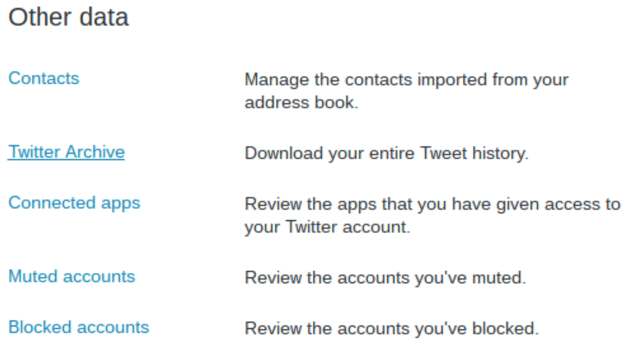 Scroll down and click on "Twitter Archive," then "Request your archive."
You will get a notification that a link was sent to your email. When you get it, click on "Download now."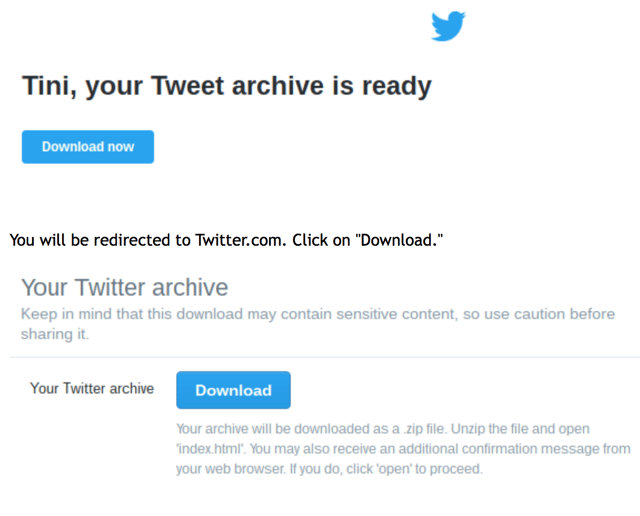 You will be redirected to Twitter.com. Click on "Download."
You will receive a .zip file. When you open it, double click "index" or "tweets.csv." You can also export the JSON file by double-clicking the "data" folder, and then the "js" folder.
However, that's for developers, so you might want to stick with the index or csv options.
You will be amazed at how easy it is to use the archive for all your needs.
9. Power Twitter Extensions for Chrome
For the regular user, the basic Twitter features keeps the wheels turning smoothly.
But that doesn't mean there is no room for improvement...
...Especially for a business owner and marketing professional.
Third party apps do fill in some of the gaps, but you might also want to consider browser extensions.
You don't have to install any additional software to get extra functions if you know what extensions are available on your browser.
It's no secret that Google Chrome is the most popular browser in the world. It has 57.1% of the market share as of September 2016.
That's why it's obvious that Chrome extensions are some of the most powerful around.
There are a lot of Chrome extensions available, but some are better than others.
They can save you time while sharing webpages, retweeting from Twitter.com, or reading your own Twitter stream.
Most website owners have bowed down to the inevitable and typically include social media sharing buttons on all their pages.
If you want to share a page on your Twitter account, you can simply click the Twitter button.
The problem is there are many variations of locations and even appearance, so you might have to hunt around for it.
The buttons provided by the website owner link to the native Twitter site...
... This means you can't use your bit.ly account or choose the text that goes with the link you want to share.
With Tweet This Page, you will always find the Twitter button on the right side of the site address bar.
The extension also lets you specify the anchor text for the link and choose to use a personal bit.ly account if you want.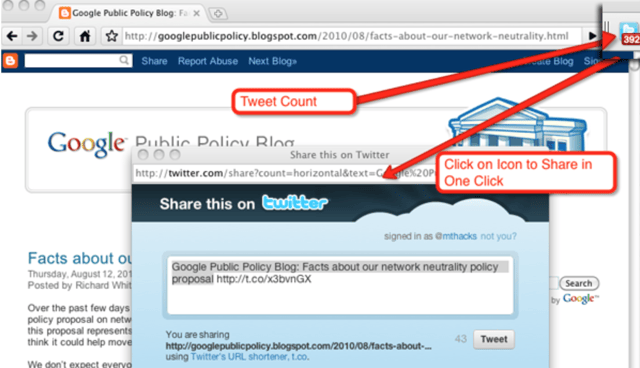 It's a simple and easy extension to use for one-click sharing of any webpage you want on your Twitter account.
Available in all the top browsers, this extension makes your Twitter emails and notifications a lot more informative.
It also works for Facebook, Instagram, Pinterest, and so on.
Instead of simply telling you that you have a new follower, it provides you with a summary of that new follower's bio.
It shows their number of tweets, following, and followers, as well as a rundown of who he or she is following.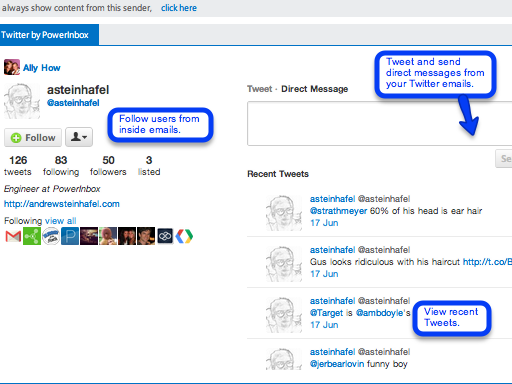 This gives you enough information to decide on whether you want to follow back and send a tweet...
... And to do so within the email alert.
You can also reply, retweet, favorite tweets, and view your stream in other types of emails.
While in Chrome, you can turn PowerInbox on and off by simply toggling the on/off switch at the top of each email you receive.
If you don't feel particularly sociable, just turn it off, and turn it back on when you're ready.
As mentioned earlier, the native Twitter interface is familiar and easy to use, but some useful features are still missing.
Tareem Extender fills some voids by powering it up with some nifty functions.
A good example is the Tweet Translation button, which you can use to quickly translate tweets from English to other languages.
Other fun and useful features include:
Old School Retweet (RT)
Direct Message (DM)
Highlight mentions in timeline
URL Shorten Service
Show desktop notifications of mentions


Silver Bird, formerly known as Chromed Bird, is a true-blue registered Twitter app. You can use it from your Chrome browser in lieu of Twitter.com.
As an extension, it is an icon tucked right next to the address bar, and one that packs quite a wallop when you click on it.
Some of its in-extension features include:
Real time updates on timeline
Retweet, compose, and reply
Image upload (on Chrome 8+) and preview
Expand a referred tweet
Follow and unfollow users
Find tweets from a particular user
Manage timeline tabs
Automatic update of custom searches
Preview shortened links without clicking them
New tweet notification
Track whether tweets have been read or not
Suspend option
Moreover, you can customize Silver Bird any way you want...
...So, you can pick and choose among its features for what you most often use and need.
It also has built-in pop-up boxes to keep you in the know when you want it.
Conclusion
Twitter is a valuable marketing venue which should be exploited to its full extent.
The nature of Twitter makes time of the essence, which is why these 10 time-saving Twitter features can make all the difference.
Here's to more tweets and follows!