Want to post to Instagram from a PC or Mac?
Let me guess: you work all day on your computer, not your phone.
And you know Instagram's web app is pain!... It doesn't work like the mobile app.
For example, it doesn't have a built-in posting function.
So is it even possible to post on Instagram from a PC or Mac?
YES, it is!
Read on to find out how.
(HINT: the BEST way to post on Instagram from a computer is with Post Planner! Try it for FREE today!)
How to Post on Instagram from a PC or Mac (Easy Guide)
Why would you need to post on Instagram from your computer instead of your phone?
A few situations come to mind:
When you're away from a smartphone

When you're already working on your computer

When your pictures are on your computer (maybe after you've edited them)
In this post, we'll show you how to work around the limitations of the web-based Instagram.
We'll cover the following, so your IG posting gets easier, faster, and better than ever:
Tips on posting to Instagram from a computer
Let's be honest: mediocre Instagram content won't benefit you (whether it comes from your phone or computer).
So before we dive into posting from your computer, let's talk content strategy.
Over 1 billion people use Instagram every month.
About 81% of those people use IG to research products and services.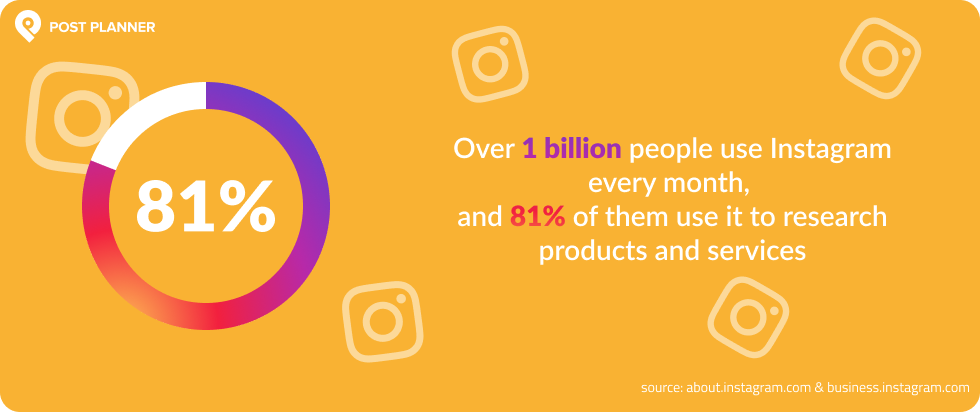 So how do you make the most of those numbers?
Make sure your Instagram profile accomplishes 2 goals:
E

ncourages customer engagement on the platform

Drives traffic to your website so you can make sales
If those things aren't happening, you may have a content problem.
We're going to talk about 2 rules that can take your Instagram from zero to hero:
Vary your content

Highlight customer stories
Vary your content!
One of the worst things you can do on Instagram is post the same type of content repeatedly.
Monotonous content makes your page boring, stale, and boring (yes, so boring, I had to say it TWICE).
Consider mixing in a variety of content, including:
Team pictures (even selfies if you dare!)

Curated content from around the web
This next tip may sound counterintuitive but stick with me.
Not EVERY post needs to have a direct link to your website.
YES, you should promote your products and services.
But you should do other things, too:
Make your followers laugh

Provide educational content

Offer inspiration or motivational ideas

Highlight adjacent brands and loyal followers
You'll see an uptick in engagement rates when you vary your content.
You can make it easy to click from your Instagram to your website by leaving a strategic link in your bio.
Highlight customer stories
People LOVE customer stories.
Seeing how happy other people are using a product builds TRUST and a sense of community in the brand.
There are several ways to highlight customer stories on your page:
Use a customer review as a caption.

Use customer-submitted images and introduce your fans to your audience.

Write articles interviewing customers on your blog (promote the blog post on IG).
Micro-influencers have the highest engagement rates because their audience feels a connection to them.
If you can develop a similar connection to your audience, your engagement rates will soar!
How to post on Instagram from Google Chrome
We'll start by looking at how to post on Instagram from your Google Chrome browser.
With 60% of the market share, Google Chrome is the most used internet browser.
In fact, you might be reading this from Google Chrome right now!
So stay with me for the step-by-step breakdown of how to post on IG from Google Chrome.
1. Open the developer menu
Before you do anything else, you need to open Google Chrome (duh!) and navigate to Instagram.com.
Then log into the account you want to post from.
Next, open the developer menu.
If this is starting to sound like you need a degree in computer science, don't worry.
You don't have to do any actual coding.
We're just opening the developer menu so we can adjust the display.
To open the developer menu, click on the three tiny dots on the top right corner of the browser.
Then, hover over "More Tools" and click "Developer tools."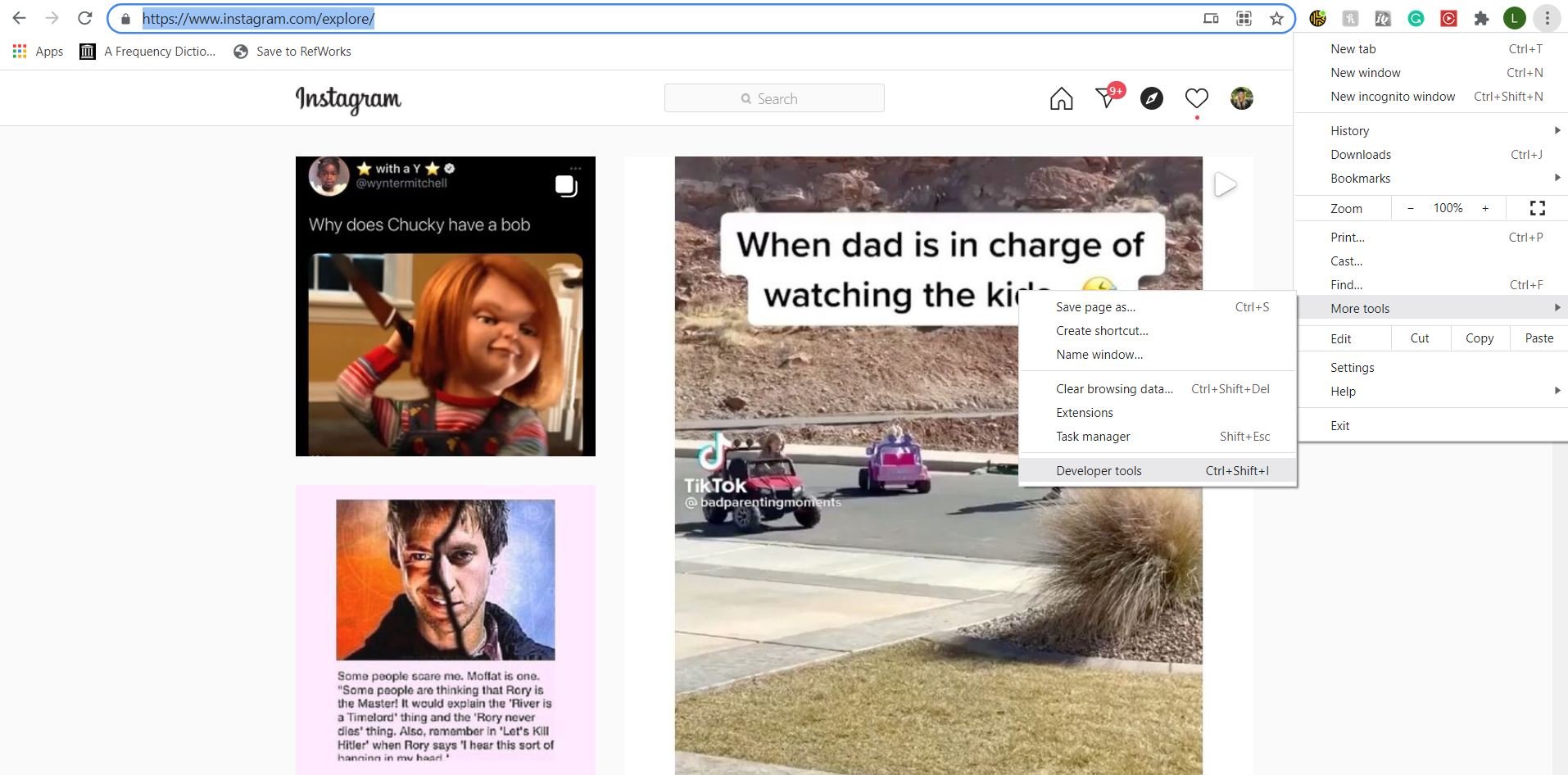 Once you've opened the developer menu, it will look very complicated.
Don't worry, though — you just have a couple more clicks to make.
2. Select a mobile device
Instagram doesn't allow computer posting, so you have to make it think you're on the phone.
Chrome's developer tools let you tell Google to treat your browser like you're on a phone.
Then, Instagram will magically show you its mobile version, allowing you to post!
Here's how you tell Google you're a phone:
1. Click on the device toolbar button on the left side of the screen (circled below).
2. Your display should change to show you a mobile view. Like this: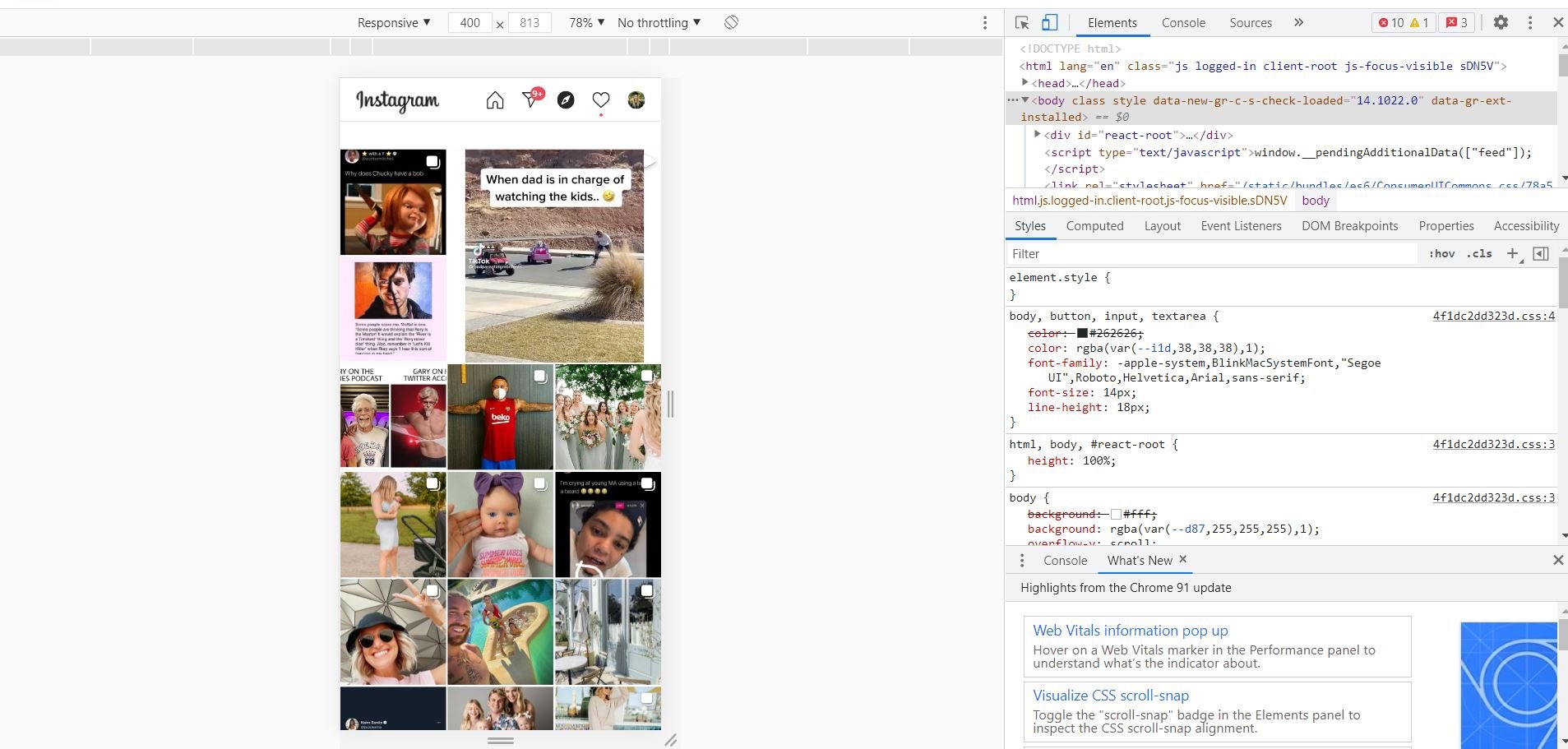 3. Select the type of device you're viewing from by clicking the button that says "Responsive."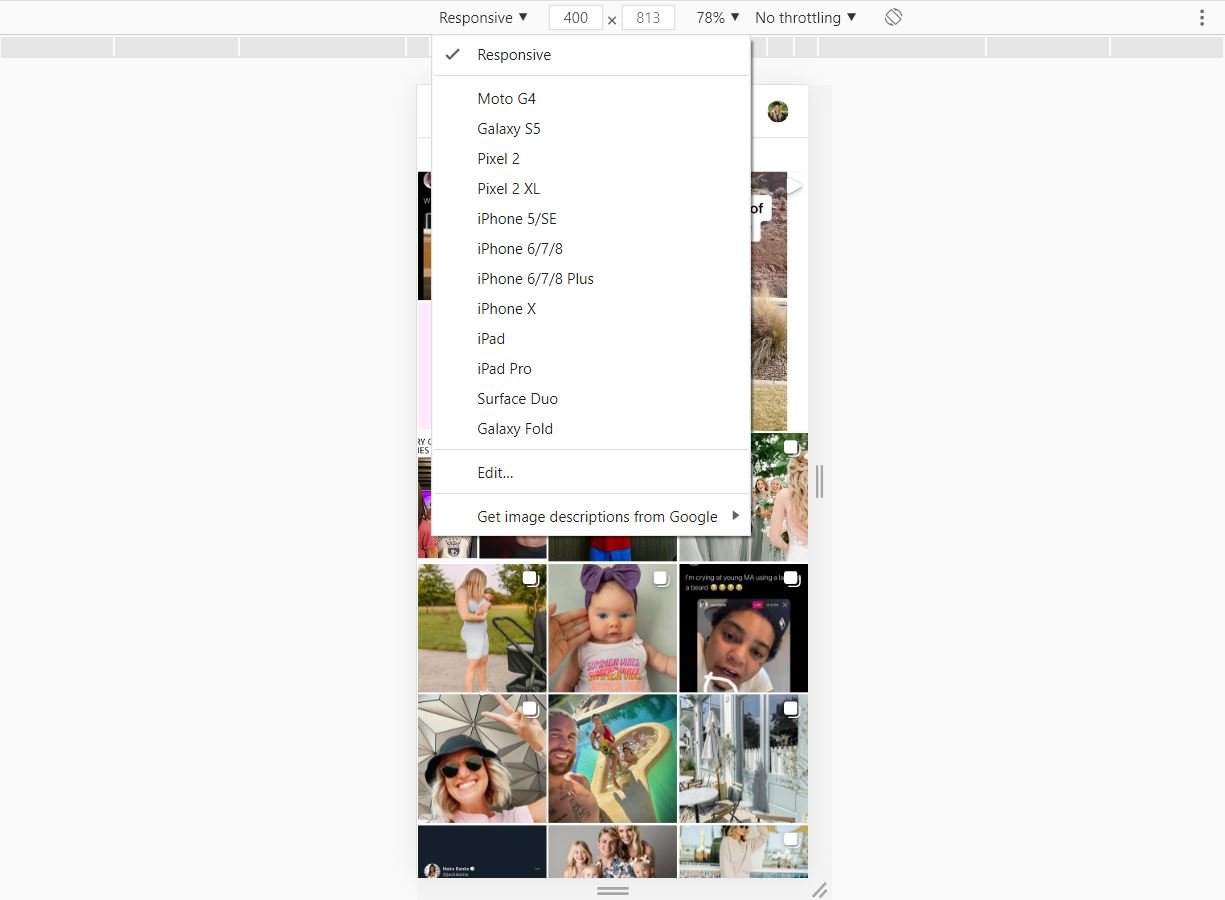 Any mobile device will work. You can also just leave it set on "Responsive."
3. Refresh the page
After selecting the mobile device you want, just refresh your page (Ctrl + R on a PC or Command + R on a Mac).
Instagram will now show you exactly what you would see if you were on a mobile device.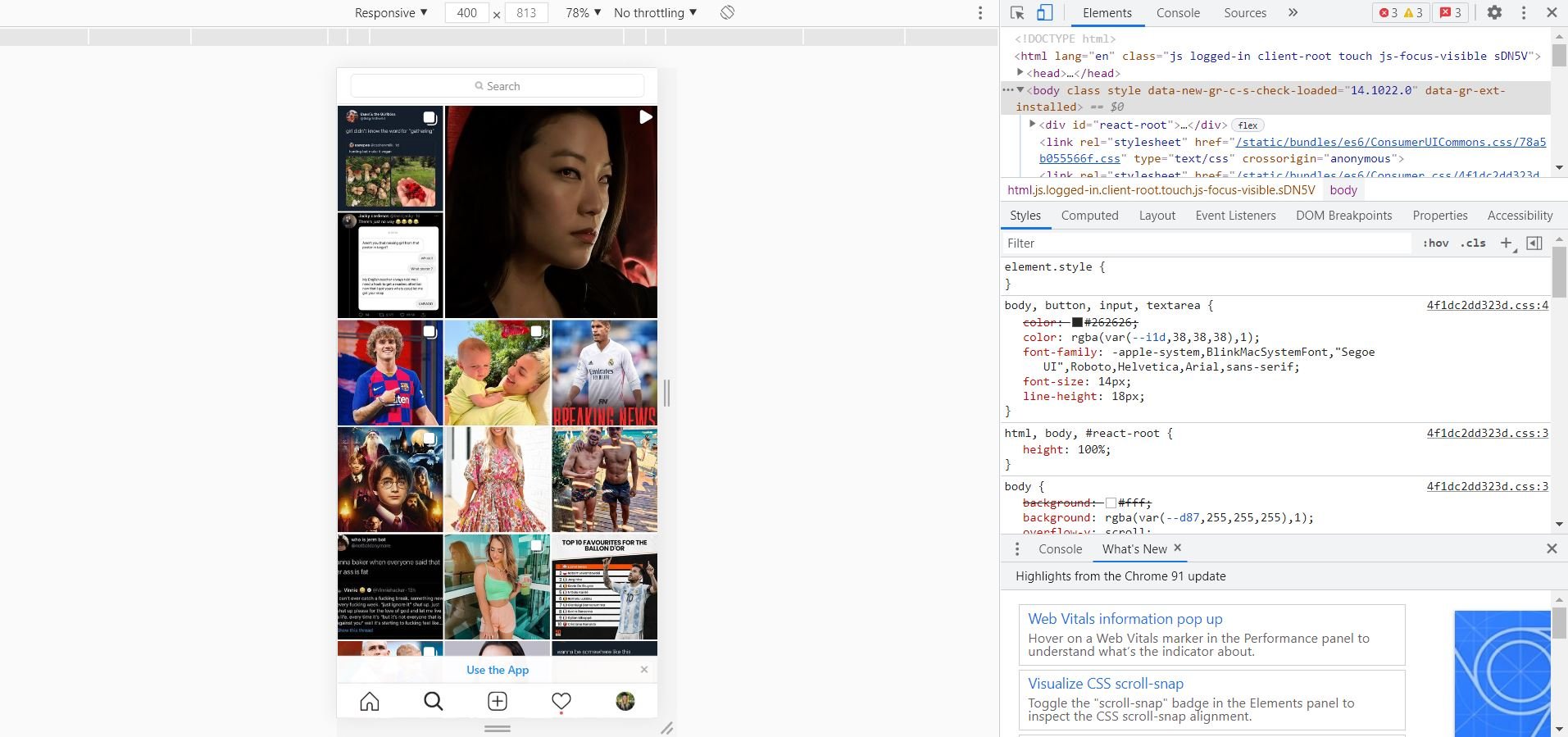 Well, not quite.
There's still all that pesky code on the right-hand side.
Just click the X on the very top right corner to get rid of the code.
The Instagram display will stay in mobile format until you exit the page or reopen the developer menu to change it back.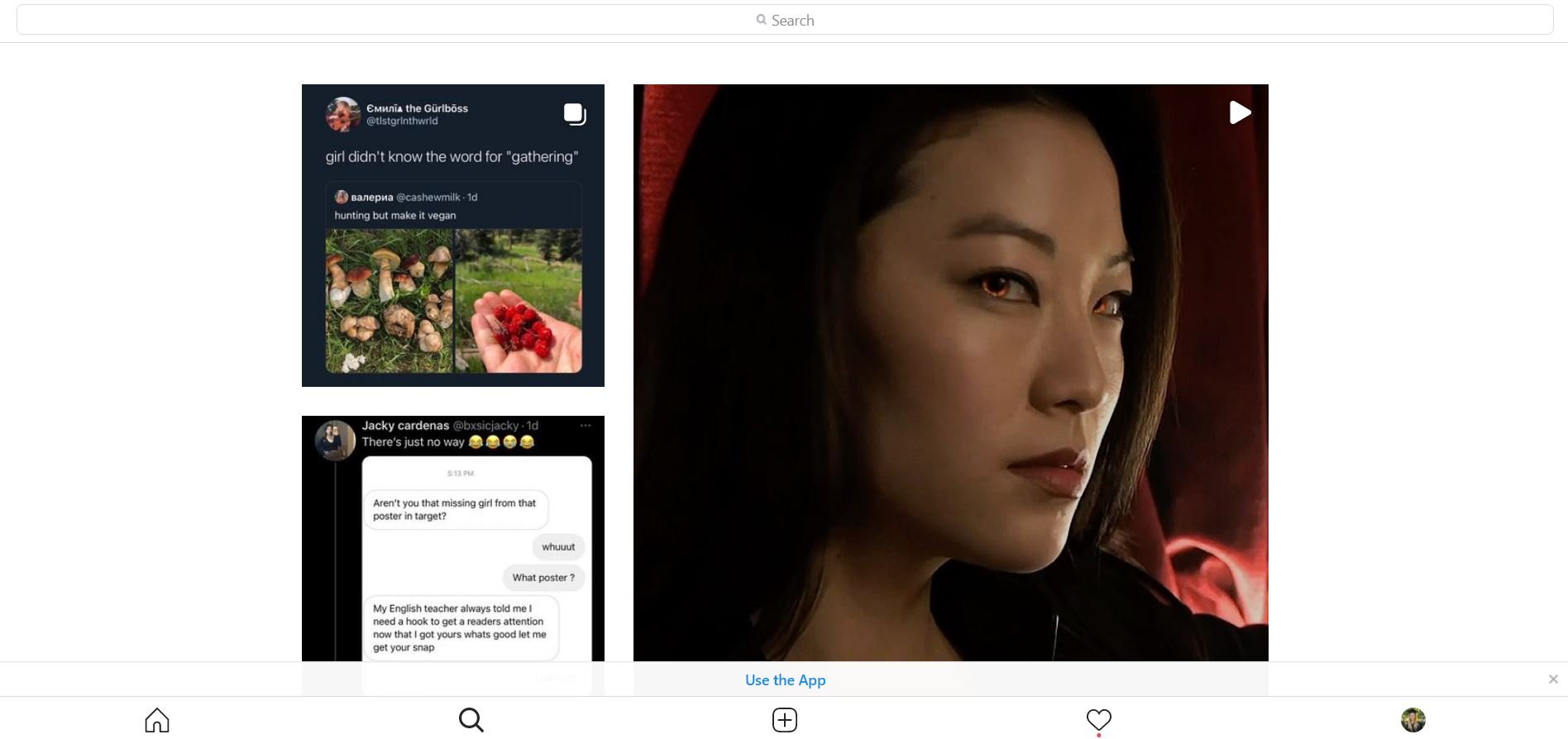 Notice that you now have that beautiful "+" button on the bottom of your screen that will allow you to post!
4. Post like normal
This is the fun part!
Just click the plus button and post the way you would on your mobile device.
Instagram will open your photos on your computer to choose a picture to post.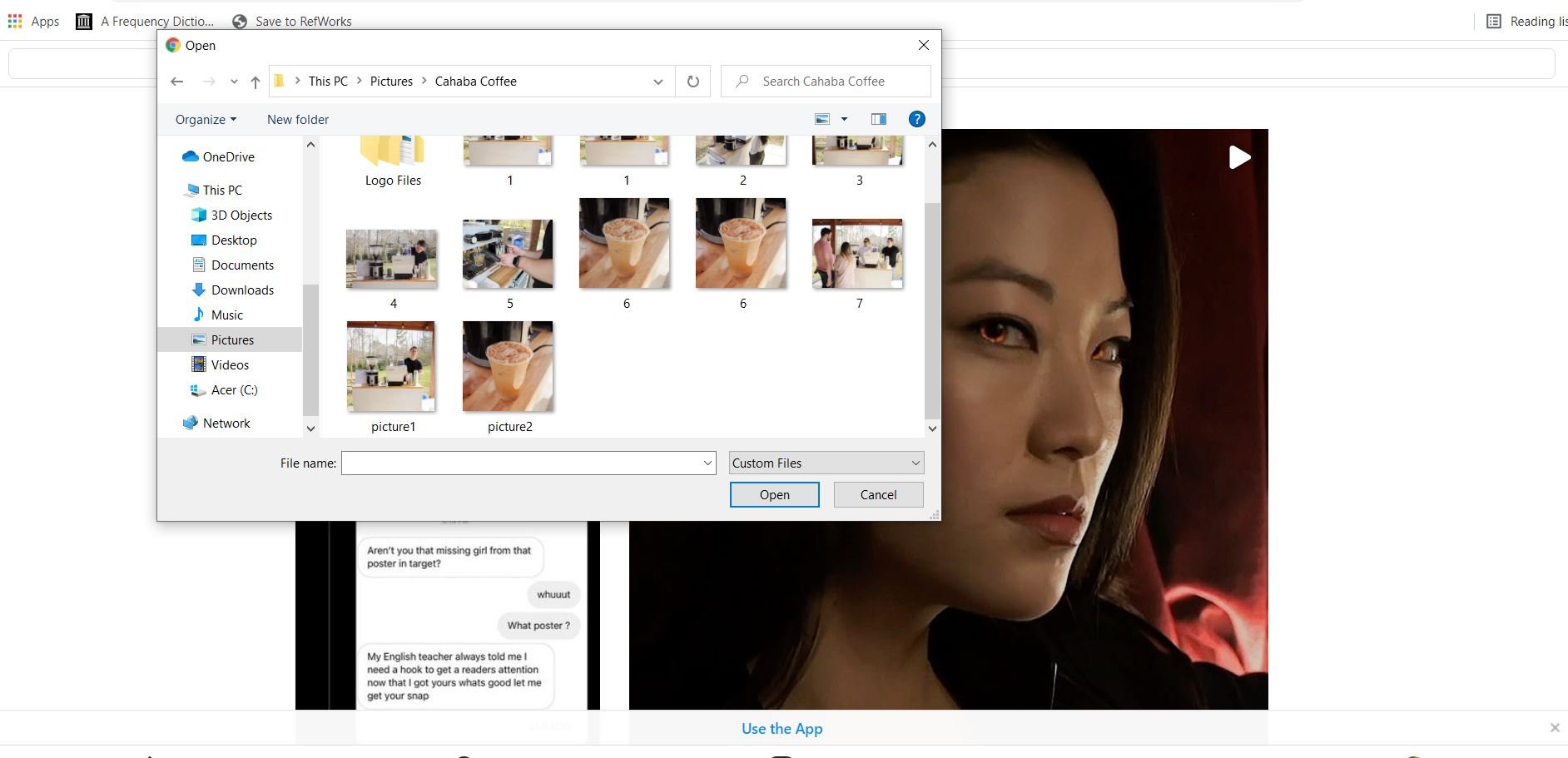 Select one, then click "Open."
Instagram will take you to a menu where you can write a caption, tag people, and post your picture.

That's all there is to it!
One small note:
you can't add filters to Instagram pictures from the website using this method.
You'll have to edit them BEFORE you upload them to Instagram.
Don't use Google Chrome?
No problem!
We're going to talk about the second most popular browser next.
How to post on Instagram from Safari
Safari is the second-most popular browser on the market, with around 18% of the market share.
The process of posting on Instagram from Safari is very similar to posting from Google Chrome.
For that reason, we won't go into quite as much detail.
Follow the steps below to post to Instagram from Safari painlessly.
1. Enable the "Develop" menu
Google Chrome automatically enables the developer menu, but Safari doesn't.
That's why our first step is going to be to enable the developer menu.
The easiest way to enable it is to open your Safari preferences by clicking
Command and Comma simultaneously (Command + ,).
Once you've opened your preferences:
Select "Advanced."

Click "Show Develop menu in menu bar" at the bottom of the screen.

2. Select a mobile device
Once you've enabled the developer menu, go to Instagram and log into your account.
Click "Develop" in the menu bar.

Hover your mouse over "User Agent."

Select a mobile device from the dropdown menu (we selected "iPhone").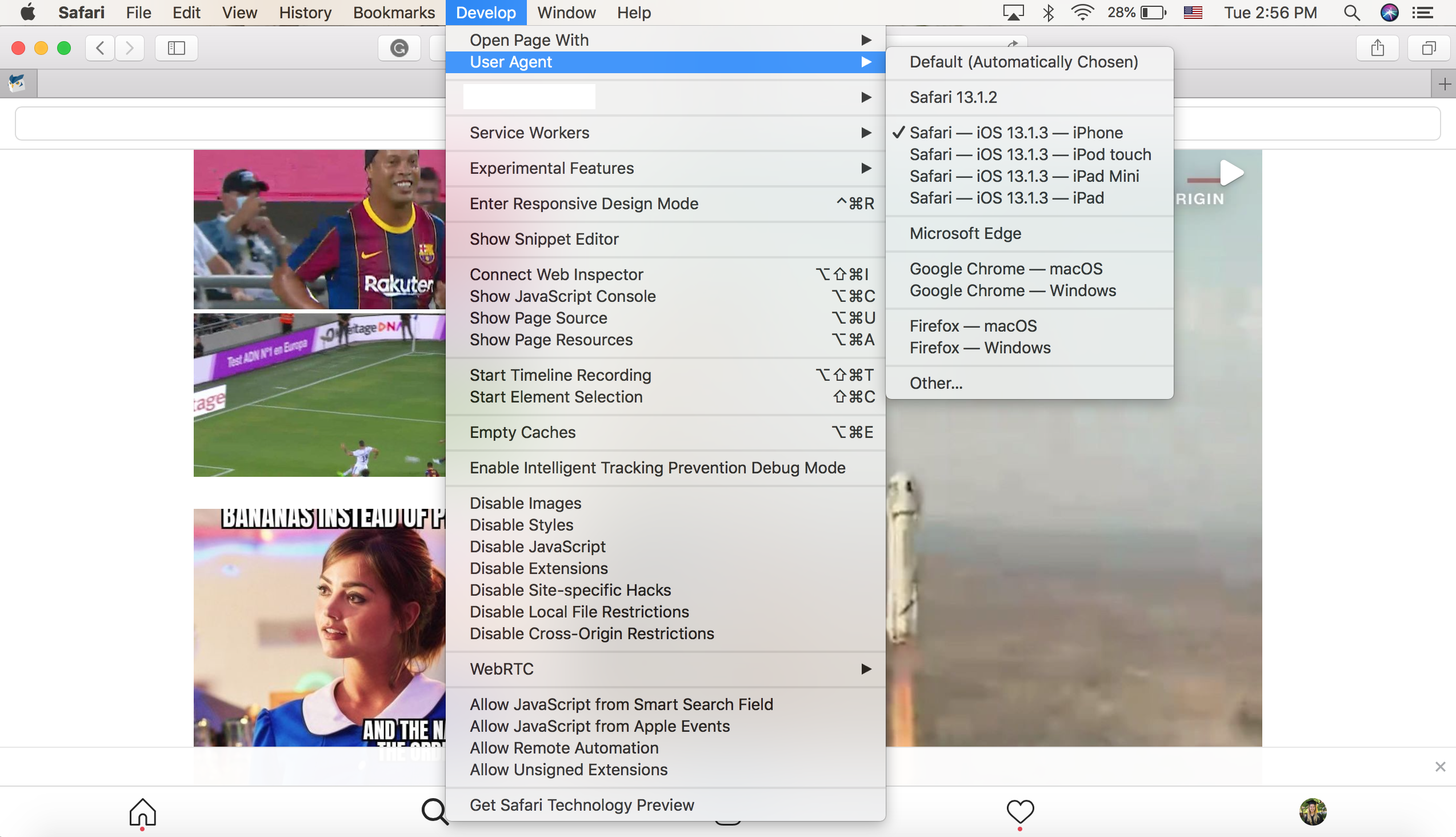 Unlike Google Chrome, you don't have to refresh your page.
Safari will automatically update the view to the mobile version without making you refresh.
You should now see the icons on the bottom of your screen, including the "+" icon that allows you to post.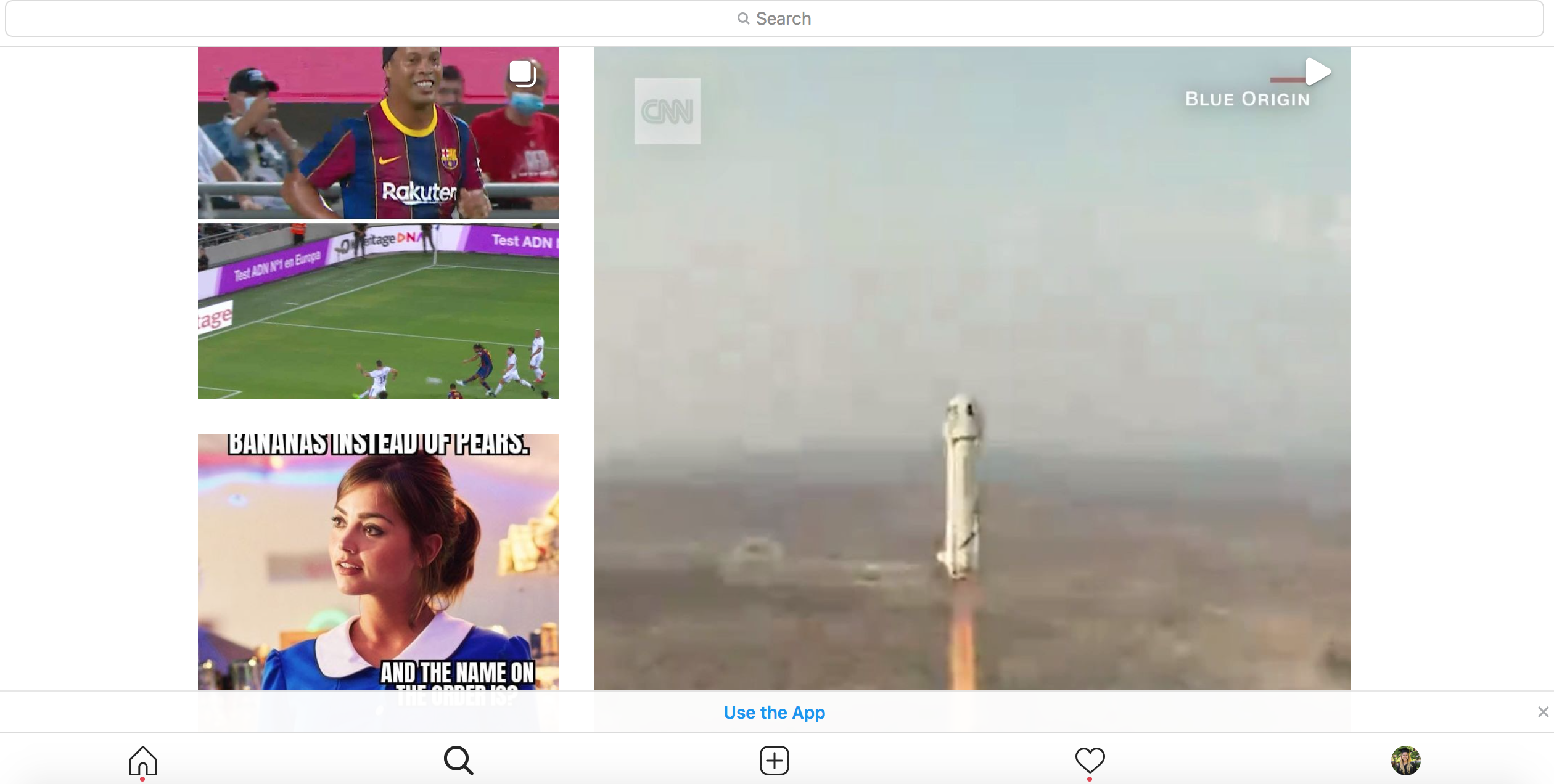 3. Post like normal
Follow the same steps you would typically follow to post a picture:
Select a filter and edit.

Write a caption.

Tag people.

Click "Share!"
That's it!
Your post should be live on Instagram.
A better way to post to Instagram from a PC: schedule your posts!
Both of the methods we've just covered work perfectly, but they're a little tedious.
They're also time-consuming.
Every time you try to post a picture from your PC, you'd have to go through developer menus.
By now, some of you are thinking, "I'd rather just stick to my phone!
This is too much work!"
But don't give up yet!
There are actually some serious advantages to posting from your computer.
Posting to Instagram from PC allows you to take advantage of the power of scheduling posts!
Post Planner lets you schedule your posts in advance, which makes it extremely simple to post regularly.
Scheduling posts also helps you:
Save time

Boost engagement

Find quality content

Improve posting frequency
Let's see just how Post Planner can turn your laptop or desktop into your most trusted Instagram ally.
1. Connect your Instagram to Post Planner
First, you need to connect your Instagram account to Post Planner.
To do this, just navigate to your profile settings.
You will see a list of social media settings come up.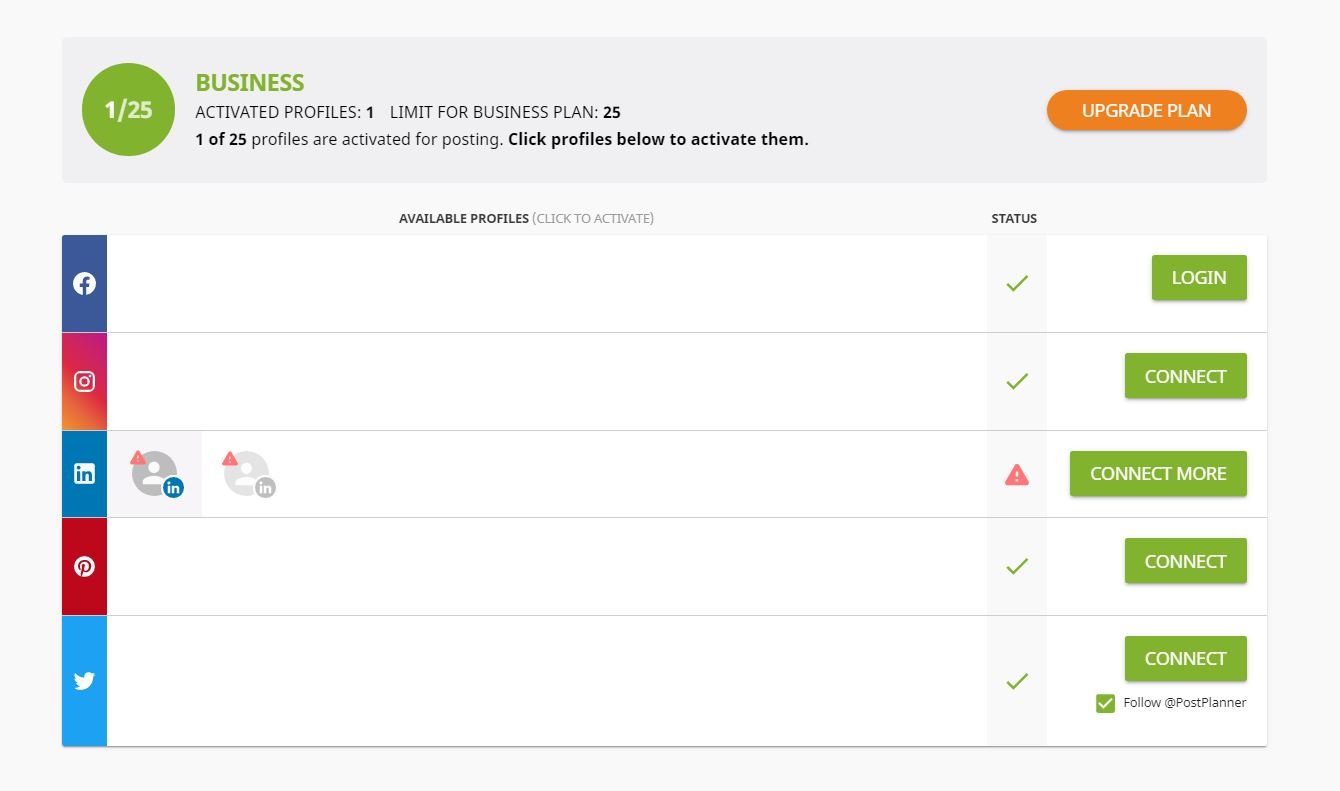 Post Planner can connect to all 5 of these social media platforms:
Facebook

Instagram

LinkedIn

Pinterest

Twitter
Connecting to multiple social media platforms has the following benefits:
Saves you a ton of time

Helps you develop a better social media plan

Gives you complete control over your schedule
For now, we're still just focusing on Instagram.
Click "Connect," then fill in your Instagram details.
This will allow Post Planner to post directly to your Instagram account.
After connecting to Post Planner, you don't even have to open Instagram to post!
Post Planner does it for you.
2. Create a posting schedule
Once you've linked your Instagram to Post Planner (and any other social media accounts you want to automate), you're ready to create a schedule.
To create your posting schedule, click "Plans" on the menu bar at the top of the screen.
You should see a weekly calendar appear.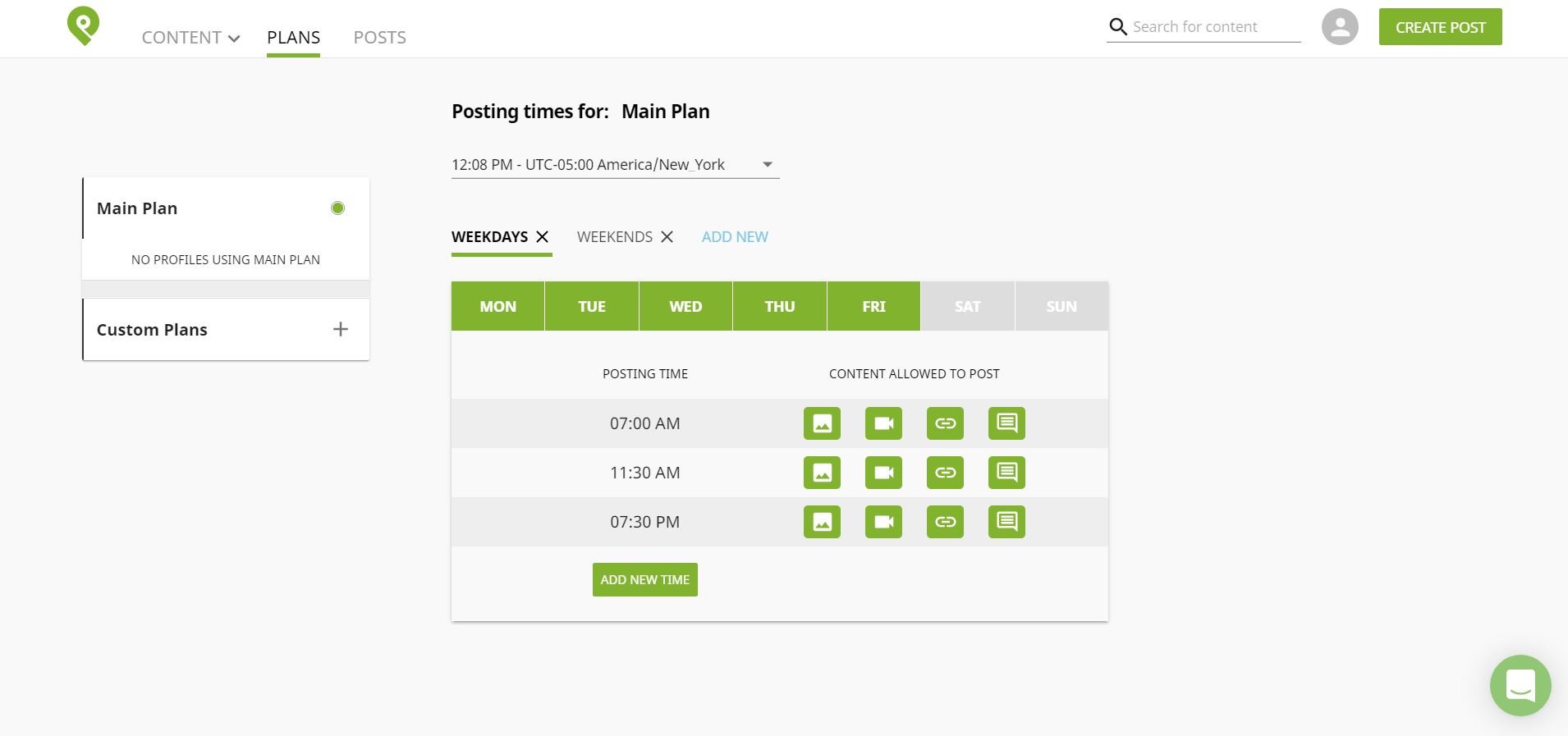 From this menu, you can customize your posting days and times.
You can also customize the type of content allowed to post at each time of the day.
Create completely different schedules for each social media channel, depending on your posting strategy.
For example, your Facebook and LinkedIn could share a schedule, and your Instagram and Twitter could each be on their own.
Feel free to customize your schedule for each channel until you find the optimal posting times for your audience.
Creating this schedule will tell Post Planner when to post to Instagram — all from your PC!
You'll never have to log into your mobile Instagram app again.
3. Find curated content (or upload your own)
Now that you have your posting schedule set up, Post Planner is ready to start automating posts to your Instagram account.
That's already pretty convenient!
You don't have to go through all the steps we mentioned to post on IG from your desktop.
You can post directly from Post Planner.
However, Post Planner also collects content from around the web to make it easy for you to find things to post.
There are 2 ways to find content on Post Planner:
Look through premade content streams.

Make your own content streams.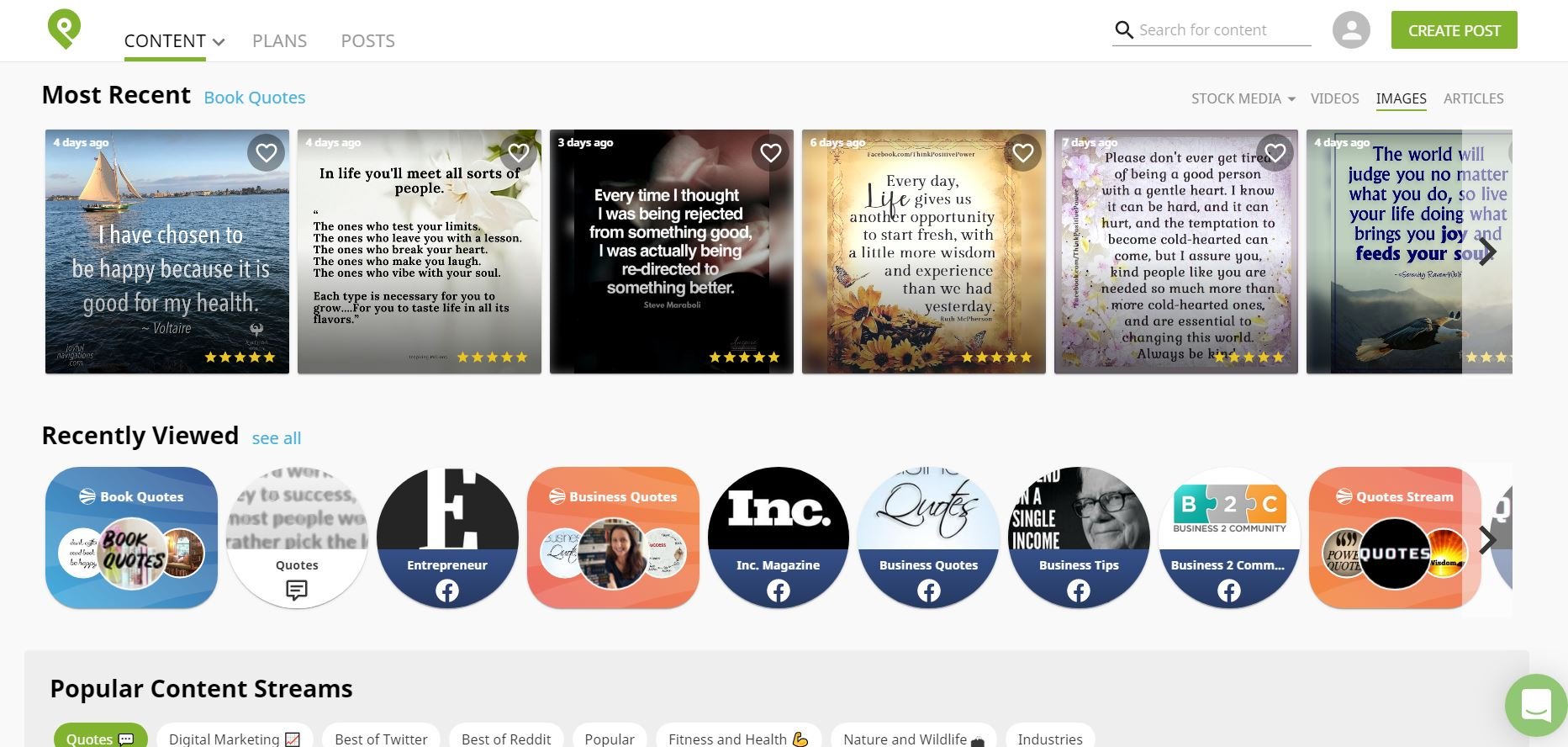 If you choose to use premade content streams, search for a keyword and see what comes up.
For example, I searched for "Coffee" and got more than a dozen premade content streams that I can pull content from.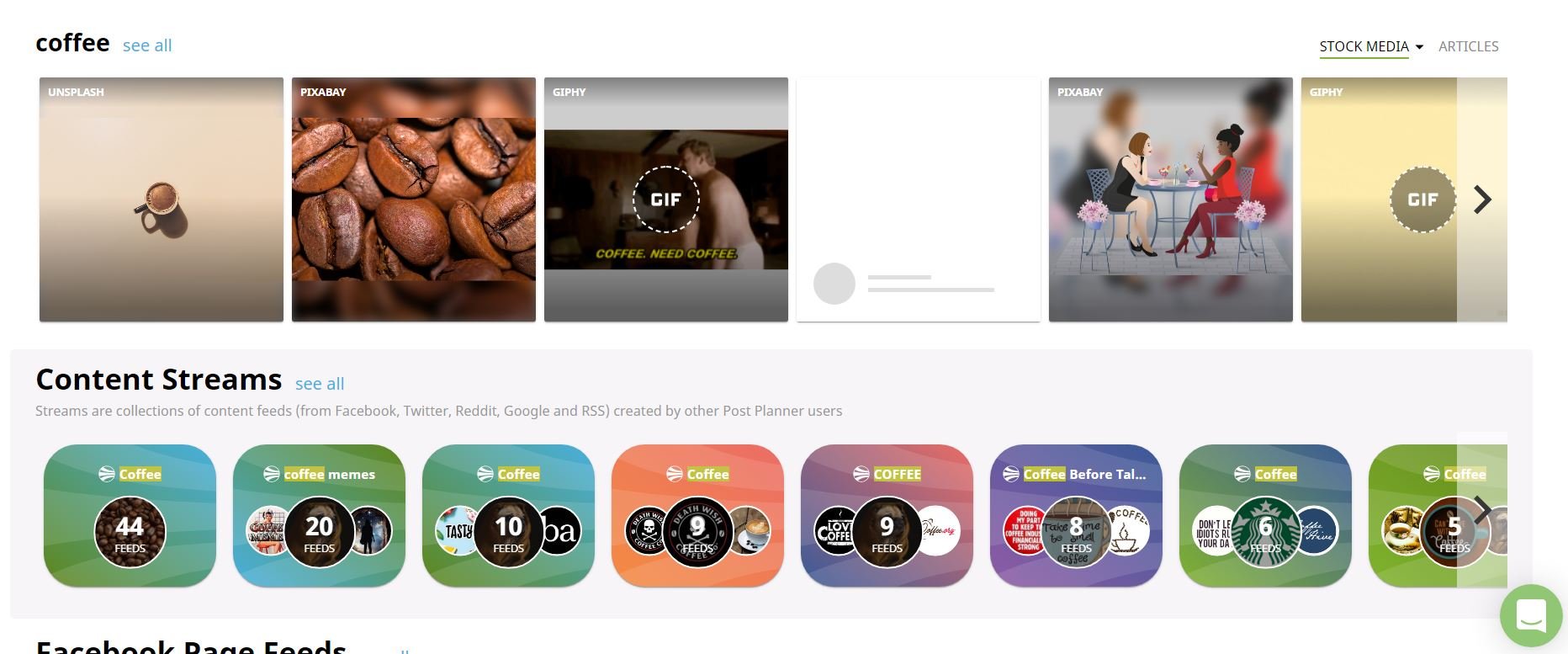 You can also create your own stream.
Just hover over one of the page feeds and click the "+" icon to add it to your new stream.

From now on, any content stream you added or created will automatically appear on your home page!
You'll be able to access any of the content from those streams quickly.
This makes the process of finding new content MUCH faster than manually searching for it on the internet.
Feeling especially creative?
You can create your OWN content by using Post Planner's Canva integration.
Canva has a full suite of tools to create pictures and designs for all of your social media channels.

4. Schedule content
Next, you can add content to our posting schedule.
When you come across a piece of content you think would be PERFECT on your social media:
1. Hover your mouse over the content (video, picture, gif, article, etc.)
2. Click "Create Post"

3. Create an awesome caption.
4. Toggle "Recycle" if the content is evergreen.
5. Click "Add to Plan."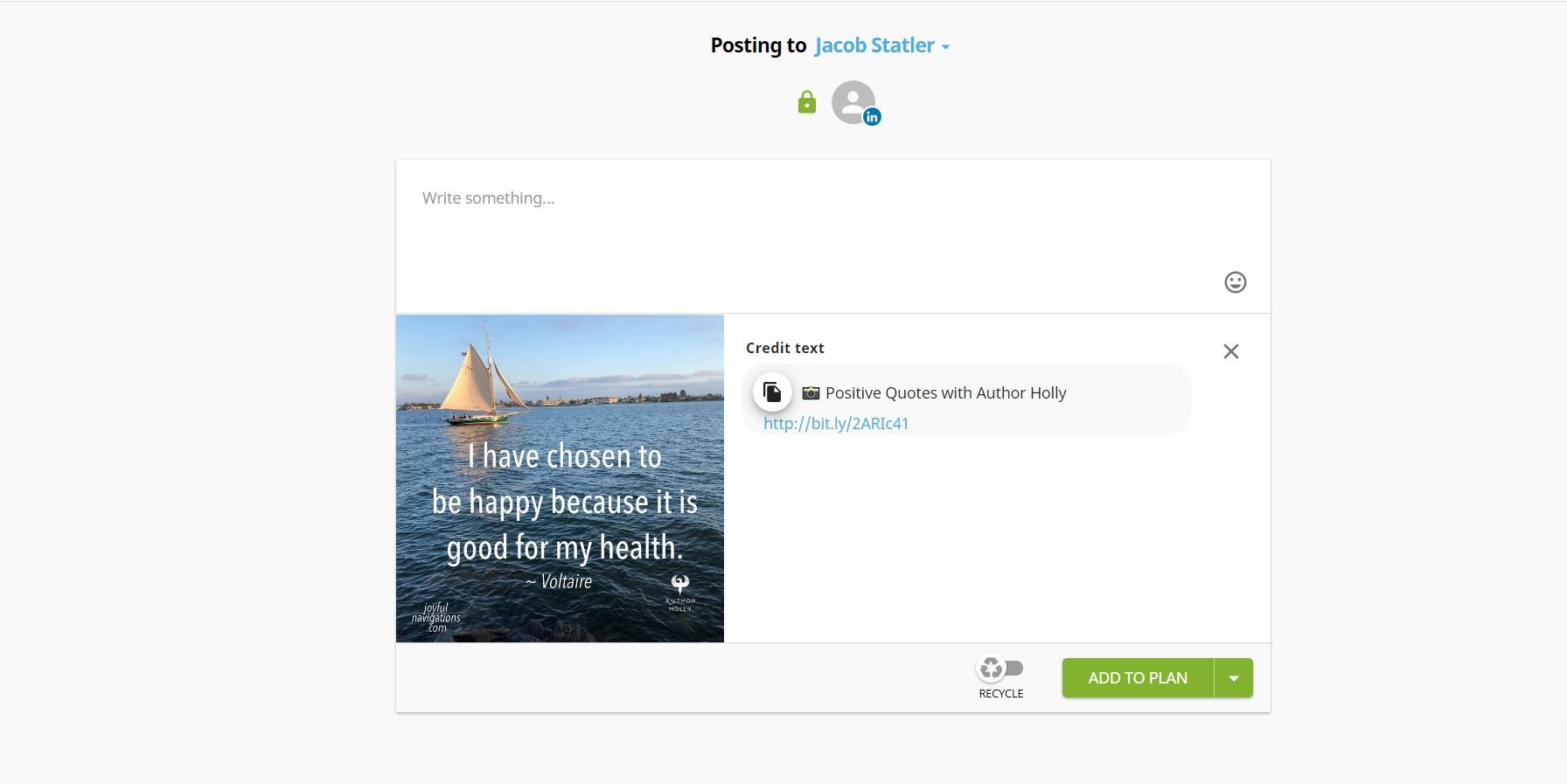 When you add something to your plan, Post Planner will automatically add it to your posting schedule wherever it fits.
If you want to customize WHEN the content will post, go to your "Posts" menu.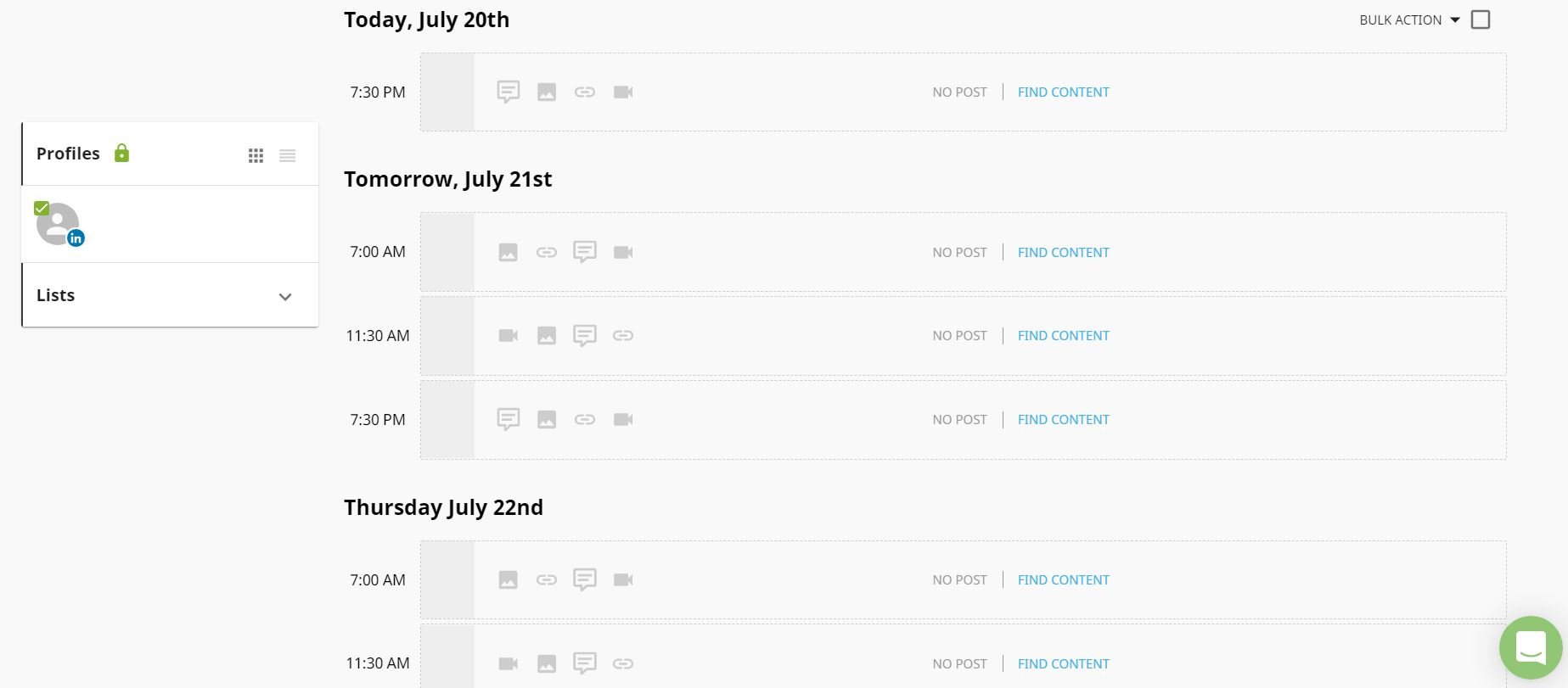 From this menu, you can move content around to make sure everything gets posted EXACTLY when you want it to.
Repeat this step as many times as it takes to fill up your posting schedule.
As you continue to find awesome, recyclable posts, your schedule will take less and less maintenance.
5. Enjoy autopilot
Now all you have to do is enjoy posting to Instagram from PC!
Post Planner will do the hard part for you — just make sure you schedule the content when you want it to post!
But we DO recommend logging in to your account to interact with your followers in the comments.
Personal interaction helps your engagement by connecting you to your followers.
Engaging potential customers in conversations could turn them from followers into buyers!
Final word on posting to Instagram from a PC or Mac
You can post on Instagram from your PC in 2 ways:
Use developer menus as a "workaround" to the limitations of the Instagram website.

Use a scheduling tool like Post Planner to post automatically from your desktop.
Scheduling brings tons of time-saving benefits, which leads to more frequent posting and higher engagement.
However, you can use the workaround method with great success as well!
The most important things to remember are to:
Post frequently

Post high-quality content

Post from your desktop if it will help you save time or increase the quality of your posts.
Do you post to Instagram from a PC?
If so, what methods have you used to increase your success?
Let us know in the comments below!
Happy posting!