Are you spending valuable time everyday trying to figure out what to post on your business's Instagram account?
Ever push a post out at the end of the day... because you forgot?...
And you know a post during the day would have performed MUCH better?
If you answered "YES" to the above questions, then it's time to learn how to schedule Instagram posts for free!
Failing to publish an engaging Instagram post every day is not good for your business — or your audience!
So why not try a better (and FREE) way of publishing Instagram posts?
Why not ensure higher Instagram engagement more attention from your audience by scheduling Instagram posts ahead of time with a FREE app?
How to Schedule Instagram Posts for Free from a Computer
Scheduling posts is by far the best way to build an engaging (and manageable) Instagram profile for your business.
We'll cover these topics to help you plan Instagram posts and save time (and all without having to spend any hard-earned cash):
1. How to Schedule Instagram Posts for Free in 8 Steps
2. Benefits of Instagram Post Scheduling
3. When Is The Best Time To Post On Instagram?
4. 8 Mistakes To Avoid When Scheduling Instagram Posts
5. Does Scheduling Instagram Posts Affect Engagement?
6. The Best Tool For Scheduling Instagram Posts for Free
How to schedule Instagram p
osts for FREE in 5 steps
Here's how to schedule your Instagram posts for free like a pro.
1. Sign up for a FREE scheduling tool like Post Planner
Start the process by getting a free Post Planner account — it's simple and easy... and FREE!
2. Connect your Instagram account
Once you create a Post Planner account, go to Settings and connect your Instagram account: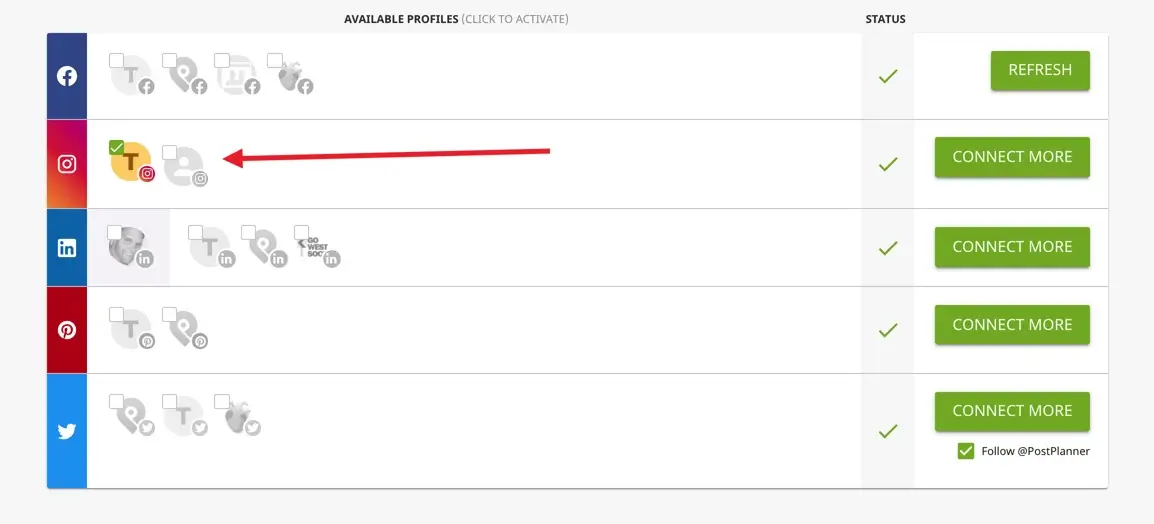 Here's a detailed guide on how to connect your Instagram account:
How to Connect an Instagram Account in FREE Post Planner App
3. Click "PLANS" to set up your posting plan
PLANS is where you manage the times when your scheduled posts go out to Instagram.
Here I've scheduled 2 posts per day (one video and one image post) to go out 7 days per week: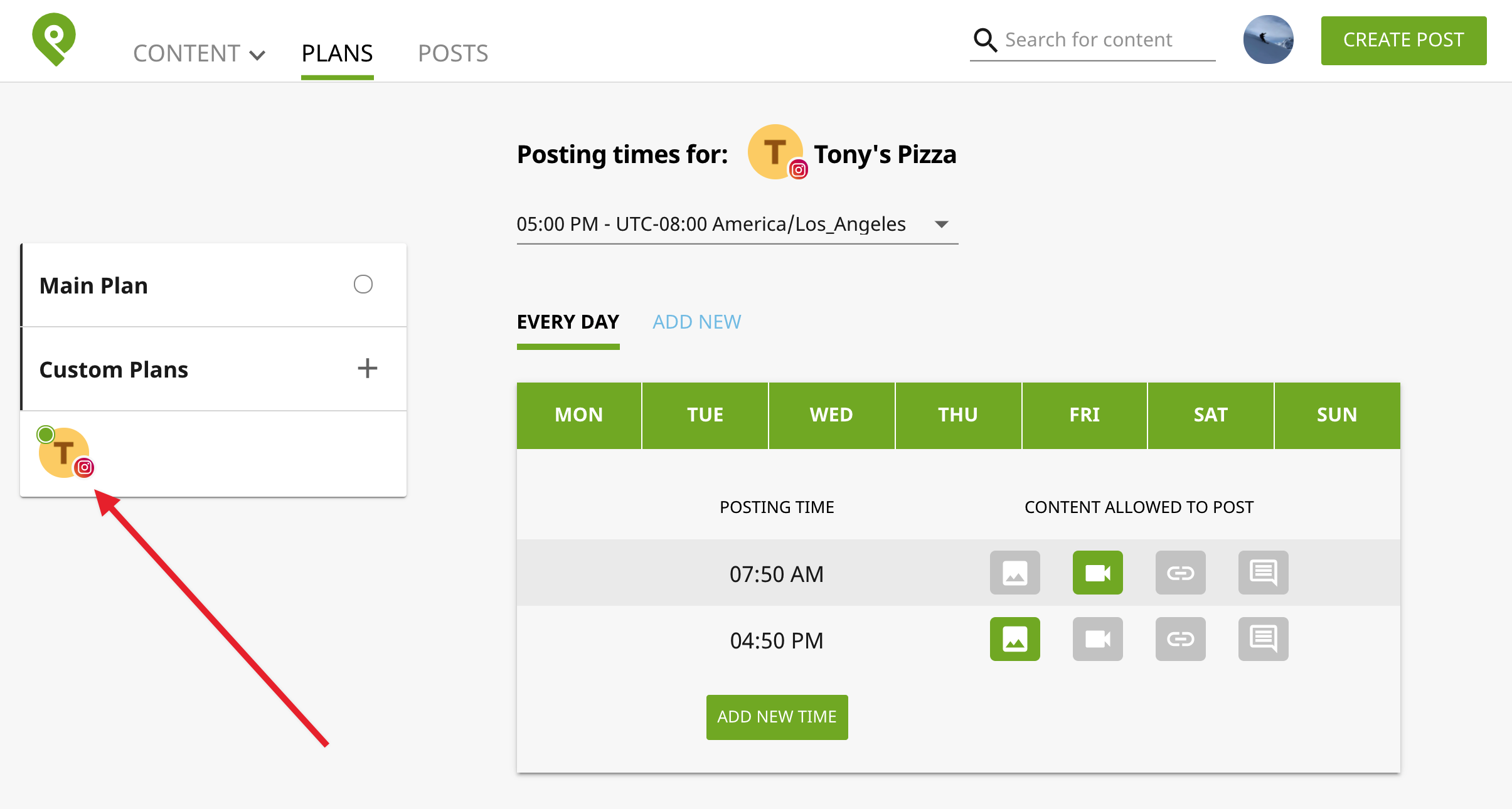 You can set the posting plan that works best for your business and following.
Here's a quick guide on how to configure your posting plans in the free Post Planner app:
How to Manage your Posting Plans in Post Planner
4. Share viral content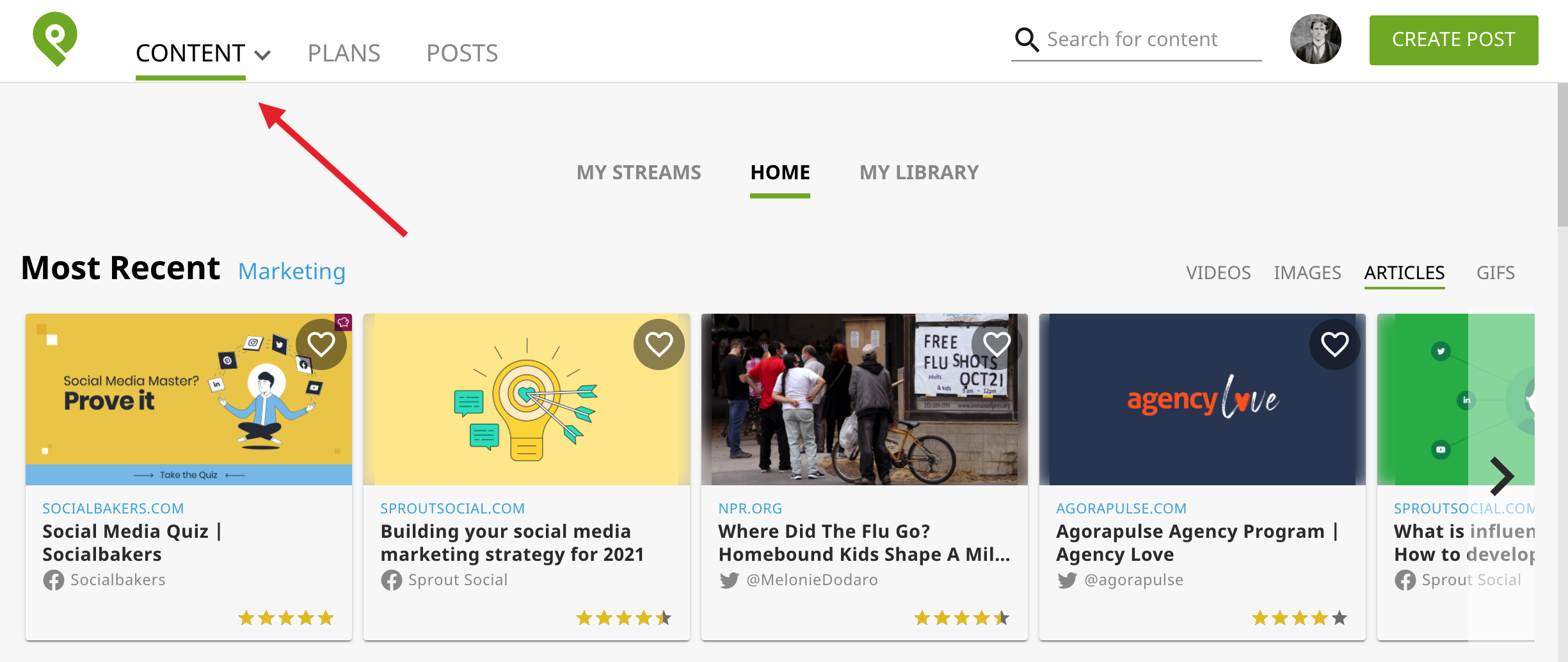 Out of good post ideas?
Turns out you don't have to create something new every time to boost engagement!
Post Planner offers neverending viral content for you to re-share:
1. Go to CONTENT in the top navigation bar to browse popular options
2. Choose images or videos tailored to your audience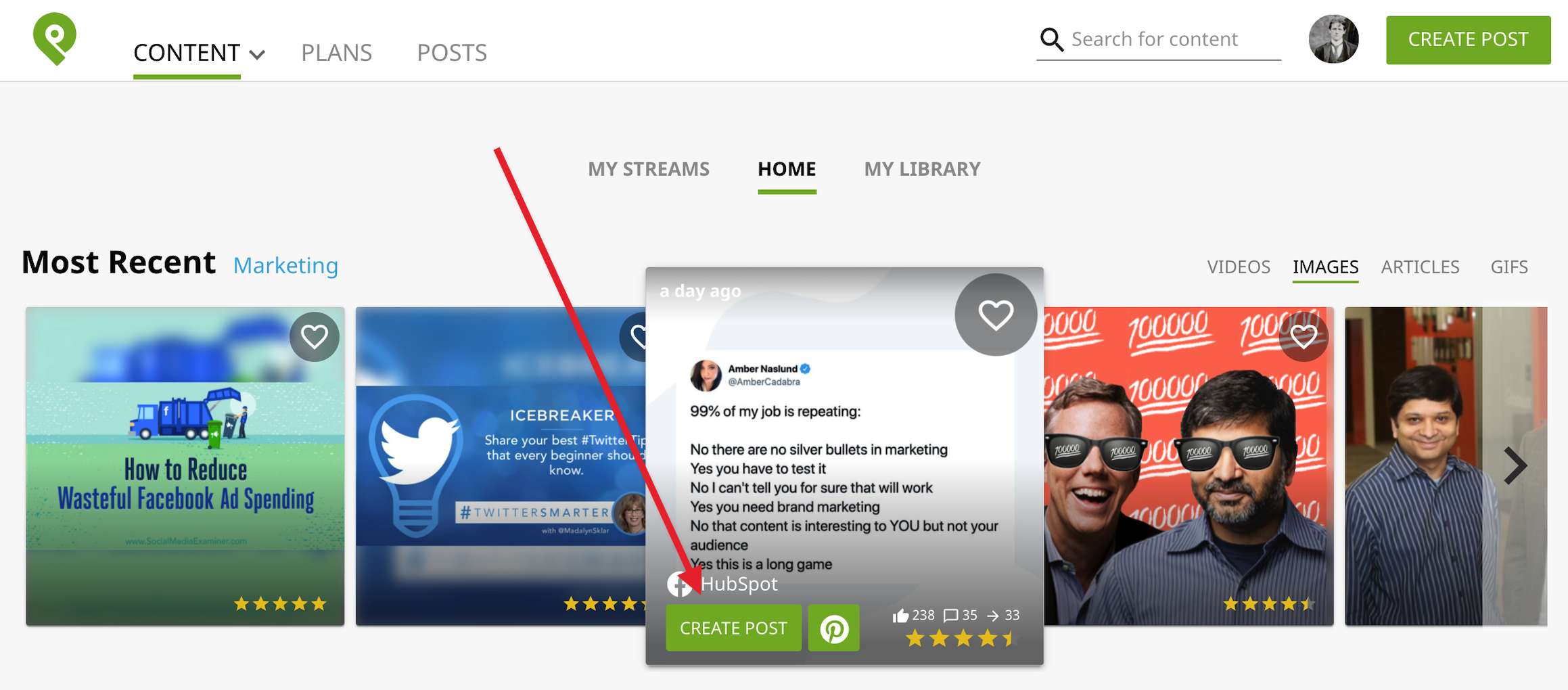 3. Hover over the content you want and click "Create Post"
4. Make adjustments in the composer
5. Click "Add to Plan"
Your post is now scheduled and will go out at the next available time in your posting plan.
You can verify by clicking POSTS on your dashboard.
5. Repurpose Content
Scheduling your Instagram posts consistently on Post Planner allows you to see data about which posts are most engaging.
Post Planner saves your past content, so you can repurpose your BEST images and videos.
Instagram posts don't get much easier than that.

Here's how to review and repurpose your most engaging posts:
Go to POSTS > Posted

Sort your posts by Likes

Click the 3 dots next to the post and choose "Re-plan"
Your old post is now added to your current scheduling queue.
Now you can add any edits and then let Post Planner do the work of posting it on schedule.
5 convincing benefits of Instagram post scheduling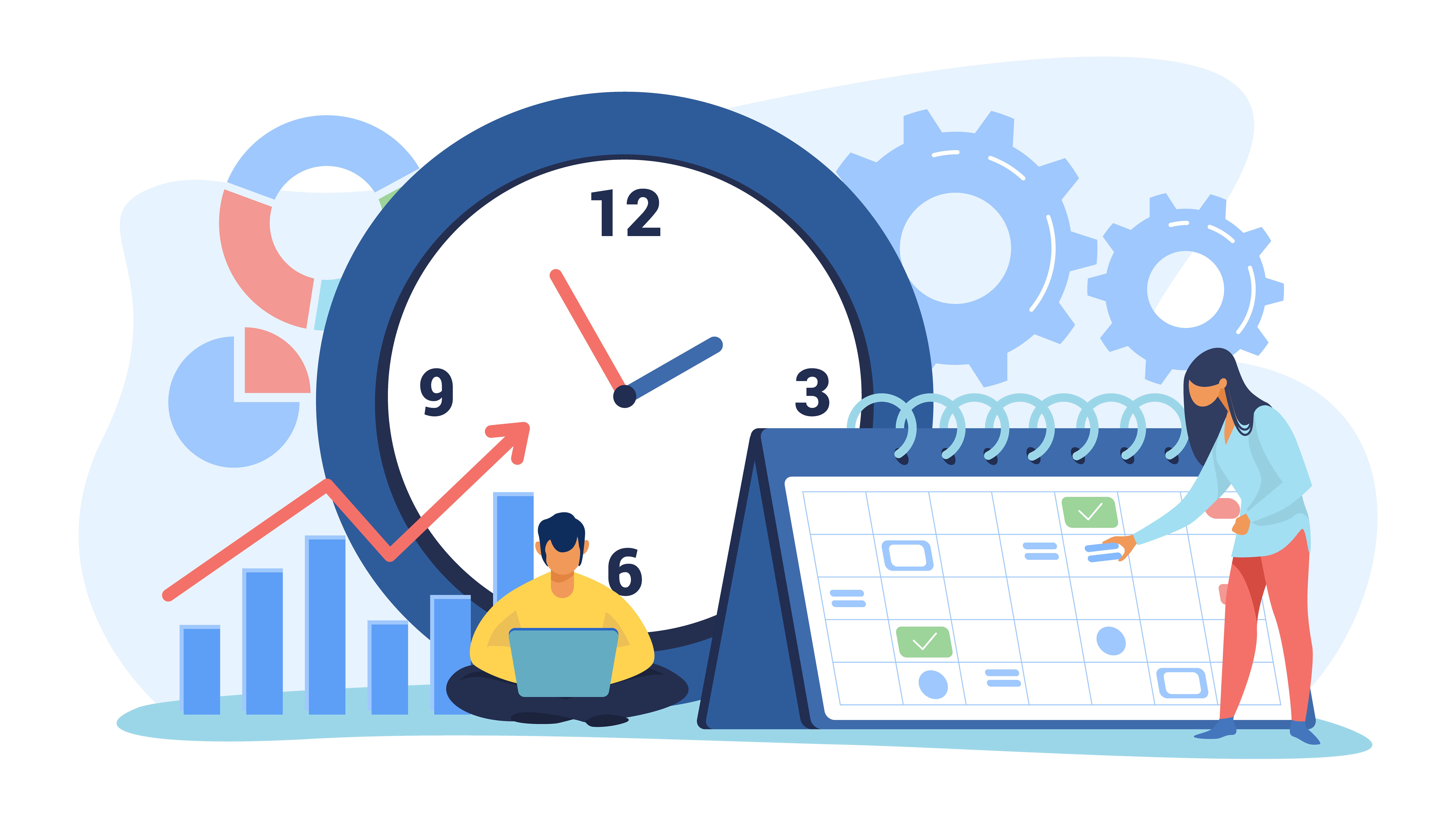 Instagram post scheduling involves creating Instagram content before it needs to be published.
It's like ordering pizza to be ready at a specific time before you go to pick it up.
Instagram post scheduling takes your social media game to the next level.
Here are 5 reasons why.
1. Building consistency
There's no better place to throw out your Call to Action (CTA) than on Instagram.
That's because Instagram brings the most engagement per post out of ALL social networks:
84X more than Twitter
54X more than Pinterest
10X more than Facebook
But if you aren't posting consistently — you're missing out on this powerful way to generate leads.
When you use a tool like Post Planner, you can access a library of content ideas to choose from.
As with anything, you're much more likely to post if you schedule your content.
Consistent posting means your followers will see you more often — and remember that you've got something to offer.
2. Saving time
>Saving time is the #1 reason to schedule your Instagram posts.
Why not just schedule your posts and only log into Instagram to reply to comments and DMs?>
If you're a business owner, you likely have a busy schedule that could use some automation.
Instead of scrambling to get that daily Instagram post in, you can work on other projects — or take a break!
3. Producing better content
How many times have you rushed to post something?
How'd it turn out?
Maybe not what you were hoping for.
Give yourself time to think of engaging creatives, captions, and hashtags by scheduling your content in advance.
Remember:
You can always edit your captions later if a better idea comes up.
4. Learning what your audience wants
Posting consistently on Instagram helps you identify your audience's favorite types of posts.
For example, does your engagement rate sore when you post advice?
Maybe your likes spike when you post something motivational.
That info says a lot about what your audience is REALLY looking for.
When you know what works and plan for it in advance, you can replicate your best content (while still keeping things fresh).
5. Keeping track of post history
Post Planner's social media scheduling tool allows you to track all the content you've scheduled.
This provides several benefits:
You can compare posting time effectiveness

You can repurpose past successful content

You can separate your scheduled content from manually posted content
When is the best time to post on Instagram?
According to Sprout Social, the most consistent engagement happens weekdays between 9am and 4 pm.
But you should always post when YOUR followers are online.
According to digital entrepreneur Aaron Ward:
"You want to post at times your followers are most active to maximize engagement."
But how can you figure out when your followers are online?
By using Instagram Insights!

Tap "Insights" located under "Edit Profile" on your Instagram page.
Next, tap the audience tab and scroll down to see when your followers are typically online.
This tool also gives useful demographic info about your audience including the following:
Along with figuring out your peak posting time, you can use that data to choose content that speaks DIRECTLY to your followers.
8 Mistakes to avoid when scheduling Instagram posts
Post Planner makes scheduling Instagram posts ridiculously easy.
But you can still make mistakes!
Here are 8 Instagram scheduling no-no's to avoid.
1. Thoughtless captions
Your captions don't have to ALWAYS be in-depth how-to guides (please, don't).
But you SHOULD word them strategically!
Your caption is your Instagram post's finishing touch.
They create a specific vibe, give your post context, and motivate (or discourage) engagement.
Experiment with short, medium, and long-form captions and see what your audience likes most.
Ask yourself these questions as you brainstorm:
What time of the day will this go out, and what will my audience's mindset be like?

What can I say in my caption to inspire action?

What do I want my audience to do or feel after reading my caption?
2. Redundant content
What happens when you see the same thing over and over again?
You get bored!
That's the last thing you want your audience to feel when they see your post because it's the easiest way to get unfollowed.
Avoid this trap by having an array of different types of content. For example, try throwing in:
Motivation

CTAs

product or service explanation

questions

industry news



Get as creative as you'd like!
Overwhelmed by the possibilities?
Take a deep breath and explore what Post Planner already has available.
Remember: Post Planner's CONTENT section gives you endless inspiration — not to mention the ability to share viral content your audience will go crazy for.
3. Posting with irrelevant hashtags (or no hashtags)
Hashtags are a great way to get your posts in front of a broader audience.
Research popular hashtags in your industry and include them in your caption.
Instagram allows up to 30 hashtags per post, but Social Media Today reports that 11 is the ideal amount.
Avoid using generic hashtags like #cool, #Instagood, and #love because EVERYONE and their grandmother are using it.
The competition is enormous, the audience is broad, and your post will simply get drowned out.
Instead, look up industry-specific hashtags with enough volume to get your post in front of as many (of the right) people as possible.
For example, imagine that you're a plant shop based in New York City.
You can use #plants to connect with a general audience, but your competition will be fierce.
Including #NYCplants makes it more likely that you'll reach your target market.
4. Posting at non-optimal times
What happens if you post while your audience is offline?
The people you're trying to woo to your page won't see your post. It's that simple.
Your engaged followers (the ones regularly commenting and liking your posts) might see it, but they're already down for the cause.
Knowing your peak hours and scheduling your content accordingly allows you to EXPAND your reach, not just maintain it.
5. Posting too frequently
Ever heard the saying, "too much of a good thing is a bad thing"?
Consistency on Instagram is good.
But posting too often?
That can backfire like a combustion engine.
One recommendation suggests posting 1 to 3 times a week.
But the average brand page posts 1.5 times a day!
The right number of posts depends on your audience and competition.
No matter the frequency you choose, Post Planner makes it easy for you to stay on schedule.
6. Neglecting your comment section
Instagram post scheduling saves you time — time you can now use to meaningfully engage in the comments.
Replying to your followers encourages your audience to ask more questions and engage more often.
It also shows the human side of your business.
Something as simple as a "thank you" after getting a compliment can go a long way with your audience.
View your followers as more than just numbers on your page — view them as your people!
7. Focusing on quantity over quality
Post Planner makes scheduling daily posts almost effortless.
But scheduling alone won't get you the results you're mining for.
You'll need to take the time to craft your image and messaging to motivate your audience to engage.
Here are some attributes of a quality Instagram post:
Clear image or video quality

Engaging caption (question, insight, tips, etc.)

Colors coordinated with previous posts

Strategic hashtags
8. Being overly promotional
"Buy my watches!"
"Join my webinar!"
"Get my course!"
Don't get me wrong — there's a time and a place for a clear CTA.
But when it's over-done?
Your page gets spammy and loses its appeal.
Consider scheduling 1-2 CTAs a week.
Use the rest of your posts to build community.
When done this way, your CTA holds more weight, and your audience will pay attention (instead of unfollowing you)!
Does scheduling Instagram posts affect engagement?
In a word: Yes!
Scheduling your Instagram post has a direct and indirect impact on engagement rates:
The DIRECT impact — if you schedule content people like, they'll engage with you more often!

The INDIRECT impact — consistent scheduling leads to consistent posts. That creates more opportunities for (you guessed it) consistent engagement.
How can you calculate your engagement rate?
Use a free engagement calculator!
A good free one is Phlanx.
Phlanx allows you to analyze changes to your engagement rate over time.
According to Scrunch, Instagram engagement rate guidelines are as follows: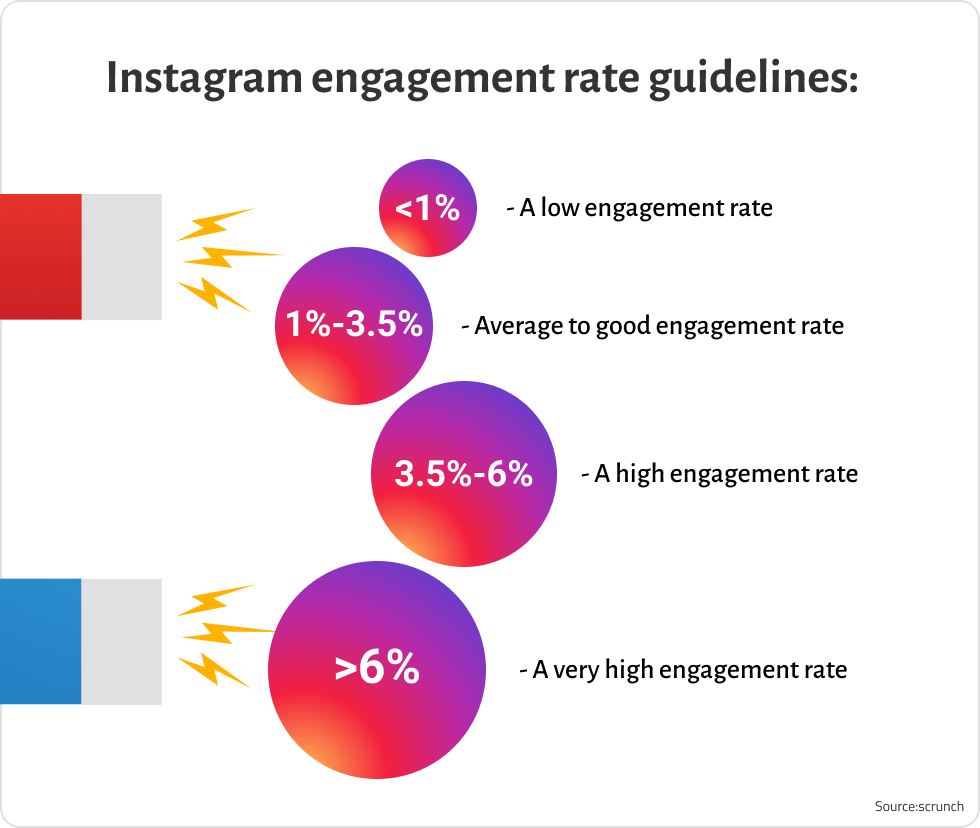 These numbers are based across all pages (industries, niches, etc.) on Instagram.
Also, note that it's natural for engagement rates to dip as follower size increases, so compare your engagement rate to your follower size demographic.
Let me explain:
Let's say your cousin Tom has an engagement rate of 15.34% while Kylie Jenner has an engagement rate of 3.09%.
The thing is, Tom only has about 1,200 followers while Kylie has 225M followers.
So it's misleading to compare the two accounts.
At the end of the day, your best bet at driving a higher engagement rate is posting content that works.
Pair your analytics with your Instagram scheduling tool to make that happen on a regular basis!
The best FREE Instagram post scheduler

Scheduling Instagram posts is the smart way to do social media.
And using Post Planner to do it for free can take your engagement through the roof.
Post Planner's content library, data tracking, streamlined scheduling, and app integrations make maintaining a consistent Instagram posting schedule painless.
That's why so many businesses use Post Planner to schedule their Instagram posts — and they're thrilled with the results!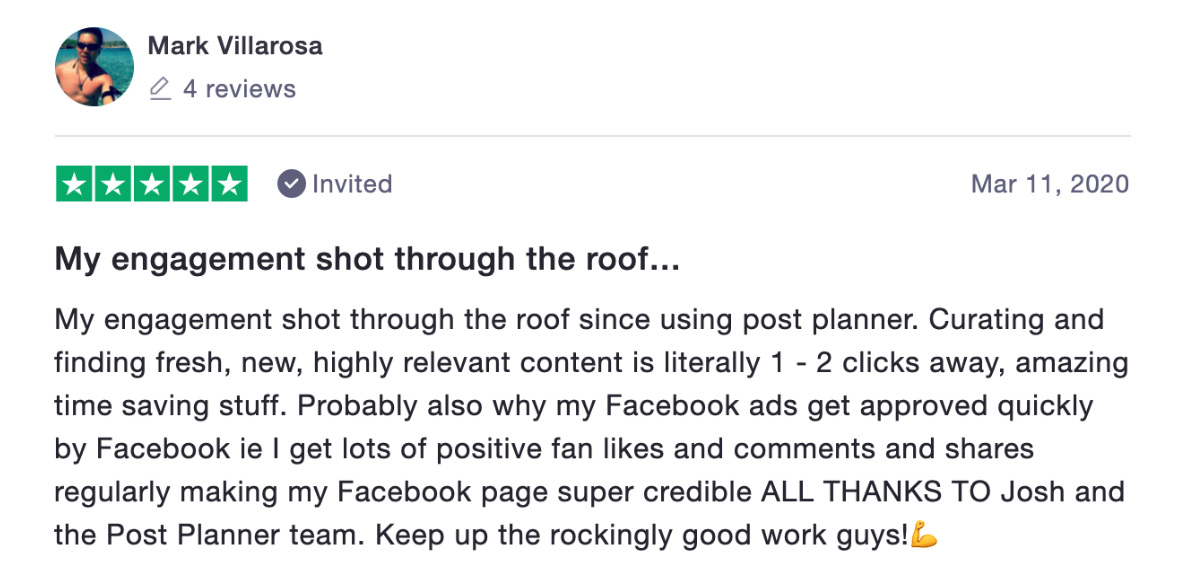 CONCLUSION
Want to skyrocket your Instagram engagement?
Sign up for a FREE Post Planner account today!
Have you had success with scheduling Instagram posts?
Please share what you learned in the comments below...