Looking for the best ways to market your local business on Facebook?
Not convinced of its power to help you increase engagement, clicks, and sales?
With 1.47 billion daily active users and 2.23 billion monthly active users, Facebook is where your potential customers are spending their time.
But you can't just hop on, post some content, and hope to make connections. If you want to convert your Facebook fans into customers, this post will show you how to do it.
Below is what you need to include in your local Facebook marketing strategy!
Ready to get market your business on Facebook? This is EXACTLY to Include In a Local Facebook Marketing Strategy!

Click to Tweet
This is What to Include In a Local Facebook Marketing Strategy
1. Company Goals
Because every great strategy begins with research, this is your first place to start. Research inside and outside your company.
What are your Facebook marketing goals and how do they align with every aspect of your business?
What does your audience needs and how does Facebook help you provide a solution?
Why do you want a business presence on Facebook? How does it support the growth of your company?
Does it:
Increase brand awareness and loyalty?
Improve site traffic?
Build a closer audience relationships?

Drive conversion

s?

Boost sales?
Identify the target audience (TA) of your product and what specifically you do to help. Facebook is visited by 1.15 billion people daily, many of which are your potential customers.
Once you've identified who they are, now look at where they spend time, what interests them, what language they use.
The more clear your TA is, the easier it is to sell goods and services through a local Facebook marketing strategy.
2. Local Content Plan
To understand what type of content will bring the best Facebook results, analyze the competitors of your niche.
What type of local content are they creating that inspires their audience? To get an idea, begin by tracking this data.
Look at:
Number of subscribers
Their top features
Type of content they post: articles, life hacks, videos, images with motivating quotes
Publications that get the most response
Time of day their audience is most active
Average number of likes, comments, shares on their content

Frequency of posts

Promotional content engagement
You can perform this research manually by collecting data into an Excel spreadsheet, sorting, and consistently analyzing top performers.
This will help you compose a content plan specifically for your target audience.
3. Local Content Strategy
Create an Excel spreadsheet with a weekly (monthly) publication schedule. Here's an example of how to do that without wasting a whole bunch of time.
Now write down what time and which posts will be published to your Facebook page.
If you're wondering what type of content to post to Facebook and the correct ratio for increased organic reach, here's a high-level overview.
10% - info about your company
20% - promotion/advertising of your goods and services
30% - useful content
40% - entertaining content
This will help you market your local Facebook page without large financial investments.
Remember, the content that you publish must be convincing, interesting and useful to your audience. This is the only way you'll be able to gain the trust of your fans, and turn them into customers.
To help you maintain consistency, use auto-posting tools like Post Planner to keep content flowing at regular intervals.
Don't let this queue of posts be your local Facebook strategy! 🤪
4. Locally Targeted Facebook Page
To get found and be seen, ensure your page is locally targeted to your city, community, and exact fans.
Within your page, highlight who you are, what your city or neighborhood means to you, and who you're looking to make a connection with.
If you haven't created your Facebook business page yet, keep the following in mind:
You can create a business page through a personal profile.
If your business is small or medium, it's best to use keywords relevant to your company in the title but not solely the company name.
The keyword in the title will help the user find the page through search. In order to find topical keywords, you can use the free Google AdWords tool.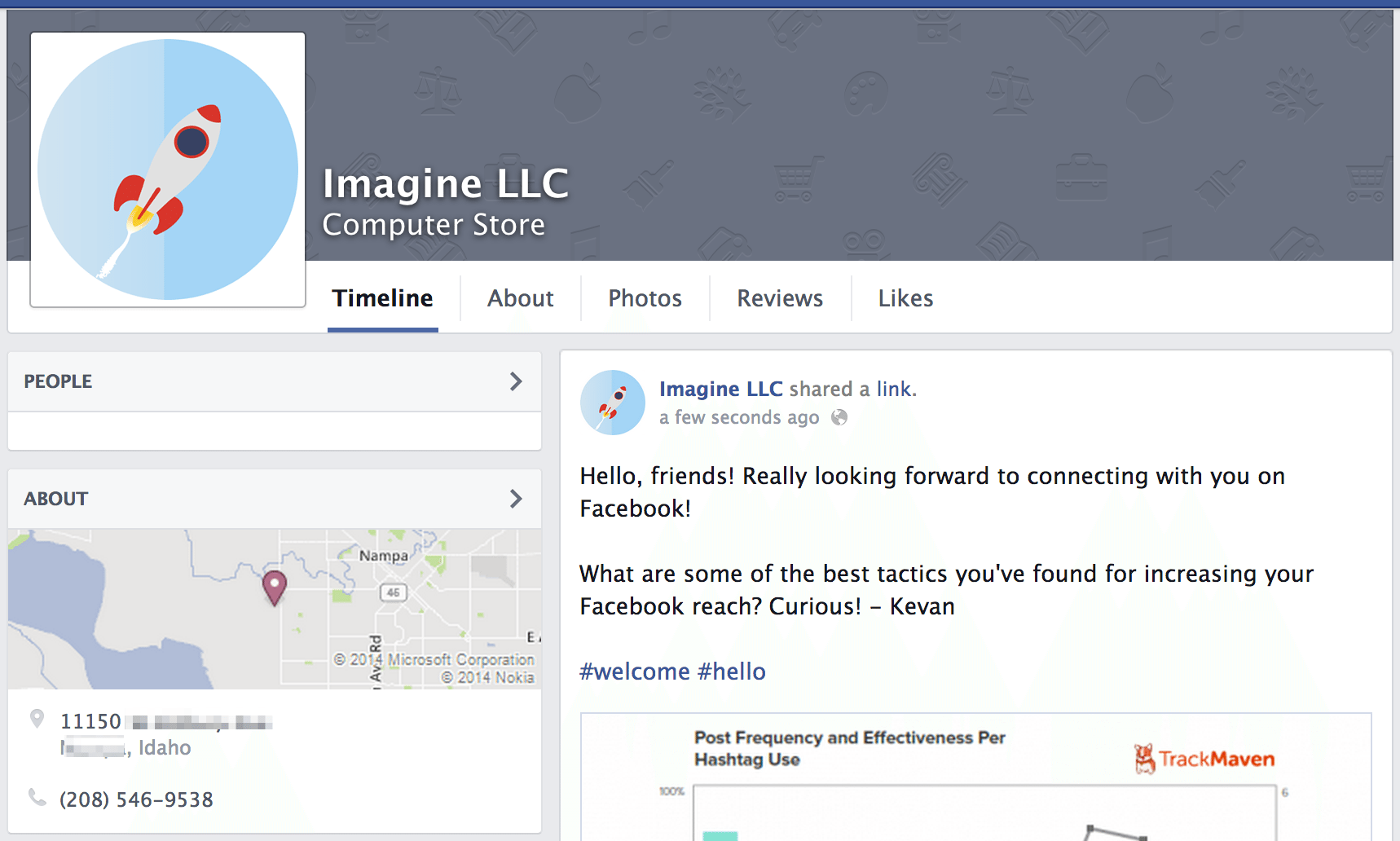 Once you've properly titled your page, you need to correctly identify the business category, specify the information about the company, and fill out the contact information with your local details.
Take care of the design - first of all, you need an avatar and a cover for the page. Does your current look and feel speak to your local market?
The logo of the company should be depicted in the avatar
The cover page can contain a call to action, a photo of the product, a brief description of the service, up-to-date information on discounts, etc. The main thing is that it's conceptual, bright and attracts the attention of your followers.
The cover text should not take more than 20% of the entire space.
Next Steps
Now that you've updated your page so your audience can find you, it's time to share your page. Your customers won't know you're on Facebook unless you tell them about it.
An excellent way to market your Facebook page is to tell your friends and family that you are now connected to this social network.
Almost everyone has a Facebook page, and most people have a fairly wide network of friends. Yes, of course, this will not create a client base, but this will create a chain reaction that will lead to the initial followers for your page.
It's just a starting point, but a great place to gain traction.
5. Psychological Techniques
There are only 7 of them, and they'll help you increase the coverage and involvement of your posts.
Identify emotions you want to invoke and deliver them with a photograph featuring a face
Use the correct colors. Red with blue is the perfect combination that attracts attention and does not do it too aggressively. The picture below shows the statistics of men and women's favorite colors.
Cut the price in the advertising offer. For example, write $39.99 instead of $40.00.
Add the trigger word "now", causing people to click more actively on your post.
Choose the right cover image, as it's actively studied by your followers.
Create a deficit in the ad. Make your product exclusive - this will increase the desire to purchase your products/services.
Use odd numbers. They're more attractive to your audience.
6. Reviews
If you created a business profile on Facebook in the Local Company category, you have the opportunity to collect reviews from your customers.
Although you can't explicitly make your customers visit your business page and leave a review, you can encourage them to do so with the help of giveaways and other prompts.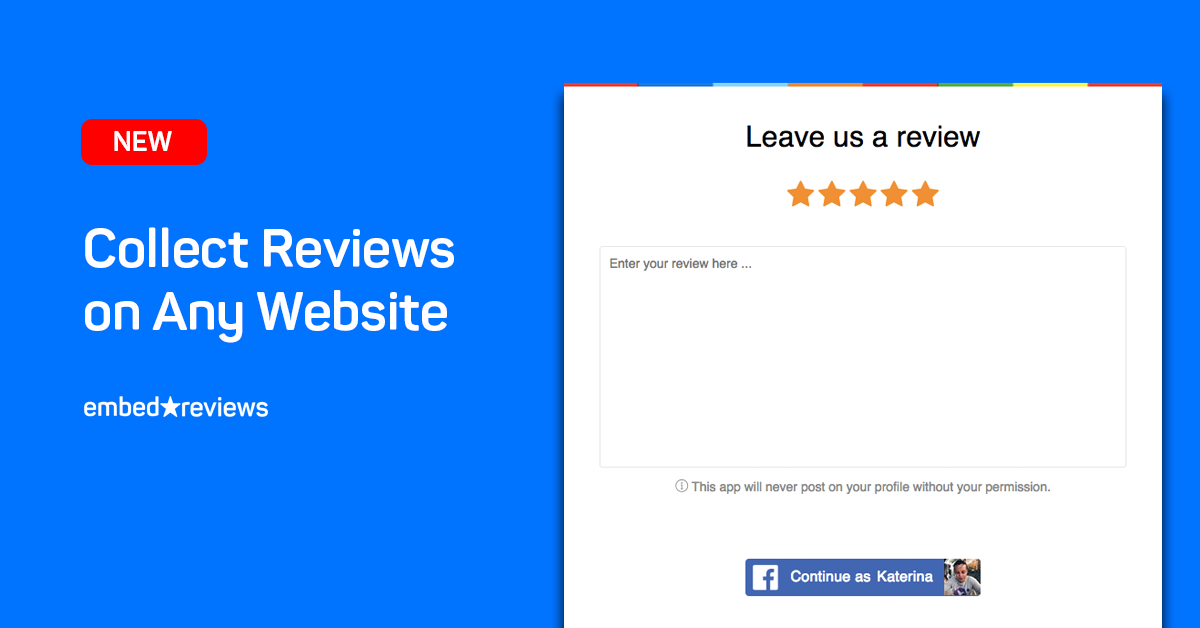 In addition to the reviews on your Facebook local business page, you can integrate the best reviews to your site.
To add a review, click on the comment button, click the drop-down arrow in the upper right corner and select the insert post option. (In most cases, the "Insert post" option will be hidden under the Advanced Options in the drop-down menu).
Use an HTML code to integrate the best Facebook reviews from your site to the reviews section to increase the authority of your profile.
7. Interaction
The most advantageous way to use a Facebook business profile is to interact with the audience.
Your fans are a variety of people: fans of your content, supporters of your local business, potential customers, current and former customers.
Consider this when creating content and posts that interact with these groups of people.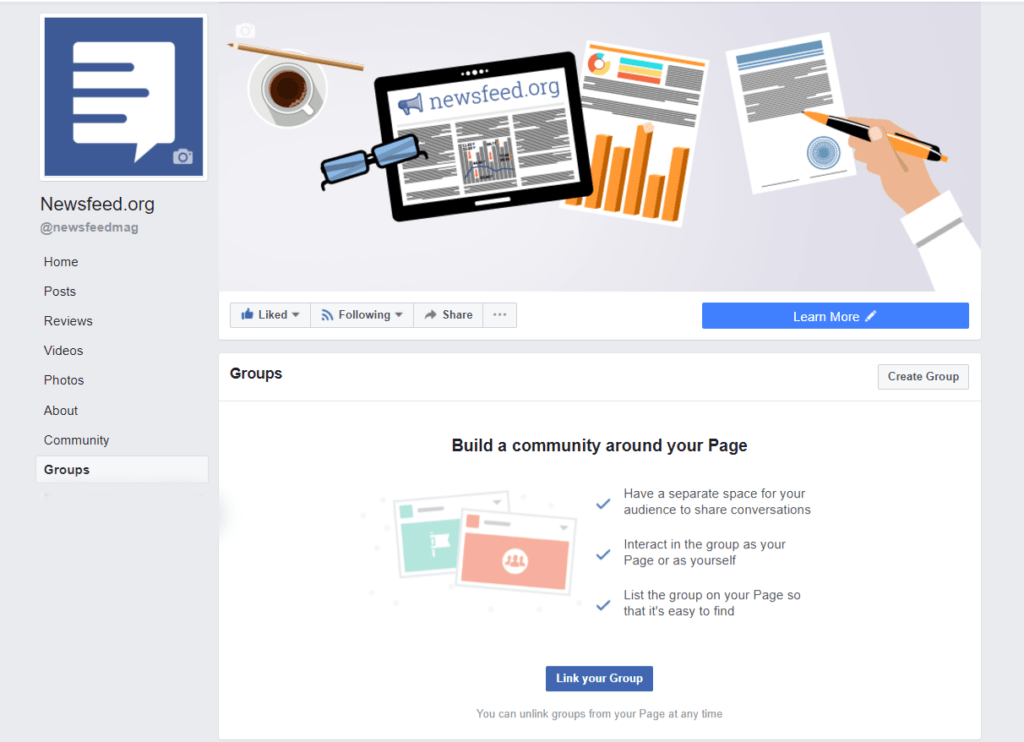 This means that your posts should be aimed at encouraging your audience to interact with your content.
You can do this by encouraging active audience participation (through calls to comment on your content, for instance). But, we'll expand on that below.
8. Feedback
Want to get an idea of what your potential or current customers really want? Do research on Facebook.
Thorough research will enable you to understand which goods and services people are looking for. It also allows you to get feedback on any one of your products or services.
Bottom line... get inside the head of your target audience.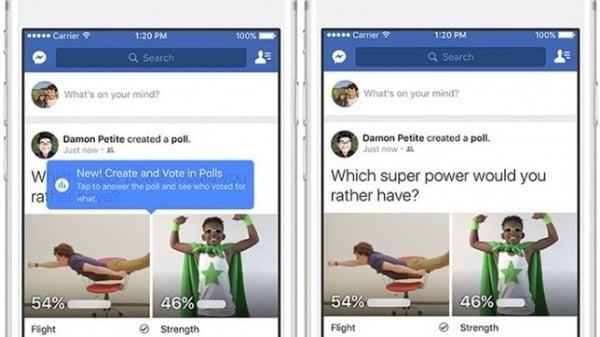 Poll your audience using the Facebook polling app service so that the responses are automatically sorted.
In addition, these let you gather additional information (for example, e-mail addresses of your customers), which is something you cannot publicly do through your page.
9. Earned Engagement
If you finish your posts with a triple repetition of the phrase "give a thumbs-up to this post and do not forget to subscribe," then it's likely that you'll cause a negative reaction.
Nobody likes beggars, and on the Internet, this rule is as true as it is in real life.
In order for your followers to subscribe to your Facebook page, actively appreciate, and share your content, you need to give them something in return.
Offers can be very different. For example, you can promise that all new company products will appear on Facebook first and only then be added to the company's website.
This way, you can significantly expand the circle of your followers. Or you can go even further, offering a 5% discount and a one-time offer of 20-30% if the purchase is completed within a week after joining the page.
You could also offer a choice. For example, you can encourage users to give you a like if they can relate to your post, or write a comment why they are against it.
But why would a user make the first or a second choice? In this case, you can offer a free gift for a customers next order if they comment or like your post.
In fact, there are countless options you can use!
10. Comments and Testimonials
There are over 128,000 websites using Facebook comments as an alternative to the standard comment platform built into Wordpress.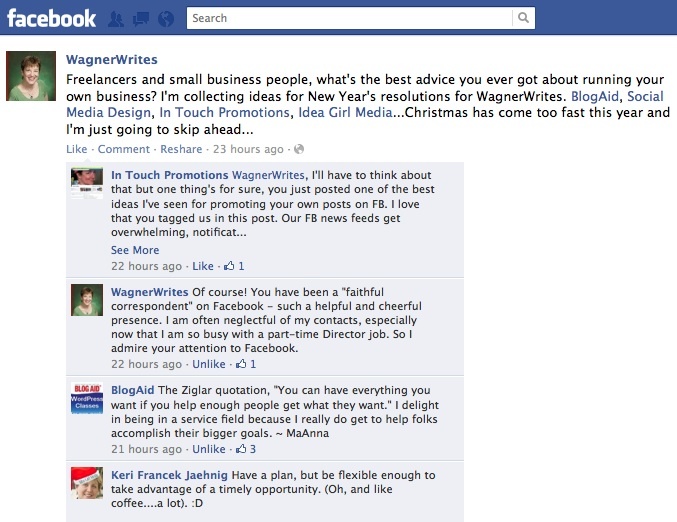 If you comment on a blog on a topic related to your business, use your Facebook Business Profile to post comments, instead of your personal profile.
From the drop-down menu, next to the comment button, select your profile and then leave a valuable comment.
Using your local Facebook Page, you invite the people who like your comment to click on your page but not to your personal Profile.
Anyone who serves as a moderator or admin on your business page can use your page to comment on blogs using the Facebook comment widget.
Final Thoughts
I hope you learned a few interesting things that will enable you to update your page or start a new one, and create a successful local Facebook marketing strategy.
What about you?
Do you have some ideas on how to market your local Facebook Page? I'd be very curious to hear your suggestions!