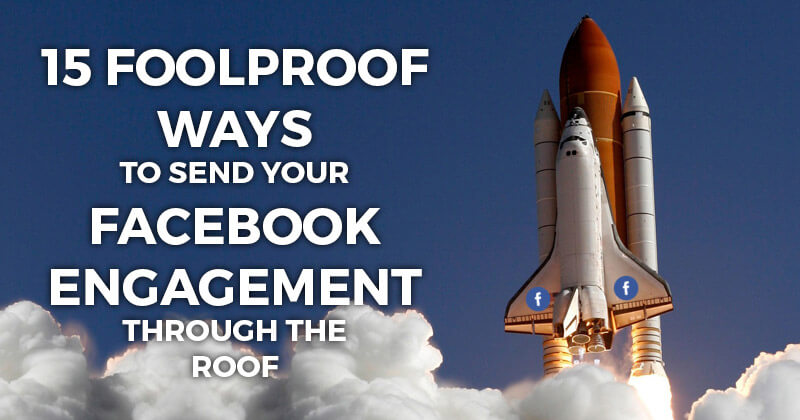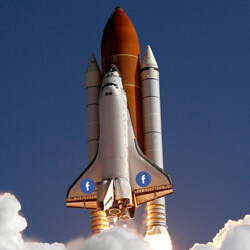 Are you tired of your Facebook posts falling flat?
Are you looking for ways to super-size your likes, comments and shares?
Would it be good for business if you were able to stir up Facebook engagement for your clients?
Yes to all 3?
Then look no further!
This post will walk you through 15 foolproof ways to send your Facebook engagement through the ROOF.
Let's get started!
>> Click to Tweet <<
15 Foolproof Ways to Send Your Facebook Engagement Through The ROOF
1. Ask questions to spur interaction
Posting thought-provoking questions to your Page is one of the best ways to increase engagement. People love to talk if you give them a a chance!
Types of questions you can post include:
Fill in the blank (e.g. "If I could go anywhere in the world, I'd go to ______________")
Trending topics (e.g. "Who are you cheering for in the upcoming finals?")
Business-related questions (e.g. "What's your favorite tool for increasing your productivity?")
Product preferences with photos: Show the choices, then ask your fans which product they prefer.
Opinions on a blog post: Link to a post, then ask your fans a question about the post
Here are more examples of question-asking formats that get results:
My 'go-to' spot for instant status ideas is right here at Post Planner! They have a whole area devoted to random questions. It's a treasure trove of good stuff right at your finger tips!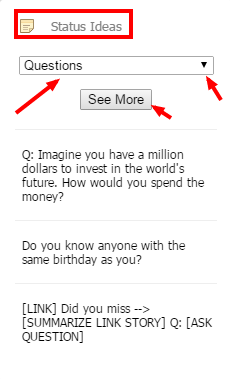 >> Click to Tweet <<
2. Include a call to action (CTA) in each post
Tell your fans exactly what you want them to do after reading your post, but be careful not to get in trouble for like-baiting.
Ask your fans to check out a link, share their thoughts or "Leave your questions in the comments below."
>> Click to Tweet <<
3. Use more images and less text
We know that images receive more interaction than anything else on Facebook.
According to this Wishpond infographic, photos receive 53% more likes and 104% more comments than the average post (some research suggests these numbers may be even higher).
Consider adding an image to every post. Even if you just want to post a quick tip or piece of advice, find an eye-catching image to draw eyeballs.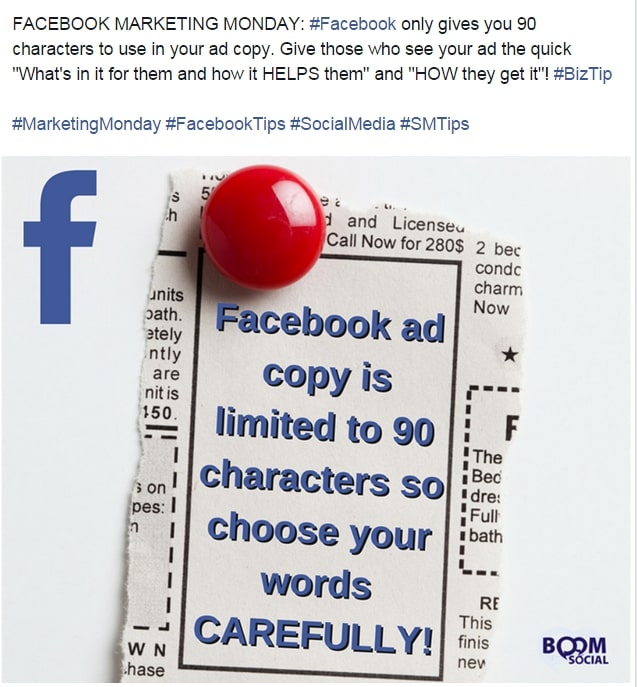 >> Give Wishpond a Shout-Out! <<
4. Provide context to your links
If you want people to click on links to your blog posts, be sure to provide a post excerpt, backstory or a "what's in it for them" blurb.
That will entice them to click through. It will also help you avoid getting penalized for being "too promotional".
>> Click to Tweet <<
5. Post at the optimal times for YOUR AUDIENCE
Studies show that some times are better than others for posting. One source suggests 12pm -1pm, weekends and late evenings.
Visit YOUR Facebook Insights to see which times work best for your audience.
Experiment and test!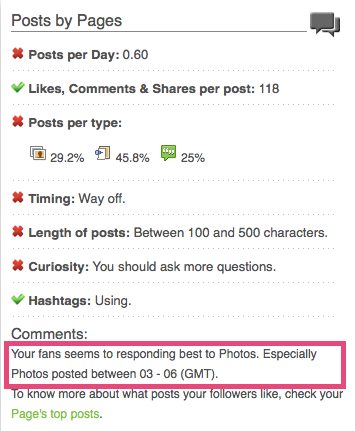 You can also use a free tool (for example, LikeAlyzer) to see when your fans are most likely to interact.
>> Give LikeAlyzer a BIG Shout-Out! <<
6. Post frequently to get more reach
Facebook post reach has fallen dramatically over the past few years. This means your posts often reach only a small percentage of your fans.
Posting high-quality content more frequently can lead to better engagement and increased reach for your posts.
7. Interact with your fans
Posting amazing content isn't enough. Be sure to respond to questions posted to your Page and to 'like' comments left by fans.
Provide excellent social customer service and your fans will continue to come back and engage with you.
8. Reference controversial content
While you have to be careful not to alienate your fans, referencing content that deals with a 'hot button' or controversial topic can definitely get people commenting!
9. Use more emoticons in your posts
You may feel that using emoticons is something reserved for teens and millennials, but research shows that using emoticons and emojias in social media posts actually increases engagement.
10. Ask your fans for help
Show your fans you care about their opinions by asking for feedback on your business or products. For instance: "What features would you like to see added to the next version of our product?"
You could also ask for business-related recommendations. For example: "What social media monitoring tools would you recommend?"
11. Post photo quotes
I already mentioned the importance of using images on Facebook, but this tip deserves its own number!
Here again, Post Planner is a great tool for finding images that have already proven popular on social media!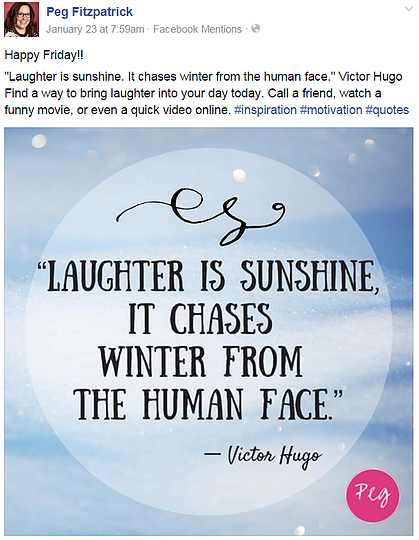 12. Show your personal side
People are more likely to interact with another person than with a nameless, faceless brand.
From time to time, make a point of sharing personal thoughts or photos to increase your 'likeability quotient."
13. Use the word "congratulations"
I haven't tested this out yet, but could it be this is the best way to increase your reach dramatically?
>> Click to Tweet <<
14. Use humor to lighten things up
Adding a little bit of humor to your updates can definitely increase your reach.
Everyone loves to share a good joke, so don't be afraid to post a joke or comic, or share something funny that's happened to you.
You can be funny without being offensive (most of the time).
15. Create a Facebook group for your fans
Setting up a Facebook group can be a great way to get to know your target market and to test out potential Facebook posts.
Try out content ideas in your group first, then post the 'winners' to your Facebook Page!
How to Get More Facebook Engagement - Conclusion
Keeping up with the demands of managing a successful Facebook page every day can be exhausting! If you're going to invest the time, though, why not get the best results?
My hope is that these 15 tips will not only give you ideas -- but help you come up with your own. After all, the world of social media is constantly changing.
What are your best tips for boosting Facebook engagement? Share with us in the comments below!
____________________
RECOMMENDED ARTICLES: