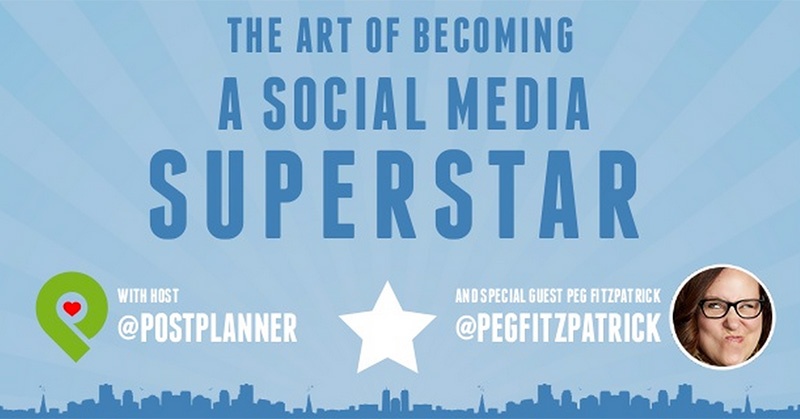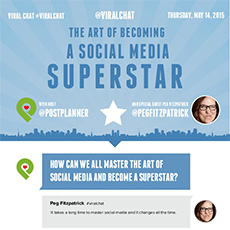 How do you become a social media superstar?
Do you need special powers?
Can anyone do it?
Is there a clear path to follow?
We asked Peg Fitzpatrick, social media sharpshooter and co-author of "The Art of Social Media" with Guy Kawasaki, to take the hot seat and answer those questions in this week's edition of #ViralChat.
Peg helped grow Kawasaki's social media presence to over 10 million followers.
10 million!!!.... 1.45 million on Twitter alone!
If anyone knows how to master the art of becoming a social media superstar, it's Peg Fitzpatrick.
So we wanted to know Peg's secret recipe to creating:
Viral social media growth
Content that drives massive engagement
Promotional posts that convert (without feeling spammy)
And Peg spilled the beans!
I'll give you a summary of the chat below, then an Infographic to save, share and PIN!
Sound good? Let's go!
>> Click to Tweet <<
How Do You ACTUALLY Become a Social Media Superstar?? (Answers HERE)

Q1: How can we all master the art of social media and become a superstar?
A1. It takes a long time to master social media and it changes all the time. @PegFitzpatrick
Find our voice, our audience, and engage thru the medium popular with those we are trying to reach - never stop learning! @JoelRRenner
By actively engaging, building relationships, adding value to the lives of others, and HAVING FUN!! :D @AhnaHendrix
>> Click to Tweet <<
Q2. How can we be entertaining and informative on social media?
A2. I think you should let your natural humor shine through. Be your funny self and at least one person will laugh. @PegFitzpatrick
Sharing personal stuff on social media can be really entertaining. @AskAaronLee
Write/share for yourself first, audience 2nd. People are more likely to enjoy things that you are passionate about. @cammipham

Q3. What is the best type of content to share on social media?
A3. I love sharing graphics and photos on social media. I'm working on getting better at video. @PegFitzpatrick
Personal, pertinent and engaging. This brings value and that is what captures attention. :-) @London_Lady Video brings a level of authenticity by showing a face & voice of your brand - literally @Megan_E_Jackson
>> Click to Tweet <<
Q4: What is your best tip to be time efficient with social media if we have a busy schedule?
A4. To be time efficient, do your content curation in chunks. This gives you more time to converse and have fun. @PegFitzpatrick
I personally use @postplanner to schedule and @flipboard to read all my news to help me save time @AskAaronLee

If possible, post during commuting hours/when first entering or about to leave work -when most ppl seem to check their feeds @CaraRuccolo

Q5. How do you sell via social media without coming across overly promotional?
A5. You have to mix in your product/services into all your other valuable content. Help first, selling happens after. @PegFitzpatrick
Instead of selling on social media, you must SHOW THEM. Show them how it's used, worn, the results etc. @AskAaronLee
As a blogger I don't sell, I try to borrow time for people to read my stuff! @AgentPalmer
>> Click to Tweet <<
Q6. What is the most common mistake you see people make with social media?
A6. I see people provide NO value only tweeting small one or two word tweets to people. No value and not a conversation. @PegFitzpatrick
Not engaging followers when they want to engage! @jeffsieh
No value= Automation, spam selling, asking b4 building relationships @Susanmvh

Q7. How has social media impacted your personal brand?
A7. Well....being online created having a personal brand for me. Before social media only celebs were "brands." @PegFitzpatrick
Social media has changed my life from day 1! Introduced me to AMAZING people, opened doors for my biz and add value everyday @AhnaHendrix
Yes... Without #socialmedia I don't have a personal brand! @AgentPalmer
Q8. How do you get the most out of social media? Which platforms benefit you the most?
A8. I love love love Pinterest and it's been amazing for my blog and inspiration. Twitter was my 1st social media love. @PegFitzpatrick
I think @instagram is great because there's less advertising and noise. It's a great place to showcase culture and lifestyle. @kyleagardner
Twitter and Instagram have opened new connections for me @kathrynanywhere
Peg's Points to Ponder -- From #ViralChat 2
If you've not yet picked up a copy of her book, "The Art of Social Media," check it out. (Guy's name is on the cover too, but we all know who REALLY wrote the book.:)
Here are some bare bones picks from this edition of #ViralChat. Join us on Thursdays at 9 pm Eastern -- each week where we invite a pro mentor to share ideas and help us learn more about social media and marketing.
Social media mastery is a long-haul endeavor -- keep at it
Be natural, be you, have fun -- hunk up the chores to get more done without losing your joy
Graphics and photos are great shares -- video is on the rise
Seek to be helpful first... sales will follow -- always provide value
Mix it up and find your niche -- you can be a Superstar on social, yes you can
Remember: Come learn from (and chat with) this week's #ViralChat guest -- Guy Kawasaki -- Thursday @ 9pm ET on Twitter!
>> Click to Tell Guy You'll Be There <<
____________________
Grab the Infographic
____________________
RECOMMENDED ARTICLES:
To find out how to save time AND money with Post Planner: CLICK HERE