What's the KEY to optimizing your posts on LinkedIn?
It's simple...
Post when your audience is ACTIVE on LinkedIn!
This will take your reach and engagement to a whole new (and lucrative) level.
Here's the Best Time to Post on LinkedIn to Reach the MOST Followers
This guide will cover the best times to post on LinkedIn in 2021 AND how to optimize your posting schedule for the most reach.
You'll learn more about these LinkedIn scheduling tactics:
Is there a best time to post on LinkedIn?
The answer is YES.
Certain posting times will get you better results than others because more people are online.
In general, it's ideal to publish your content MONDAY through FRIDAY between 8am and 5pm.
(Just make sure you post in the right time zone!)
So why Mon-Fri, 8am - 5pm?
Those are typical business hours.
People already have work on their minds — so they're more likely to check out LinkedIn during their downtime.
But posting a bit outside that range (between 6am and 6pm for example) can still lead to solid engagement.
Why?
People check LinkedIn right before work to prepare for the day.
And people check LinkedIn after work to unwind.
When are peak posting times to publish on LinkedIn?
Cbmarketing suggests that Tuesdays, Wednesdays, and Thursdays are the PEAK days to post during the week.
The top-performing times to post on those days are 8am through 2pm.
The morning is a fantastic time to post because you're tapping into your audience's top energy and motivation levels.
Most audiences take a lunch break between 12pm and 2pm to check out their newsfeeds.
So what happens when you post outside of those recommended times?
You won't reach as many people — which will lead to less engagement.
The worst times to post on LinkedIn
Not all posting times perform equally.
The following are the least optimal times to post on LinkedIn:
Mondays

After 6pm on weekdays

Weekends
Why?
People are still exiting the weekend mentality most Mondays.
So they're not particularly enthusiastic about professional development.
And the typical professional isn't thinking about work anymore after 6pm and on weekends.
That's when they're browsing more relaxing content on platforms like YouTube, Instagram, and Facebook.
This doesn't mean you should NEVER post during these times.
It just means you shouldn't post your BEST content during those periods.
Why LinkedIn's best posting times differ from other social media
Unlike other social media platforms, LinkedIn's primary purpose is to help you PROFESSIONALLY.
That said, most people use LinkedIn to see industry-related posts.
And they tend to do that around business hours.
Facebook, Twitter, and Instagram CAN be used professionally...
But they're designed for more casual content.
This lends to more posting time flexibility.
How to optimize your LinkedIn posting times for MAXIMUM engagement
Here are 7 ways to tailor your LinkedIn posting schedule to YOUR audience.
1. Post the right type of content at the right time
Each of the following types of LinkedIn posts can skyrocket your engagement when posted at the right time:
Viral content

A personal story

An update to your professional experience
Once you figure out:
The right time to post...
And the content your audience is interested in...
You get an engagement feedback loop that looks like this:
More engagement = More eyeballs = Even MORE engagement
However, it's a misconception to think that a post's poor performance is totally a result of posting at the wrong time.
Time plays a critical role in your engagement rate...
But LinkedIn's algorithm looks at other factors as well, such as:
Connections and interests you share with others

Whom you've engaged with in the past

People who've engaged with you in the past

Hashtags used
Notice a trend in each of those factors?
Your audience.
LinkedIn is a search engine, so its goal is to connect people with the content they care about.
So the most important thing you can do is publish posts your audience WANTS to see WHEN they want to see it.
2. Post based on your audience
Not all audiences are the same, even if they're on the same platforms.
As you create LinkedIn content to post, ask yourself these questions:
Who's this post for?

What would I like my audience to gain from this post?

What's my goal for posting this?
Here's a practical example:
A business development rep will have a different target audience than a 19-year old job seeker.
That means their messaging and posting times will likely differ.
Let's think about the business development rep:
If she wants to connect with decision-makers, then the best time for her to post LinkedIn content is between 8am & 9am.
The 19-year old job seeker can work within a wider range of hours since recruiters have more time to be on LinkedIn throughout the day.
3. Use audience psychology
To get the full benefit of posting at the best time, you also need to understand your audience's psychology.
Why?
Because CONTENT is king on LinkedIn!
It's easier to post something your audience likes when you understand their mindsets at different days and times.
According to a University of Rochester study among men and women in different industries, most people are happiest Friday through Sunday.
Everyone loves the weekend!
Use this understanding to create fun and light content on Fridays.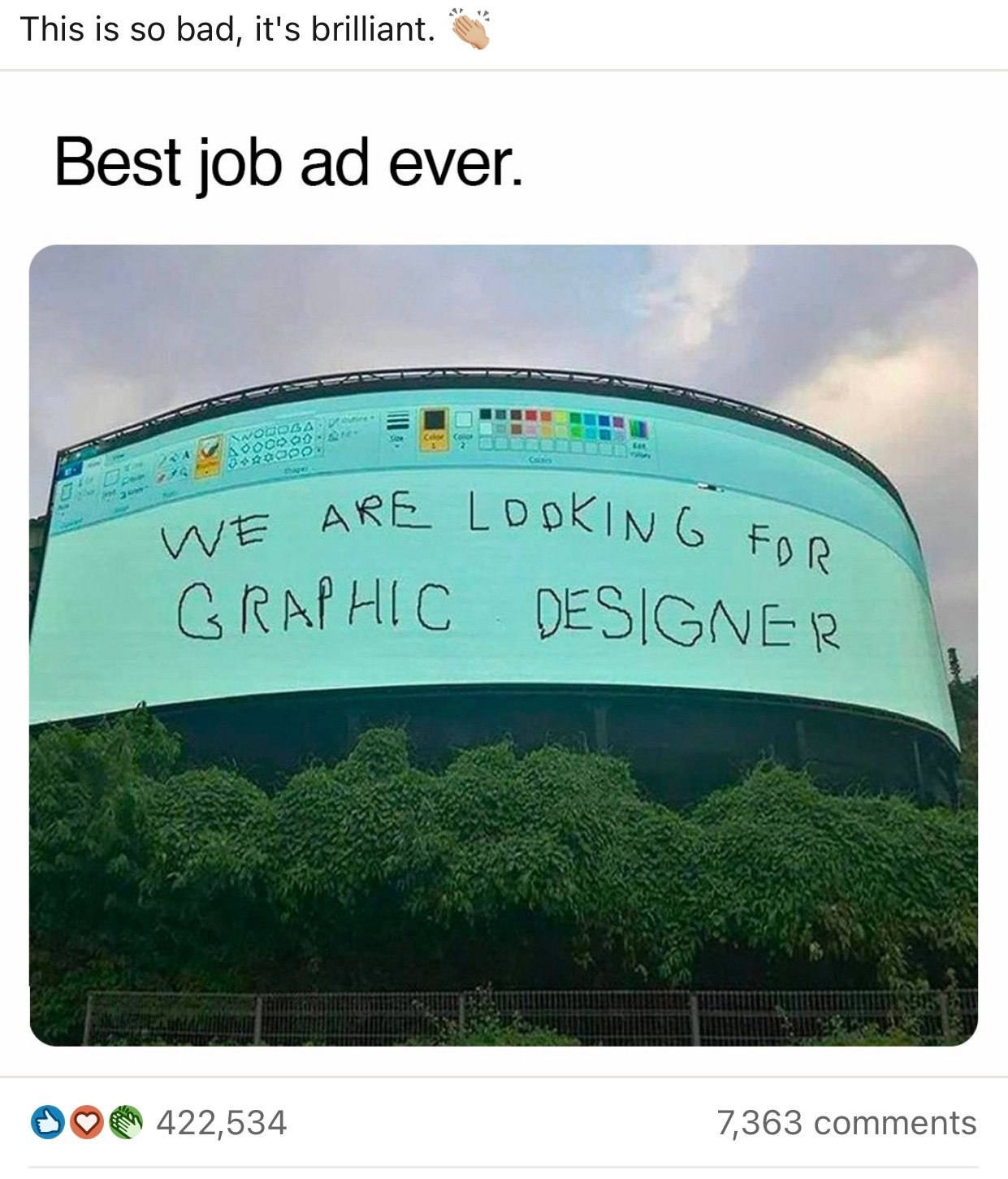 And leave the educational material for Tuesdays and Wednesdays.
Another factor to consider is content type.
Think about it:
Will your readers benefit most from video, image, or text-based posts?
For example:
Posting a LinkedIn video before work, during lunch, or after work might get a lot of clicks.
But a video released during hours when people are in meetings — will get less.
The solution?
You could publish a text post during peak work hours when your audience doesn't have time to watch a video.
Because they're more likely to skim a work-related article
Post Planner Pro-Tip: Add subtitles to your LinkedIn videos in case your audience doesn't want to (or can't) turn the video sound on.
4. Use hashtags when posting on LinkedIn
Posting on LinkedIn during peak times maximizes your reach to your audience.
But using hashtags during peak hours — takes it to another level.
Hashtags are crucial on social media.
They expose your post to a broader audience interested in your content.
When you use the right hashtags, your post becomes visible to people outside your network.
Which means more reach AND engagement!
Use 3 - 5 niche and popular hashtags on your LinkedIn posts for best results.
LinkedIn also allows you to follow the top hashtags in your industry.
Following LinkedIn hashtags is a terrific way to find topics to talk about.
5. Use your LinkedIn post analytics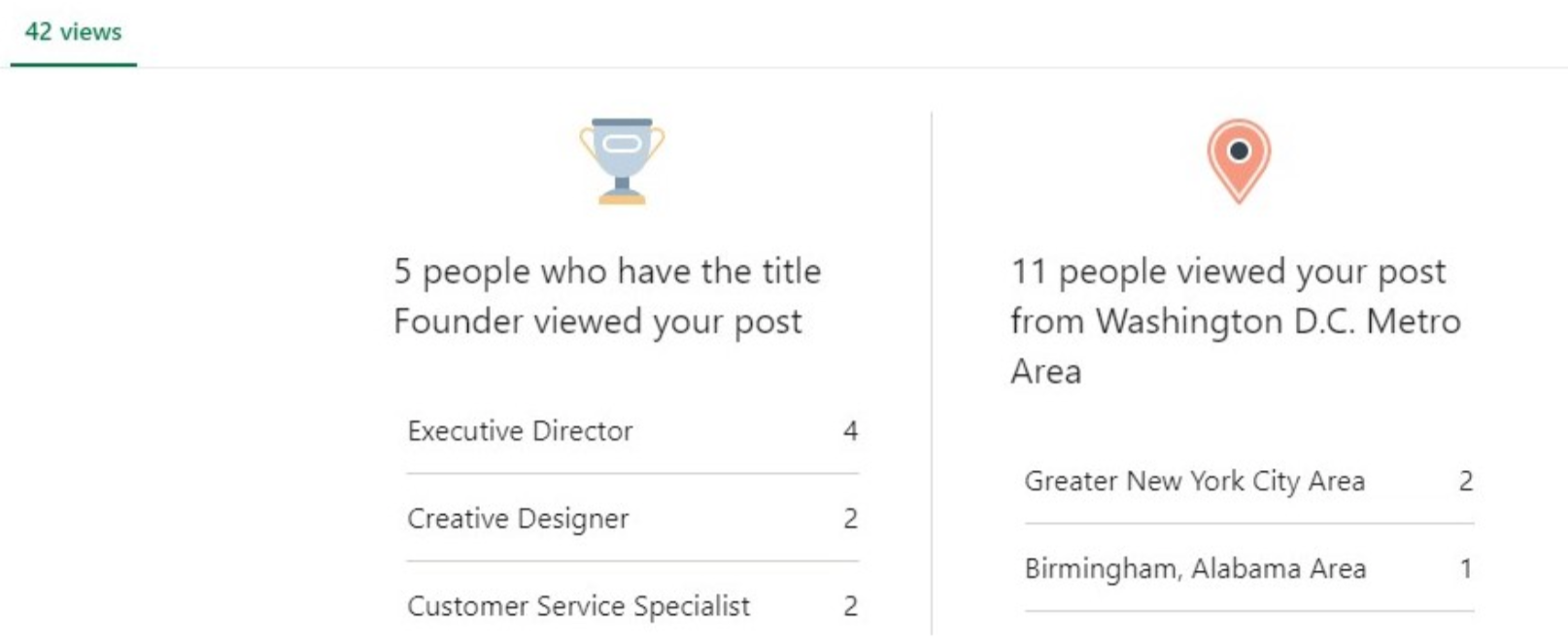 LinkedIn lets you peek into who sees your posts and from where.
All you have to do is click the grey graph bars from the bottom of your previous posts.
Examining LinkedIn's analytics helps you:
Identify the types of professionals viewing your content

Determine your target audience's geographic location

Provide data you can use to better target your market (time zone, content, etc.)
Pretty cool huh?
Post Planner Pro-tip: Look through multiple posts to find commonalities amongst your viewers.
Even with a diverse LinkedIn network, you should check out this feature on all your posts!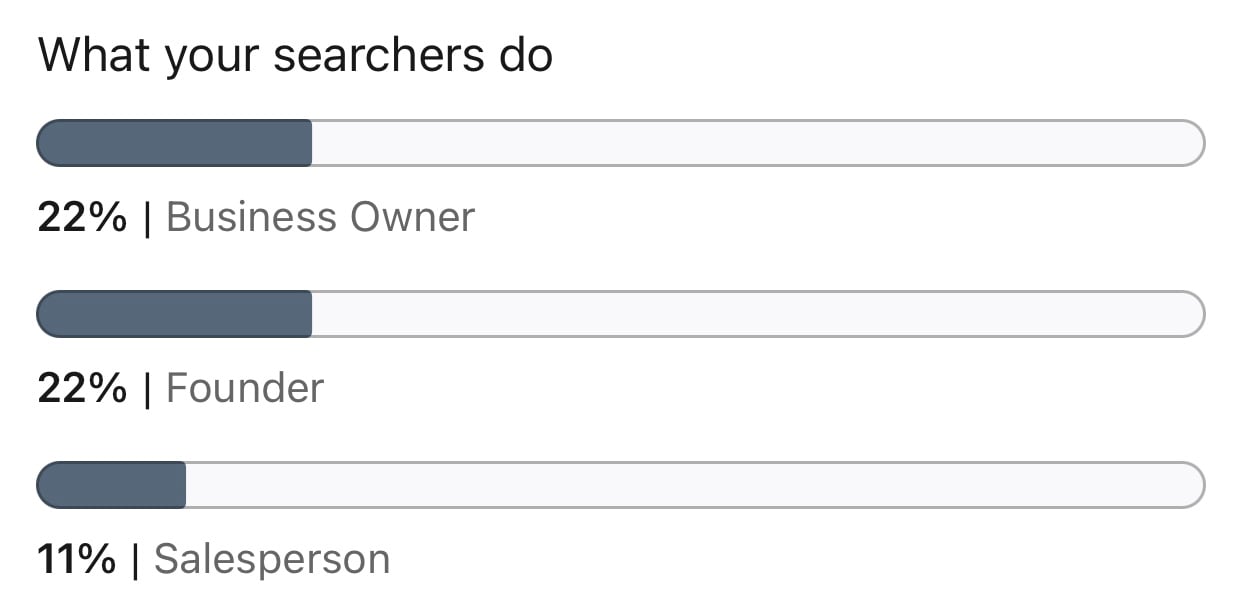 Another great feature is "search appearances." Here's how to access this tool on your account:
Click on "View Profile."

Scroll down to "Your dashboard."

Click "search appearances."
You'll get a birds-eye view of the average kind of professionals searching for you.
6. Track your posting time results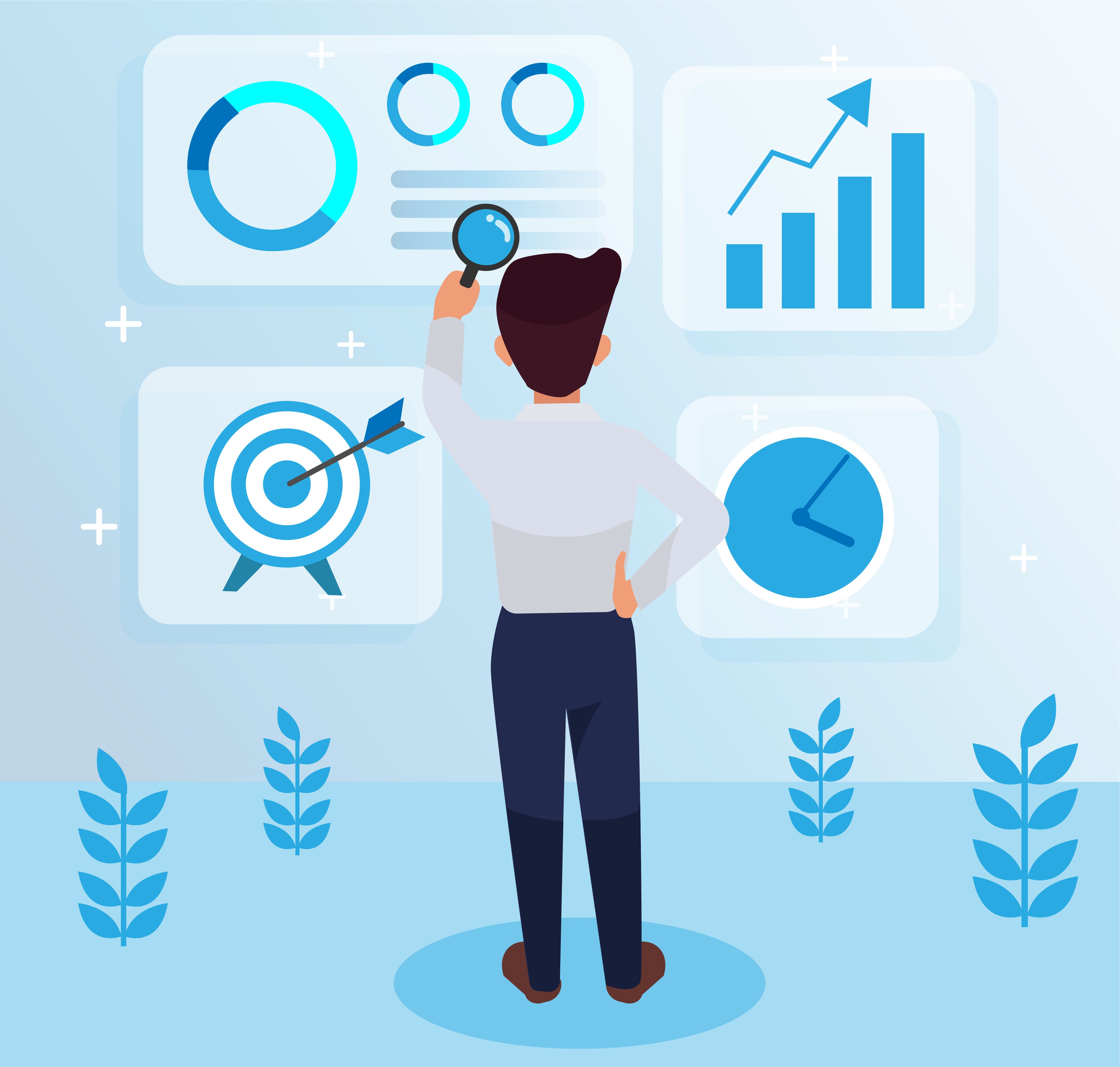 Like any new strategy you try, it's crucial to measure your results.
Measuring results allows you to double down on what's working and fix what isn't!
Here are a couple of factors that show your new posting times are working for you.
Likes, comments & shares
When publishing content, make a note of how your engagement starts to change.
Do you see more comments and likes when you post at 1pm than at 5pm?
Are new people commenting on these posts?
Your likes and comments are gateways to getting even more engagement.
Why?
LinkedIn's algorithm wants to push popular content to more viewers.
According to linkfluencer, the more engagement you get in the first hour of your post, the more popular LinkedIn deems your post.
Post views
Post views tell you how many people look at your content.
On average, the more post views you get, the more likely you are to see engagement.
If you're posting at effective times, your post views will go up.
But there's one thing to keep in mind...
The number of post views you get doesn't reflect impressions.
Here's what I mean:
Say you're posting about your "10 tips to better dieting."
Jill is on LinkedIn and scrolls PAST your post.
That's still considered a post view.
She saw your 10 tips list, but she didn't necessarily read the entire thing.
Scott sees the same post, reads it, and gives it a like.
That's also considered a post view.
More profile visits than usual
You know those: "*Blank* visited your profile" notifications?
Getting more of those is a sign that your posting time is working.
Don't be shy about messaging the person who viewed your profile.
Especially if they're a crucial decision-maker in your industry!
Post Planner Pro-Tip: Optimize your profile the way you'd enhance a landing page on your website. Think of it as another place to showcase background information about yourself, your company, and your brand.
7. Post on LinkedIn consistently. EVEN when you're busy!
Got meetings, errands, and a whole business to run?
Use a LinkedIn post scheduling tool to automate your posting.
This way, you can leverage social media marketing without burning yourself out.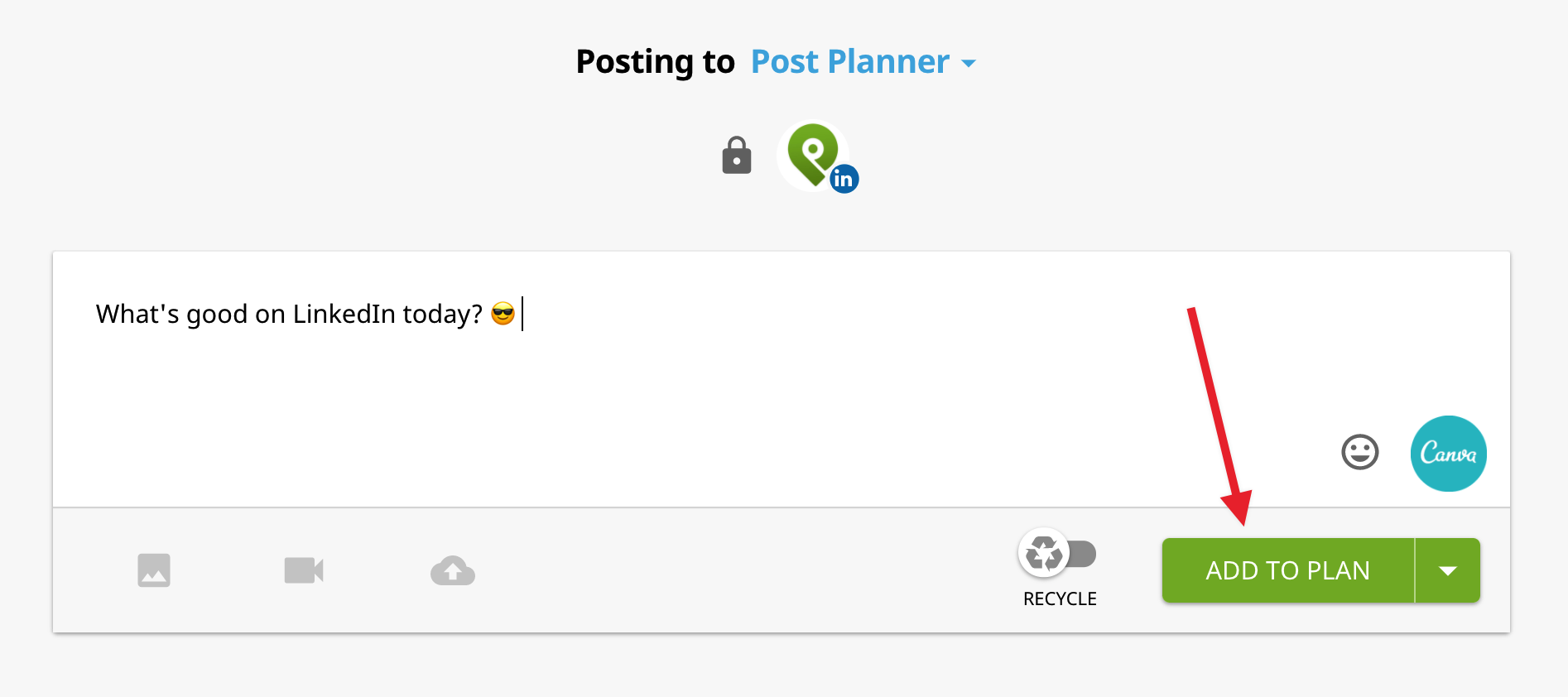 So what's LinkedIn post scheduling?
It's when you create and schedule a LinkedIn post to go out at a specific time.
Using a tool for this poses a ton of benefits, including:
Saving time

Posting consistently

Identifying best content and times for LinkedIn posts
With a LinkedIn post scheduling tool like Post Planner, you can ensure you post consistently and at the right time.
This guide gives you a step-by-step breakdown on how to schedule LinkedIn posts.
How often should I post on LinkedIn?
You should post up to 5x a week on LinkedIn (anything more than that, and the ROI tends to fall off).
It's also important to diversify the content types you post.
Let's say you post 3x a week.
You can do a native video post on Tuesday, a text post on Thursday, and an image post on Friday.
This variety makes your content outstanding and unique.
Sarah Leblanc, VP of Marketing Consulting at LPL Financial, says:
"Your content needs to stand out in the news feed and add value to be noticed by your audience."
She follows up by mentioning that people focus on images that grab attention.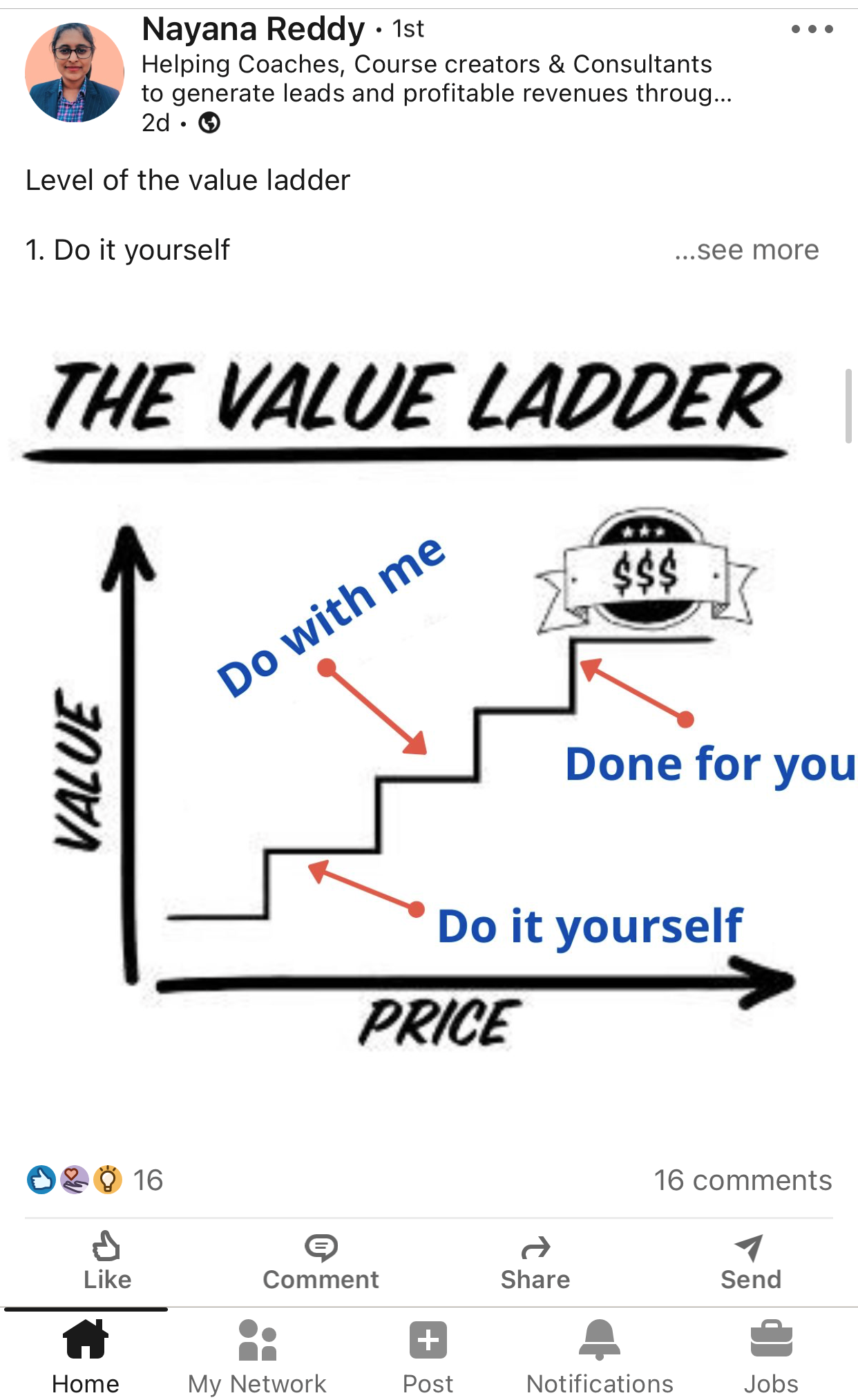 Relevant, appealing posts are known as SCROLL STOPPERS.
These are the posts that immediately grab your attention, stopping you in your tracks so you can check them out.
So how do you post content that has that effect on your audience?
With market research!
If you're running a business:
Ask your customers what they're struggling with.

Send out surveys related to your industry.

Look at online reviews (Yelp, Google, Facebook) of your competitors.
These efforts will help you identify the problems your audience is experiencing.
From there, you can create helpful weekly posts that add value and stand out.
Not sure how to create that type of content?
Post Planner has a viral content library FULL of valuable industry topics you can share with your LinkedIn network with just a few clicks!
How the LinkedIn algorithm works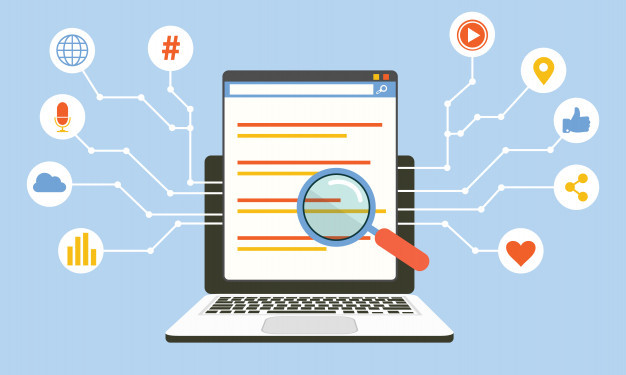 Understanding how LinkedIn's algorithm works can help you improve your content and posting times.
According to LinkedIn, posts are separated into 3 distinct categories:
Spam posts

Low-quality content

High-quality content
High-quality posts are identified by engagement, strong keywords, good formatting, moderate hashtag use, and appropriate posting frequency (i.e., NOT 3 posts in under 1 hour).
The algorithm also considers how your post performs in its 1st hour.
The more engagement your post gets during hour 1, the more likely LinkedIn will recognize it as high-quality.
Maximize the results of that hour by replying to every comment and asking follow-up questions.
Others will see that an interesting interaction is happening and may want to join in.
Native content on LinkedIn is rewarded
It can be tempting to share content linking outside of LinkedIn to your audience.
For example, you might want to link to a video on your YouTube account or share a webinar registration link.
These 2 scenarios encourage people to leave LinkedIn and go to a new platform.
Because LinkedIn wants its users to stay on the platform for as long as possible, the algorithm is less likely to show your post to more people if you do this.
So what's the solution when you have external content to share?
Create "native" posts.
A native post allows people to engage without leaving LinkedIn.
Instead of linking out to another platform to show a video, embed the video you want to share on LinkedIn.
Instead of posting the link to your upcoming webinar in the post, leave the link as a comment UNDER your post.
The algorithm won't penalize you for it.
And you'll get more bang for your buck!
Growthrocks found that reach is 3x higher when leaving a link as a comment than using it in your post.

The #1 scheduling tool for posting at the perfect time
Creating successful posts on LinkedIn comes down to deploying these tactics:
Posting at the RIGHT times (General: M-F, 8 am-5 pm, Peak: Tuesday, Wednesday, Thursday, 8 am-2 pm)

Understanding your audience (psychology, interests, time zones, occupations, problems)

Using market research (online reviews & surveys) to create relevant, valuable posts
But if you want to maximize (and automate) your efforts — you need to use a post scheduler!

A LinkedIn post scheduling tool saves yourself time, energy, and confusion about what to post.
Join the LinkedIn professionals already using Post Planner to streamline their LinkedIn posting!
Try Post Planner TODAY by creating a FREE account!