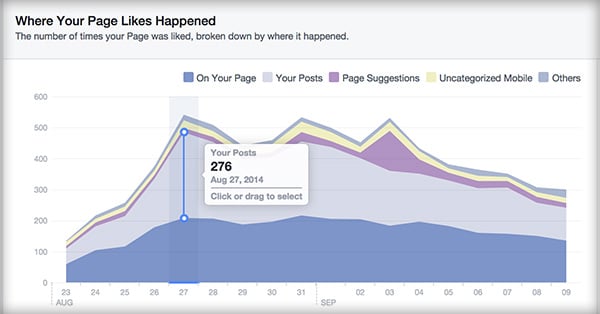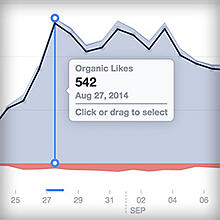 Want to get lots of Likes on Facebook without buying ads?
Blogger Scott Ayres dropped by the Post Planner podcast to talk about it.
He explains that Post Planner's Facebook page recently got about 8,000 new Likes in fewer than 30 days -- with no Page Like ads!
>> Click to Tweet <<
The growth to me was pretty surprising. These numbers are not fake, they're straight out of Facebook Insights & straight off Facebook.
The page received 541 Likes on August 27 -- and just one of those Likes came from an ad.
How did hundreds of new fans find Post Planner's page? Click "Play" to find out!
How to Get LOTS of Likes on Facebook Without Ads [Podcast]
[iframe style="border:none" src="http://html5-player.libsyn.com/embed/episode/id/3127990/height/100/width/480/thumbnail/no/theme/standard" height="100" width="480" scrolling="no" allowfullscreen webkitallowfullscreen mozallowfullscreen oallowfullscreen msallowfullscreen]
Listen to Scott explain how he uses analytics data from Facebook Insights to create powerful posting strategies for Post Planner.
But what's the real secret to getting this much engagement on a page?
Post lots of amazing content!
Packed with tips you can use today, in this episode you'll learn about:
how a Facebook page got thousands of new Likes with hardly any ads
where the new Likes came from: posts, people visiting the page, page suggestions & other activity
posts that were seen & shared by tens of thousands of Facebook users
a Facebook page receiving 500 Likes per day
why you need a posting strategy with photos, text updates & links
why you should post lots of content each day
how you can perhaps replicate this process on your page
how to use Insights to create strong Facebook strategies
a Post Planner photo that was shared almost 500k times
how to get more people to engage with your posts
how Facebook rewards pages that have lots of engagement & links
a social media expert who publishes lots of posts on her page
how to post a wide variety of content
how to revive a neglected Facebook business page
why you should post as often as your fans will engage
how to build a Facebook page from scratch
Here are some of the Facebook posts Scott discusses in this episode:


Blog posts & other interesting mentions:
How a Facebook Page Got 8,000 LIKES with Almost NO Ads
How to Quadruple Your Facebook Engagement on a Shoestring Budget
How To Increase Engagement On Your Facebook Page- A Social Media Content Map
Sandi Krakowski's Facebook Page
Facebook to Marketers: Stop Using Text Updates to Game the News Feed
Here's One Facebook Newsfeed Change Brands Can Actually Benefit From
Facebook To Reward Links Shared In "Link Format" Over Those In Photo Captions
Never Get Confused by Facebook Ads Terminology Again! [Infographic]
How to Use Facebook "Like Ads" to Grow Your Fan Page & Business
For fun: Gatesville Weather Report