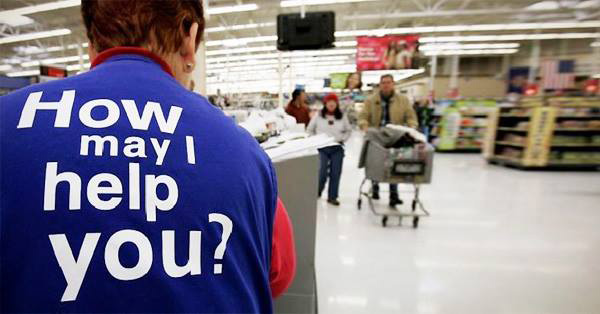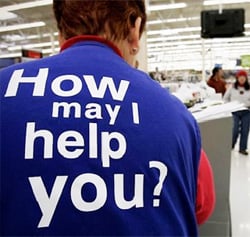 Walmart is, well, huge.
Love 'em or hate 'em, they're the largest retailer in the US.
And the 2nd-largest corporation in the world.
They employ about 2 million people in more than 11,000 locations worldwide!
So the decisions of the company impact all our lives -- whether because we frequent their stores or because we love visiting the People of Walmart website!
I mean, who isn't going to laugh at this:

But seriously, after reviewing Walmart's Facebook page, with its nearly 35 million Likes, there are some things I would do differently to spread the company's message around the globe.
Today, I have 6 tips that could help Walmart's social media managers improve how they run the massive page:
If I Ran Walmart's Facebook Page, I'd Do 6 Things Differently
Running a page the size of Walmart's must be a daunting task.
35 million Likes?! That blows my mind.
While reviewing Walmart's Facebook page, however, I noticed there are many things that could be improved.
And these are easy tweaks, like:
1. Add Links to Cover Photos
Walmart's cover photos are awesome, but they never have a link in the caption.
Most of the cover photos are similar in format & were supposedly submitted by Walmart customers.
Here's one that showed what some kids wanted for Christmas:

But there's no description or link to send visitors to a website.
Most of Walmart's cover photos have descriptions, but none have URLs.
And the company is missing out on web traffic.
On a Christmas cover photo they could easily include a link to decorations, toys or an online wishlist.
All your cover photos should include short descriptions, calls-to-action & URLs.
2. Add Descriptions & Links to Profile Images
A link on a profile image is also a great way to send traffic to your website.
And this is another area where Walmart comes up short: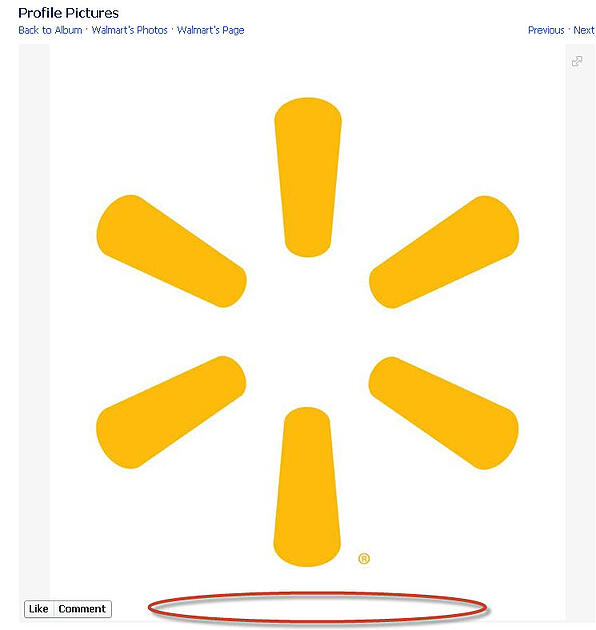 Though you shouldn't depend on these links to drive traffic to your site, you also shouldn't miss out on these visitors by lazily not including a caption with a URL!
About 3,150 people have Liked Walmart's profile photo, nearly 500 commented on it & about 828 people shared. ?!?!
And that's a lot of missed traffic.
Don't be like Walmart -- include descriptions & links with your profile photos.
3. Optimize the About Section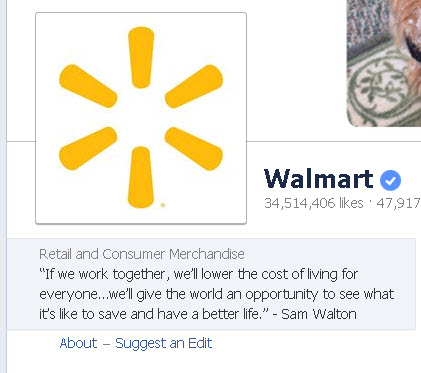 I dig the Sam Walton quote in Walmart's About section, but page managers still fail to leverage opportunities to drive traffic to the website.
I would post a link to the website in the short About section that appears on the Timeline.
4. Hide the Dang Like Count!
We all know it's bush-league to have your useless Like count showing above the fold, but page managers at Walmart still haven't hidden the app:

The Like count can't be removed from a page, but when using several apps, you can swap positions & make the count disappear from the app thumbnails displayed on the Timeline.
And Walmart has 3 other apps that could be used to showcase the page: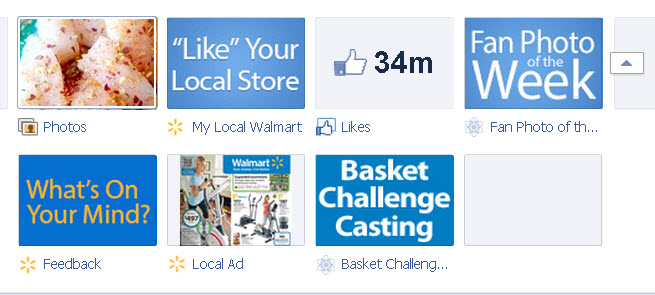 To hide the Like count you must install at least 2 3rd party apps on your page.
Once you do this, click the drop-down arrow to the right of the 4th app:
You'll see all the apps that are live on your page: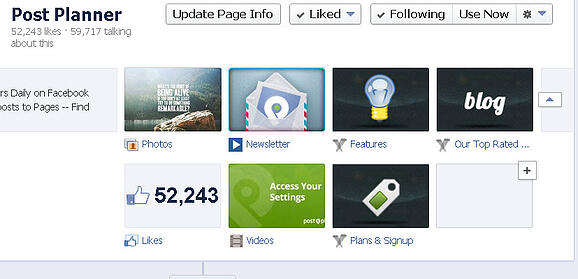 Hover over the app you want to swap & click the pencil icon that appears on the thumbnail: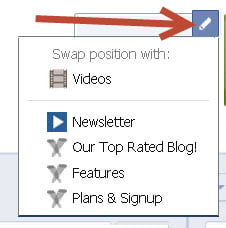 Choose "Swap position with" and pick which app to move to the top 4 on the page.
While you can't rename the Like, Photos or Videos apps, you can move them around.
I recommend hiding the Like count from the Timeline because those four visible app spots are valuable pieces of real estate on your page.
5. Have a Clearer Posting Strategy
Walmart provides a wide variety of posts.
Page managers publish photos, videos, links & text updates.
But they don't focus on driving web traffic -- which should be their top priority on Facebook.
Lots of photos are posted with ugly links like this:
This type of post might generate a lot more clicks: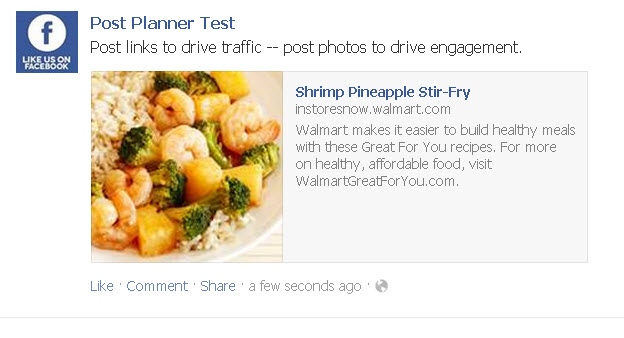 Granted, this link did not include a wide image with the preview, but when I want traffic, I post links -- not photos with links in the text.
When posting this link, Walmart could have chosen "Upload Image":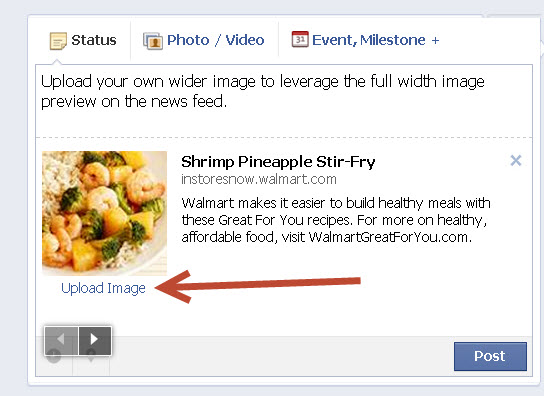 Had page managers done so, in the news feed, the post would have looked like this: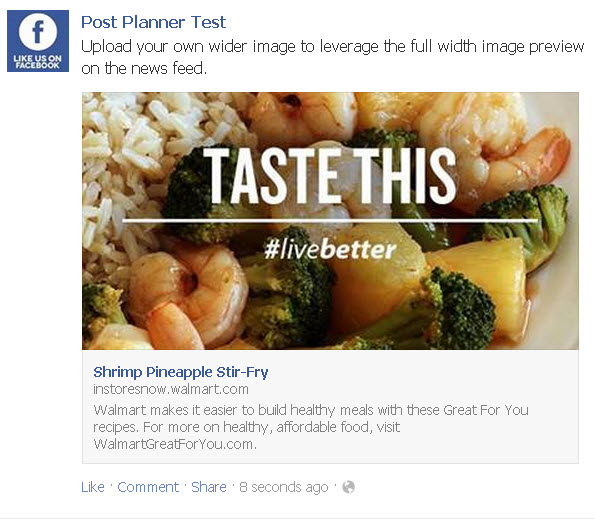 It has the same appeal as the original, but when someone clicks on the image they are taken to the website!
Other than that, I think Walmart's posts are just OK.
They do best asking short, funny questions.
When they post something lengthy or boring, even with 35 million fans, engagement is scant.
There are posts with only 315 Likes. How is that possible?!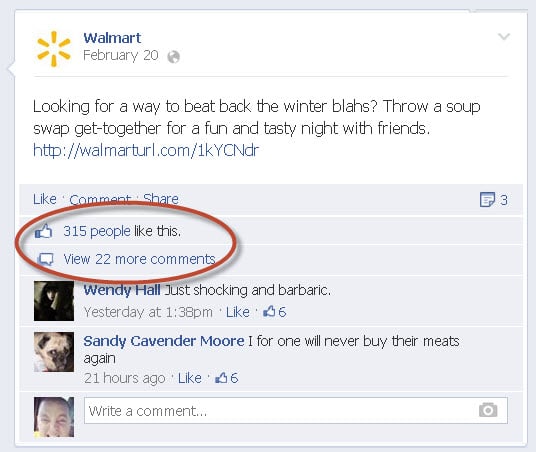 I have pages with 300 fans that get more engagement than that.
It's because of poor content strategy -- not providing a wide variety of posts in a voice lots of followers can relate to.
6. Handle Critics & Trolls
Finally, I must discuss how Walmart addresses its many critics & trolls.
With nearly 35 million Likes, it's only natural to attract some haters.
And Walmart likely attracts more trolls than most.
Page managers do a decent job responding to comments -- even those that bash.
But some critics seem to post the same comment on every post -- often about the alleged unfair treatment of pigs: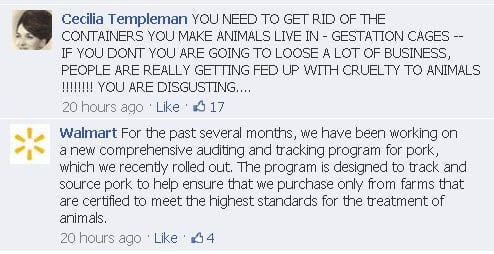 And Walmart responds the same every time.
While I like seeing page managers reply so quickly, there is a better way to manage comments on a large page.
By moderating comments within Facebook, page managers could prevent some comments from posting live & reduce the need to reply over & over to basically the same remark.
Simply click "Edit Page" above your cover photo, and then "Edit Settings":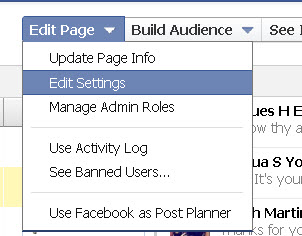 Click "Page Moderation" and enter words you want blocked from your page.

Walmart could enter words related to the treatment of pigs.
If Facebook's moderation tool works correctly, future comments containing these words wouldn't appear live on the page, but would be marked as spam & require a page admin to either approve or delete them.
Closing Thoughts
I love doing fan page reviews, and I'm sad to see such a large Facebook page managed so poorly.
At some point for Walmart, things got out of hand, and fixing the damage will take major work.
The dismal fan engagement on the page is embarrassing.
But low engagement on large corporate pages seems to be the norm, after all, check out the Talking About This numbers for these popular brands:
Pepsi
TAT %: 0.611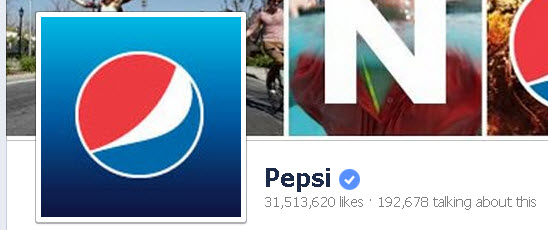 Coke
TAT %: 0.623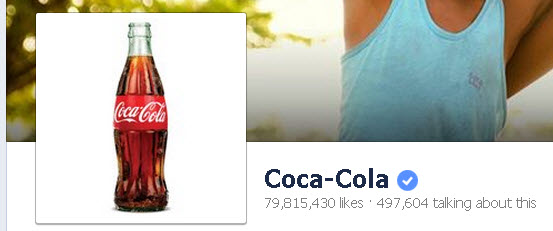 Budweiser
TAT %: 1.399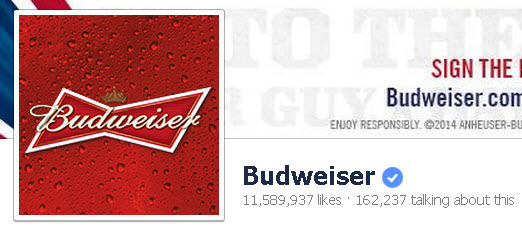 Chevrolet
TAT %: 1.312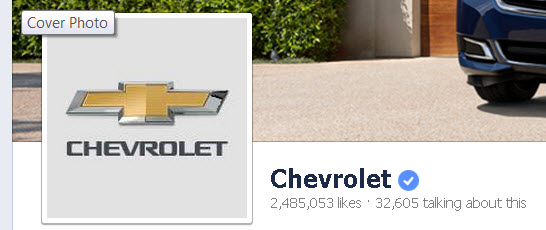 Ford
TAT %: 2.388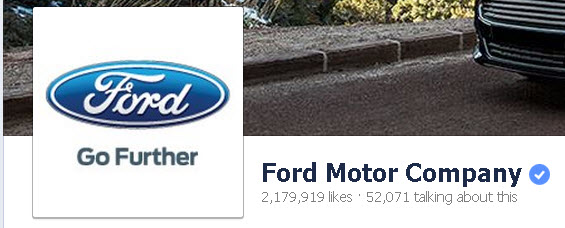 TBS
TAT %: 1.632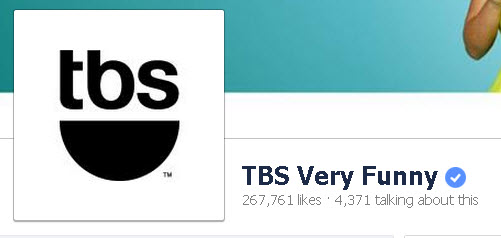 CBS
TAT %: 1.541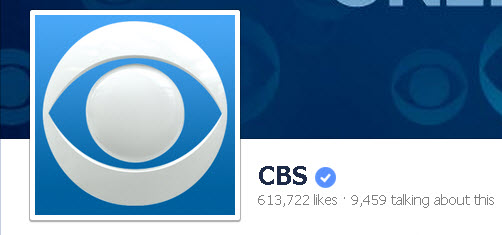 Target
TAT %: 0.048% (wow, that's horrible!)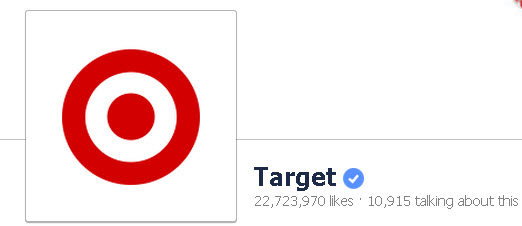 Walmart
TAT %: 0.138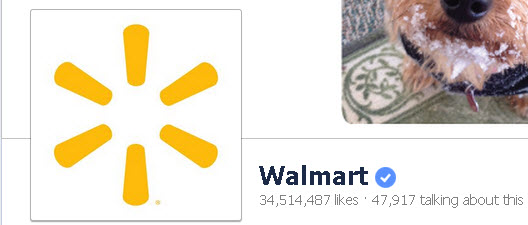 Now look at the TAT percentage for Post Planner's Facebook page: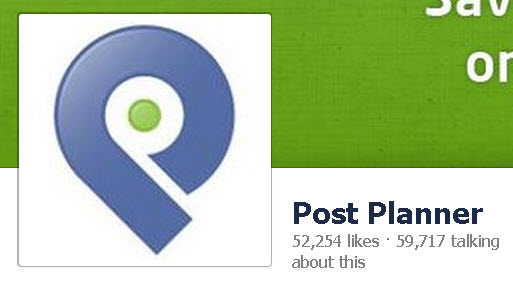 A whopping 114.28% !!!
While that doesn't mean all those people engage with every post, it does mean that lots of folks are talking about Post Planner & sharing our content.
Personally, I think we know a thing or 2 about how to get people to interact with a page.

Do you agree?
What are your thoughts about Walmart's Facebook page & my candid review?