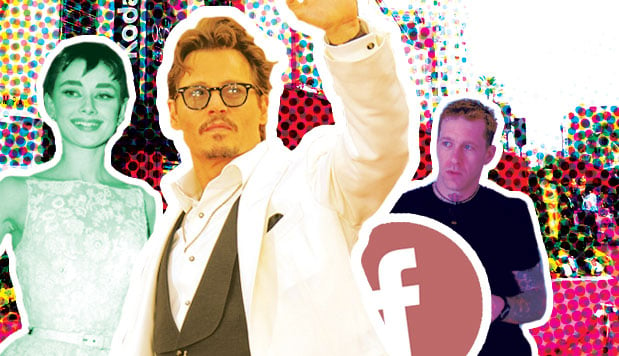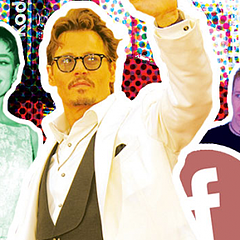 Ever wanted to strut down a red carpet in Hollywood?
Did you know you can use your Facebook Profile to get there?
At least, that's what an artist friend of mine did.
He uses his Facebook Profile to promote his paintings-- and doing so got him posing for paparazzi.
Why does Joey Maas use his Profile instead of a Fan Page to spread the word?
I'd rather interact with people on a more personal level. Anyone can add me as a friend, and I don't block any of my posts. I'll probably only make a Fan Page if I go over 5,000 friends.
With just shy of 1,200 friends, he admits his Facebook reach is relatively small.
But he's used Facebook to sell paintings, prospect for new commissions, book appearances at galleries and even show his work at the L.A. red carpet premiere of "House at the End of the Drive", a documentary about the Manson murders in Los Angeles.
Sharon Tate inspired many of my paintings -- and I've posted those portraits on my Facebook Profile. The filmmaker knew I was a fan, we connected on Facebook & I was eventually walking the red carpet.

He displayed my work inside the theater & at a party following the premiere. It worked great for getting my name out there -- since the event drew art lovers from around Southern California.
So how DOES Joey use his Facebook Profile to network & promote his work?
How to Use Your Facebook Profile for Networking (and to Get Famous)
1. Create an Awesome Cover Photo
When using a Facebook Profile to promote your art, nothing is more important than having a spectacular cover photo.
An artist should consider their cover photo the most critical part of their Profile.
Since Facebook implemented its Timeline for Profiles about 2 years ago, Joey has used a couple different cover photos – and both feature his paintings.
One is a portrait of Tate.
For the other cover (shown below), Joey explains the design as follows:
I'm an artist, and since I often discuss my work on Facebook, I want a cover photo that reflects all sides of my personality.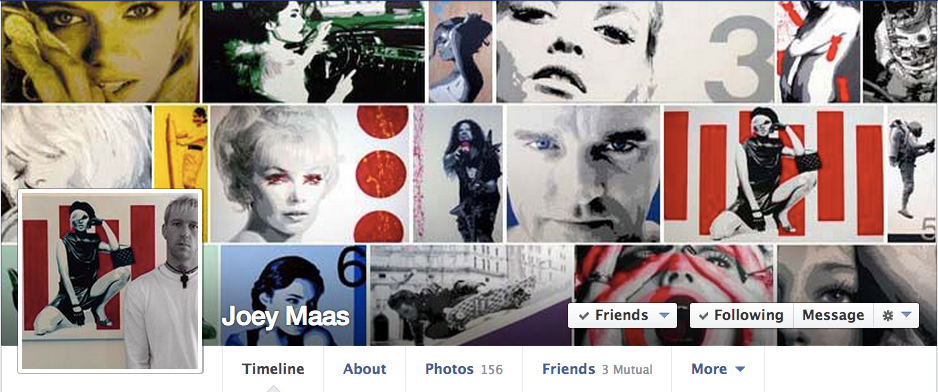 Social media expert Kristi Hines offers this advice when it comes to using your Profile cover photo for Facebook marketing:
Your personal Profile's cover photo should be just that – a little more personal or professional, but not dedicated to advertising your business.
Here are some tips for artists trying to create the perfect cover photo:
Brand yourself
Describe your work
Promote an upcoming exhibit
Highlight a new painting
Show yourself interacting with fans
Promote reviews
Show your personality
If you need more resources to help you craft an awesome cover photo, try these:
2. Optimize Your Profile for Public Followers
Members of the public can view most anything on Joey's Profile. Anyone can follow him on Facebook, so you don't need to become Joey's Facebook friend to view his work online.
To allow anybody on Facebook to follow your Profile, click "Account Settings" underneath the gear icon in the top right corner of the screen. From there click the "Followers" link on the left-hand side.
Changing "Friends" to "Everybody" in the drop-down menu on the right side will let the public follow you and view parts of your Profile.

The bottom arrow in the screenshot above shows the code you can use to place a "Follow" button on your website.
When using your Profile for Facebook marketing, it's best to give the public access to your email address, website and other important contact information.
Joey includes a publicly viewable link to his website in the "About" section of his Facebook Profile, because driving Web traffic is one of the main reasons he uses social media to promote his art.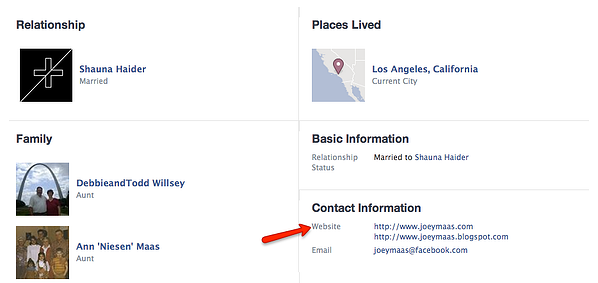 Artists should also provide publicly viewable information about their education & work experience, especially when relevant to their art.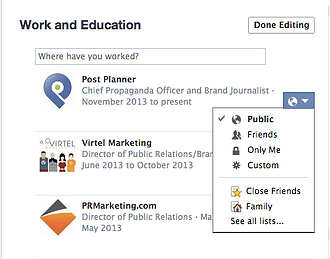 Adjust your privacy settings to allow the public to view this information.
The correct link will guide users to the Fan Pages of companies you have worked for & schools you attended.
Those who manage other Facebook accounts may also let the public view those Fan Pages in the "About" section of their personal Profiles.
3. Create & Leverage Events
Networking is one of the most powerful ways an artist can use their Facebook Profile as a marketing tool.
Since Joey shows his work at galleries around Los Angeles, posting these shows as "Events" on his Facebook Profile helps drive foot traffic to his exhibits while letting other galleries know he's available for future shows.
This art exhibit in October was a perfect example: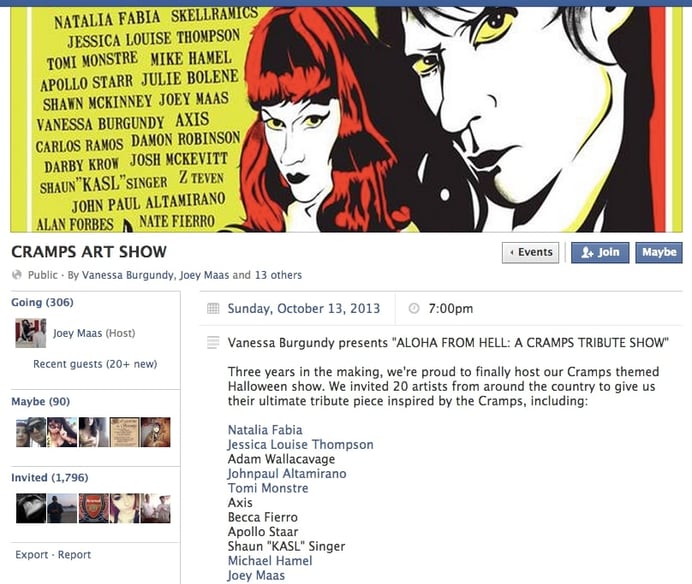 As a host, Joey helped create the event page on Facebook. His Facebook friends saw he was going, which helped drive traffic to the show.
He even used the page to invite others to the gallery. Although he offers this caveat when inviting friends to events:
Don't spam your entire friend list with event invites. Sending invitations to people who are not interested in the show could anger your friends, which might cause them to ignore your updates in the future.
4. Post Awesome Content
One of the most impressive things about Joey's Profile activity is the engagement his posts receive from friends.
Joey's friends seem to really appreciate what he posts -- and Joey attributes this partly to the fact that the posts are from a Profile, not a page.
The Fan Pages I'm a fan of get far less attention from me than my friend's personal Profiles... It's definitely a different vibe, and one that I don't feel as comfortable with.
Though he does a good job reminding friends that his main focus is art, Joey also laces in posts about his favorite musicians, recent vegan news (Joey has been vegan for 21 years) and news links from his native South Dakota.
In a nutshell, he posts great content -- including questions, travel tips for people visiting Los Angeles and photos from his home-based studio.
I want my Facebook friends to know me as more than just some dude trying to sell his paintings online. I talk about my favorite bands, artists I respect, like Banksy, and even squeeze in the occasional rant.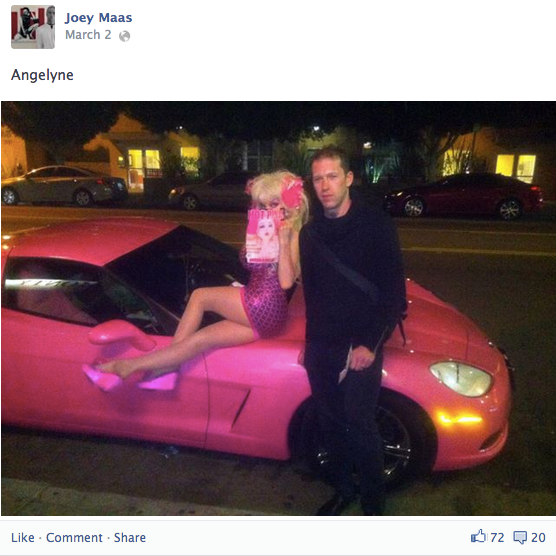 5. Know What to Tell Your Friends & Followers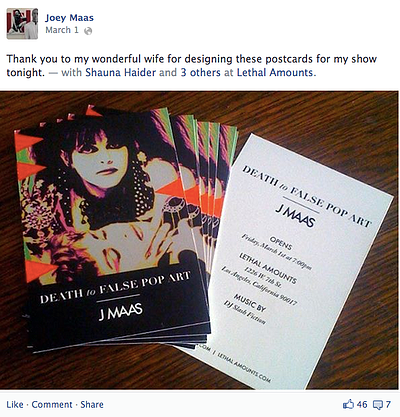 While it's important to be genuine & sincere when speaking with friends & followers, an artist looking to market their work on Facebook must also sell.
I want people to see my work, and enjoy it. If they can't make it to one of my exhibits, at least they can see what I'm up to professionally.
Joey's Facebook followers, however, wouldn't engage with his Profile as much if he didn't allow regular glimpses into other areas of his life.
For example, I enjoyed watching Joey remodel his workspace through a series of photos he posted on Facebook.
The posts gave fans a peek into his studio -- and home.
I'll almost always post my new work when I finish it, and whatever goofy stuff that randomly pops into my head.
He hasn't met many of his Facebook friends & followers. So to connect with them personally, he Likes their posts & leaves comments on their Profiles.
I think if you interact with friends on their posts, they're more likely to favor or comment on yours.
He also belongs to several Facebook groups, some not even related to art.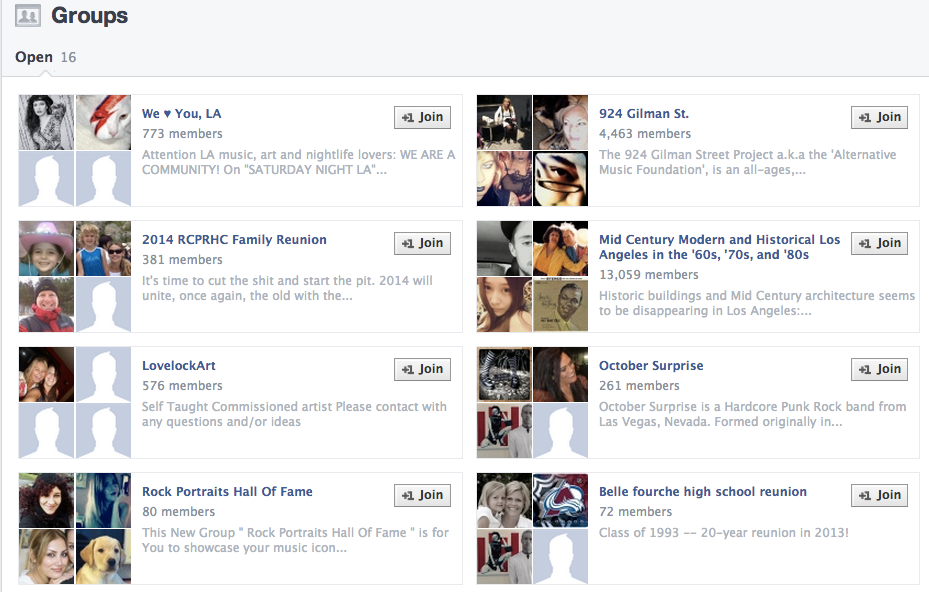 Joining or creating Facebook groups is a great way to network on Facebook -- and to join groups you must use your personal Facebook Profile.
I'll occasionally post my work in these groups. I think I've found about a third of my friends via them discovering my work on some pop art group.
6. Interact With Other People's Facebook Profiles
Using his Facebook Profile, Joey says he has been able to strike up conversations on Facebook with artists, booking agents, gallery owners and prospective customers.
I can send them a friend request or simply follow their page. Either way, using my Profile lets me communicate with them in a more targeted & genuine way when compared to clumsily using a Fan Page to try to spread the word.
He even connected with T.S.O.L. frontman Jack Grisham (one of Joey's favorite musicians).
Joey painted Grisham & received a Facebook shout-out from the singer, which he highlighted on his page: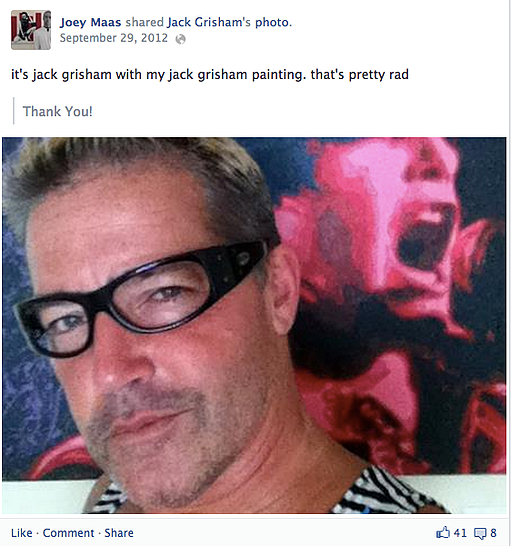 I try to be supportive of my artist friends and usually they'll return the support.
7. Don't Get Banned
We at Post Planner don't recommend using a Facebook Profile purely for business. However, many artists, musicians and writers use their Profiles to network & show their work.
These posts explain some of the differences between Facebook Profiles & Fan Pages:
Before using your Profile for marketing, avoid Facebook penalties by understanding their policies, your rights and responsibilities and Facebook's community standards.
What else?
Other features of Facebook Profiles, like following Interest Lists, chatting & sending private messages, offer subtle marketing opportunities that let artists promote their work without seeming overly promotional.
Are you an artist using your Facebook Profile to market your work? If so, what tips can you offer other artists who want to do the same?