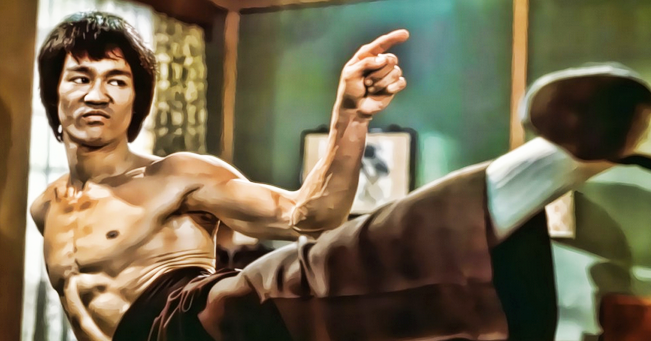 2014 is in full swing!
And if you're like a lot of businesses, then you're ready to start kicking ass on Facebook!
Today I've put together 8 simple tips to help you do this.
So even if you're not an expert in social media marketing, you can still have a Facebook page that kicks ass!
All you have to do is follow these 8 simple tips!
So let's get to it!
8 Surprising Ways Your Facebook Page Can Kick Ass in 2014
1. Post a Kick-ass Cover Photo!
The 1st thing visitors see when landing on your Facebook fan page is your cover photo.
That's why you need to make sure it has 3 key ingredients:
a clear & compelling call-to-action
contact info for the business
a caption on the photo -- with a link to your website
Leave any of these out & you're leaving precious leads (and money) on the table.
Here's a good example of a strong cover photo with an effective caption:

Remember: always include a link to your website in your cover photo's caption! >> Click to Tweet
Here are some more ideas to get you started on creating a fantastic cover photo:
2. Write a Kick-ass About Section!
Many people don't know that their Facebook business page actually has 2 About sections:
the abbreviated About section
the full-length About section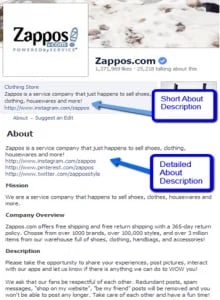 The abbreviated About section -- about 255 characters -- is displayed underneath your cover image.
This info helps users find your Facebook fan page via Graph Search, so it's extremely important to include keywords that describe your products or services.
The full-length About section is shown when somebody clicks on the About link at the bottom of the abbreviated About section.
This info is indexed by Google -- which can help you rank in search results.
So make sure you include:
Business milestones
Testimonials
Page guidelines (rules on spam & misbehavior)
Optimize these 2 sections of your page & let Google do the rest!
3. Organize a Kick-ass Content Calendar!

If you're like me, you probably have 5 or more tabs open on your browser right now -- mostly because you have content you want to return to later.
What does this have to do with a content calendar?
Well, a content calendar lets you place all these great content ideas & themes into one place -- which helps you create a solid Facebook content strategy.
Here are some benefits of organizing your content this way:
Free up time to work on your business by planning ahead
Organize your content by date
Organize your content based on content type
Organize all your ideas in one place
Once you have a content calendar, how do you find awesome content to add to it?
You can always surf the web, create a Facebook interest list or use an app like Pocket or Evernote to save your articles.
But these methods are time consuming because you'll have to scroll through lots of content to find the best articles.
Post Planner provides a content curation alternative with its Content Engine -- a tool that helps you find the most viral blog posts & popular content based any keyword you can think of.
This content can also be filtered by popularity -- which lets you zero in on the most engaging posts.
Still can't find anything to post?!
Then it's time to bring in the big guns -- Post Planner's Status Ideas Engine!
This tool offers a treasure trove of more than 10,000 pre-written status updates -- including everything from questions to fill-in-the-blank posts to status updates about family, pets, pop culture & technology.
Once you find a killer status you want to use, all you have to do is schedule, schedule, schedule!
I'd recommend scheduling content at least a week in advance. But if you're just bursting with ideas, feel free to plan ahead for the next month or so.
But remember:
When planning your Facebook content calendar, leave some space between posts for real-time events. >> Click to Tweet
4. Share Your Kick-ass Milestones!
Let's face it:
People do business with those they know, like & trust -- especially on social media. >> Click to Tweet
Part of building trust is inviting your fans along on for the journey.
For example, if you're a designer, you should give fans a sneak peek at new projects you're working on. If you're working in the service industry, you should showcase the special things you do for customers. It's all about the details!
Involving your fans will build relationships, loyalty & trust.
But don't forget to have fun & show off your sense of humor as well.
Remember, there's a huge variety of Facebook posts -- and yours don't have to all business all the time.
Mix it up & provide your community something interesting to talk about.
Think of your Facebook content as a story. Don't be afraid to change the plot. >> Click to Tweet
5. Use Kick-ass Facebook Tab Apps
Facebook tab apps are great for capturing leads & getting more engagement on Facebook. I strongly recommend using them on your page.
One of the biggest mistakes page owners make is not using the space for 3 Facebook apps. >> Click to Tweet
This screenshot highlights a few of my tab apps: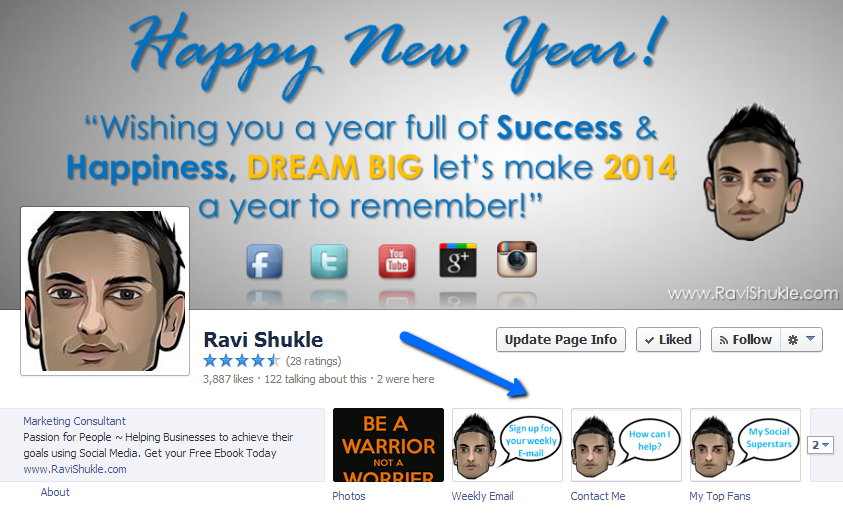 There are tons of companies that offer great tab apps. Here are a few to get you started:
When choosing one, make sure to consider your company's goals.
For example, if you're looking to build an email list, then having an app that encourages fans to share their emails is important.
Once you've created your tab apps, makes sure to add custom app thumbnails to help draw attention to the tabs on your page.
Facebook tab app thumbnails should be 111 x 74 pixels -- with a file size limit of 1MB. >> Click to Tweet
You can learn how to change your app thumbnail image in this post:
6. Kick-ass in the News Feed -- Post More Often!
Lately I'm seeing a lot of pages reporting a decline in their Facebook reach.
In my opinion, the most obvious way to battle this decline & increase your reach is to post more often.
There's nothing wrong with posting several times a day -- as long as your engagement stays steady.
Try visiting your post Insights to see when your fans are most active online -- then post content when your fans are likely to be logged in.
Start with a test phase to see how your fans respond to more posts. Then stick with the new content strategy if your engagement remains steady.
Test what type of content works on your Facebook page & don't be afraid to post more often. >> Click to Tweet
This snapshot from Facebook Insights shows when fans are online: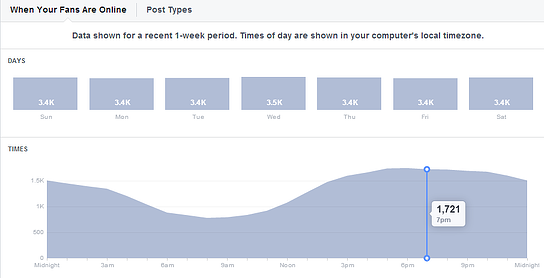 7. Stop, Collaborate & Listen (and Kick Ass)!
Another great way to boost engagement on your page is to collaborate & network with other Facebook users.
Collaborating with other fan pages lets you:
reach new audiences
cross-promote your posts with others
get more fans on your page
This doesn't always have to mean a complicated contest or giveaway.
Instead, just highlight a blog post that was posted on one of your favorite pages.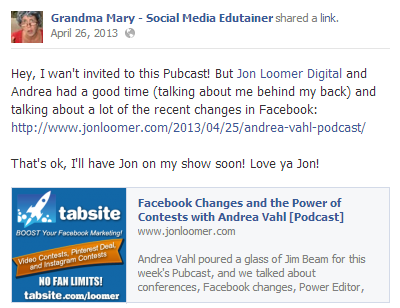 The best way to highlight another page is to tag it by using the @ symbol & then typing the name of the page in the post. Your fans can then click the tag to visit the page.
Here Grandma Mary tagged Jon Loomer's page & provided a link to Jon's podcast.
So what are you waiting for?
Start networking & building relationships today by tagging other business pages in your posts!
8. Re-Purpose Your Kick-ass Facebook Content
Now that you've scheduled your content & found the best times to post, the only thing left is to do is recruit more eyeballs to look at your stuff -- which can be the most challenging part of any content strategy.
But fear not! Here's a surefire way to increase engagement on Facebook posts:
Repurpose your content!
Turn your Facebook status ideas & existing content into micro-content to share across other social media platforms & on your website & blog.
Here are some ways to turn one blog post into several pieces of content:
Audio – Record yourself reading your blog post
Video – Videotape a summary & explanation of your post & upload it to the web
Slides – SlideShare lets you turn a blog post into an entertaining slide presentation
Images – Turn the key images in your post into pictures with quotations or micrographics/infographics
Tweets – Shorten the wisest parts of the article to 140 characters or fewer -- and tweet
With these tips you can create almost a week's worth of content with just one blog post or infographic.
Apply this concept to all of your content & watch your reach & engagement blossom!
Your Turn...
What is the #1 goal you want to achieve this year on your Facebook fan page?
Please let me know if this advice may help you achieve your goals.