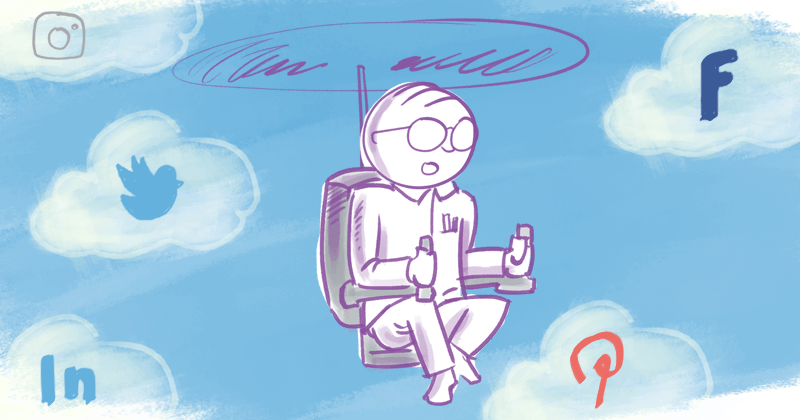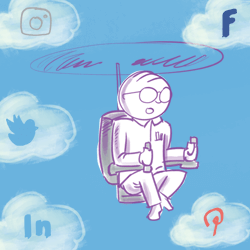 From Facebook to Twitter, Instagram to Pinterest, building an engaged audience is a challenge.
Sure you've created a social media strategy. And I bet you're even promoting your business. But still:
No one is listening. And worst of all…
...No one is engaging with your content.
So what do you do?
Exactly what Reginald Chan did. You reinvent!
As a small business owner, Reginald was fearless in determining:
What mattered most to his audience

Finding his best social media plan

Putting a system and process in place to achieve success
In this article you're going to learn how he tripled his social media engagement.
And not just that:
How he grew a hyper-targeted audience while building two businesses.
Read along as he shares his story.
How to Improve Social Media Engagement for Small Business [Case Study]
How to Improve Social Media Engagement for Small Business [Case Study] http://bit.ly/2fmBB3m (by @RebekahRadice on @PostPlanner)

Click to Tweet
The Back Story
I met Reginald, or Reggie as his friends call him, a few years ago. At the time, he was an entrepreneur and blogger.
We'd connected via a platform for writers with a focus on social media. I found Reggie's content to be smart, insightful and well-written.
As I got to know Reggie, I realized that this Malaysia based freelancer was far more than a copywriter.
He was a hard working, nose-to-the-grindstone, make it happen kinda guy.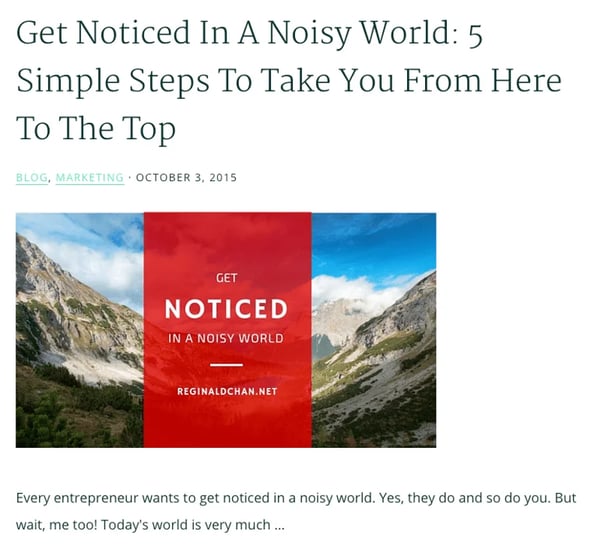 That's why I was so surprised when he fell off the grid over a year ago. I wanted to understand what had happened.
He'd been working for years to build a name and reputation online. Why throw it all away?
Sure, I've seen it time and time again. The pressure of the day to day becomes too much. The hours of research, writing, creating, promoting, talking, presenting...
It can all lead to overwhelm and eventual burnout. But that wasn't Reggie's case.
He'd become a dad. And with that, he'd decided to take a hiatus and put his family first. Pretty cool, right? Not something you hear much about these days.
So when Reggie hit the social media scene a year later, I was eager to watch his story unfold.
But when he reached out to share his experience with Post Planner, I wasn't expecting what came next.
His rapid growth and the success that came with it was amazing. And more than that… ...It offered a blueprint anyone could follow.
So here it is. My conversation with Reggie. Get ready to take notes and take your marketing to the next level.
There's something everyone can learn from Reggie.
Q: As you started to rebuild, what were your top social media goals?
I stopped social media a year ago because my wife was pregnant and I wanted to spend more time with the family.
After my wife delivered, I knew that I needed to get back to work. Social media was my number one focus.
My goals were typical for most entrepreneurs or business owners:
Generate awareness

Drive traffic to my website and blog
In fact, according to Social Fresh, my top 3 rank in the top 5 most important goals for businesses and brands.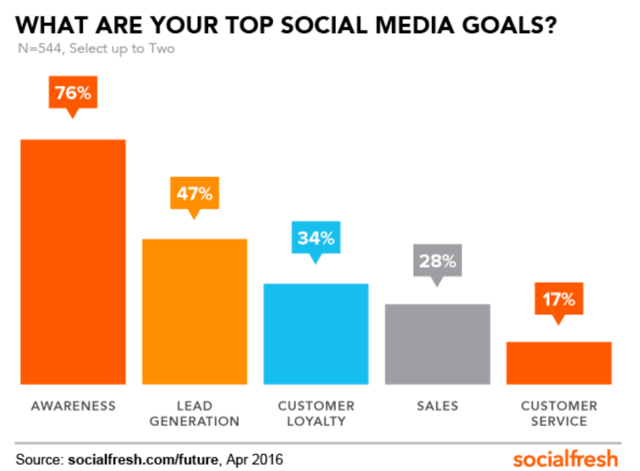 Q: Jumping back in after 1 year off is like starting over. Where did you begin?
I started with analysis. I looked at my Facebook Insights and Twitter Analytics. I wanted to determine my best times to post or what I call, my audiences "awake time."
This is a critical piece to understand.
Knowing when your audience is active and involved is the first step to increased engagement.
Once I had that information, I jumped into Post Planner.
Here I created a unique Plan (scheduled times) for each of my social networks.
Here's what that looks like for one of my Facebook Pages: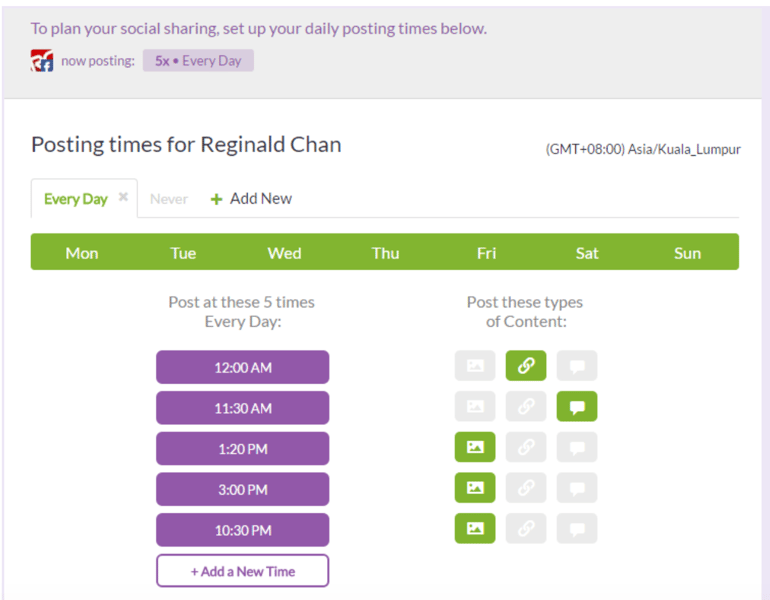 As you can see, the time is based on my local settings and will be specific to your location.
Once you have your schedule in place, your next step is sharing the right type of content.
Post Planner makes it easy for marketers to space out the right type of content, no matter the industry or audience.
You can choose the type of content you share at each of your posting times:
Images

Links

Text or Status Updates
You can mix and match, test, and perfect your plan. You can also create as many different schedules as you'd like.
Q: What type of content are you sharing and what's been most successful?
There are several ways you can use Post Planner: sharing photos, videos, gifs, statuses and links. While all are extremely useful, I use photos for maximum engagement.
Post Planner has given me the ability to easily do two things:
Find proven content (images are my favorite)
Create engaging photos through their Canva integration
Here's where the power of Post Planner really took off for me. I began to schedule content from the Popular section.
I shared a variety of content, but mainly focused on motivational and inspirational quotes.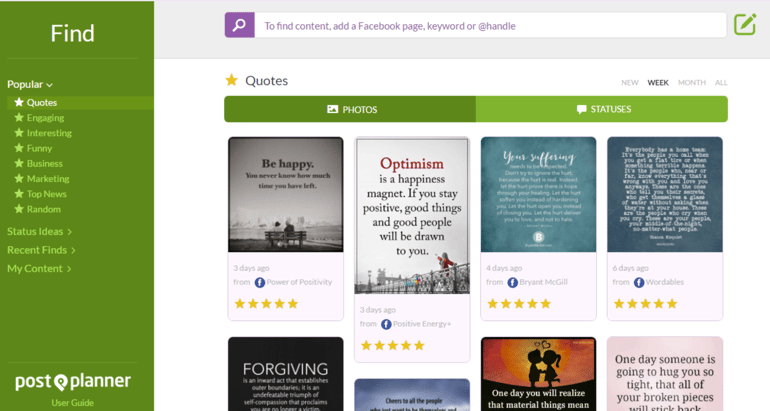 What I love most are the star ratings. These stars represent the virality of the image. The more stars there are, the higher the chance of engagement the image has.
So, what happened when I started using those hand-picked images?
My engagement skyrocketed and my followers and fans took notice of my content.
As I mentioned, I went AWOL (also known as absent without official leave) from social media for about 10 months.
One my wife gave birth to our healthy baby, it was time to get back to business. But coming back was harder than I imagined. With the Facebook algorithm, I knew I had a lot of work ahead of me after zero engagement for nearly a year.
My solution was simple: start building engagement immediately on Facebook with my weapon of choice - Post Planner.
I remember opening the email containing my first week statistics from Post Planner. Thousands of impressions and more important, dozens of messages over Facebook asking where have I been.
The climb back had begun with a bang!
Q: What were your specific results?
Last week, I created 122 posts across all of my social media accounts (trust me, I really have A LOT).
The impressions created with Post Planner was 51,754 (WHAT?!). 790 of those came through fan engagements such as resharing the post.
Plus, I'm getting a healthy 424 impression per post shared with the content shared via Post Planner. This is insane! Mind blowing to be honest.
On top of that, I was able to engage with 94 people with minimum effort.
And the process to find and add that content to my social networks is so easy!
Sure, I could spend hours a day trying to build impressions, but instead, I only need 30 minutes a day to find highly engaging content in Post Planner.
Whether I use their curated content or pull in my own, I've earned hours back in my week.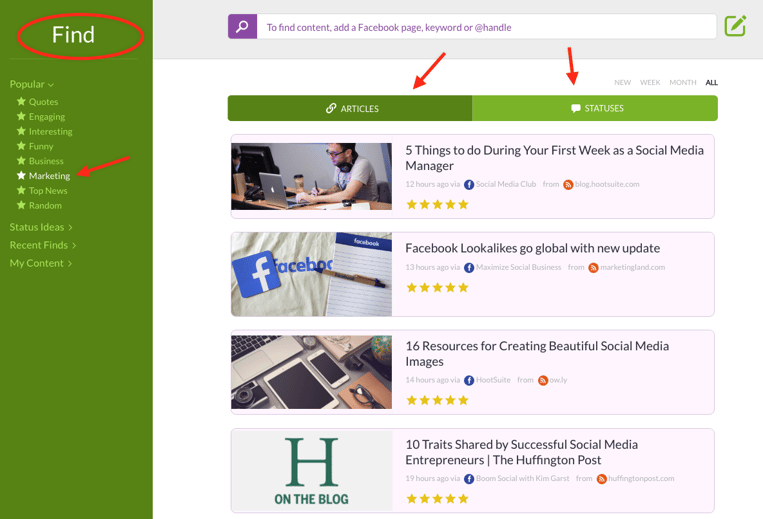 You'll still need to follow up (in this case, it is replying to their comments or likes) to ensure that you're getting the results that you are looking for.
But all in all - Post Planner cut half (or more) of my time spent in social media marketing and I can't ask for more!
Pretty awesome right? Thanks Post Planner!
Q: How did Post Planner help you meet your goals?
Post Planner is now my go-to tool.
Sure, I used a few other social media tools, but nothing came close to what Post Planner can do. More importantly, no other tool can build engagement as well as Post Planner!
I tried a dozen tools from Hootsuite, Buffer and even Sprout Social to name a few. But let me be honest here.
When it comes down to it: we all want the best results while maximizing our time.
Post Planner offers simple, but highly effective methods to boost your overall Facebook engagement.
Instead of spending hours on social media marketing, all I need is to schedule, at most, 30 minutes daily to find engaging content to be shared using Post Planner.
Also, the recent roll out of 'Recycle' option allows me to 'set once and forget' with content that is: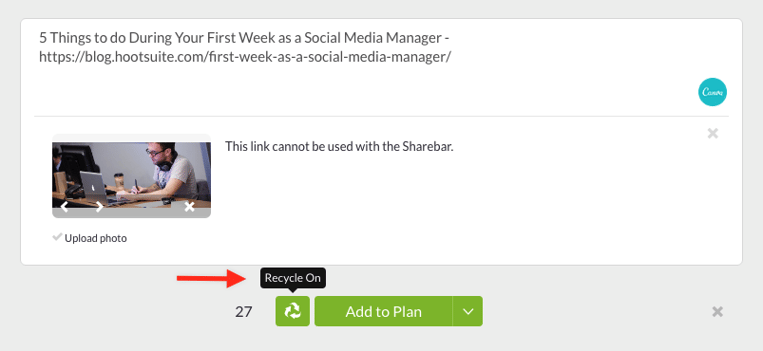 This feature ensures that my Facebook Pages and Groups will never run out of content.
Furthermore, I can continuously add more posts into the 'Recycle' tab and the queue list will continue to grow!
Q: What advice can you offer other business owners looking to do the same?
I would say each business is different, but the basics remain the same. There are 3 keys to success:
1. Understand Your Use of Social Media
Start by understanding what your business needs from social media.
For me, I needed engagement and visibility on Facebook. Therefore, sharing viral photos were great.
2. Review the Data
Another important part is to understand the data within your social media marketing strategy.
After every week, take time to review the impact of those strategies you implemented. If they're not supporting your goals, you need to consider changing techniques.
For me, that included the increase in visual marketing (both image and video). I had to know if that additional content was supporting my goals. The good news? It did and still is.
3. Never Stop Learning
With a deep understanding of what's working (and what's not), you'll be able to further iterate and tweak for better results.
Never stop testing and learning. Find the tactics, processes and tools that make the biggest impact.
Determine if they're helping or hurting. Are they moving you towards your goals or just a huge time-suck?
My Takeaway?
I'm a firm believer that Post Planner helped me make improvements in my content, strategy, engagement, and reach.
If you're on the fence about adding another tool, I guarantee it has the features to support any and all types of businesses.
Final Thoughts
If you want to grow your social media engagement, you need activate your fans and followers. That's going to take the right content, message, and call to action.
Your business can build a loyal following on social media. And when you do, your audience will begin to interact. In turn, that boosts your Facebook and Twitter engagement.
And when that happens, the sky is the limit to what you can achieve and the results you'll see.
I'd love to hear your thoughts in the comments below. What's been the number one factor in your social media success?