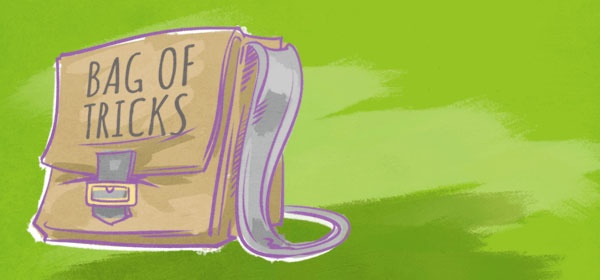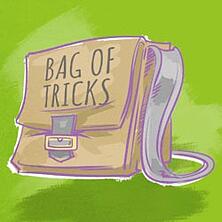 I'm always looking for new ways to crush it on Instagram.
And I bet you could benefit from some of my best tricks!
For example:
Need to spruce up your Instagram profile?
Want to brand your website from your Instagram account?
No problem. Solutions to these and more are packed into this short post.
But before reading it, head over to the Post Planner app to check out the Viral Photos feature for Instagram.
You can use it to search for top performing Instagram photos for ANY hashtag or Instagram account.
It's the easiest way to find viral content for your social media accounts (content that has already been proven to be successful!).
The 6 tips I discuss in this article are great for beginners OR seasoned users who feel like their Instagram account is getting stale. So if you want:
More likes
More comments
More fans
Listen up! I'll show cool Instagram tricks to achieve just that. These tricks have gotten me over 30,000 instagram fans.
Let me know how they work out for you. :)
>> Click to Tweet <<
6 Cool Instagram Tricks to Take Your Account to The NEXT Level
1. Brand your Website / Blog
Ever wonder how people post their website below their Instagram username?
It's easy! The first step is to go to your Facebook mobile app.
Next click 'CHECK IN'
Once you're there, create a new location to check in. Type of your domain name as at the location. eg: PostPlanner.com (you can't use http://)
Once you've done that. Simply upload a photo, then click on 'add location.'
There simply type your website and voila! Here's what ours looks like on Instagram: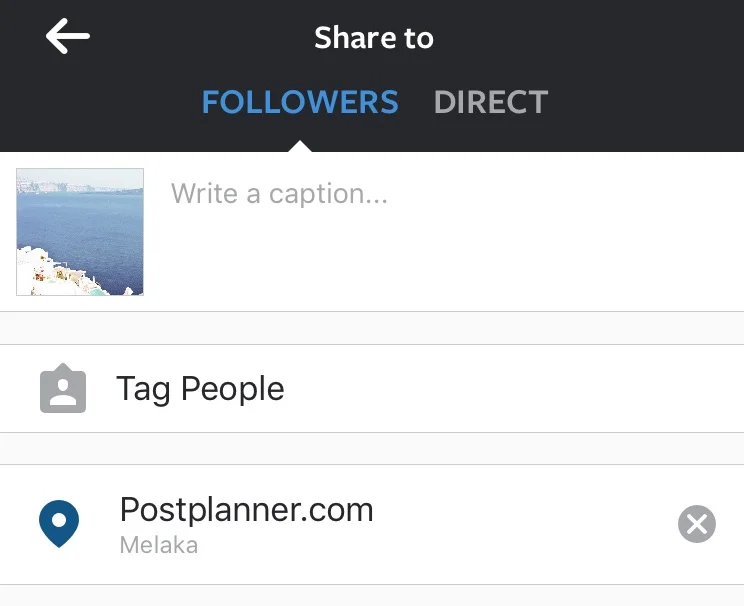 There's a lot more you can do on Instagram to leverage your business than just promote your website though!
Watch the video.
2.
Link to Your Content
Let's say you just wrote a superb Instagram post, and you want to link from Instagram to an article on your blog.
What do you do?
Here's a handy solution!
Replace the website URL in your bio with the link you want readers to visit... then politely ask your audience to CLICK the new link!
Here's a good example of what I mean: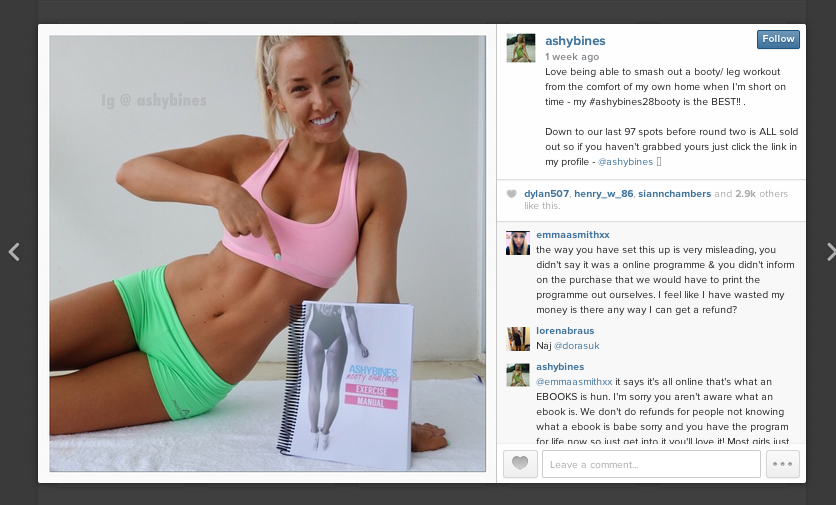 3.
Respond on the Web
Short on time?... Unable to check Instagram on your phone?
Don't worry!
You can respond to your followers from your computer.
>> Click to Tweet <<
Your account will be waiting when you log in to Instagram from a web browser. It's that easy!
You can also:
Like other people's photos
Comment on other people's photos
Delete spam
All from your desktop!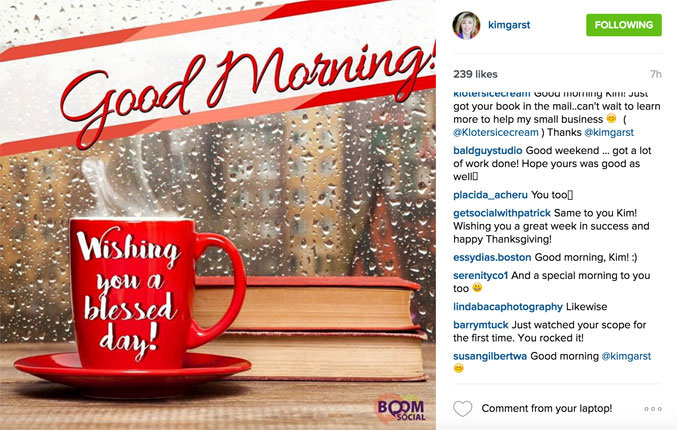 4.
Format Your Bio
Having trouble formatting your Instagram bio with hard returns, visual icons and other features?
Here's a trick people like Lewis Howes probably used to make their Instagram profile look a lot fancier.
>> Click to Tweet <<
Write your bio in a separate Word doc or an note app then copy and paste it onto your Instagram account.
Boom! It's pretty easy! All you need is some creativity.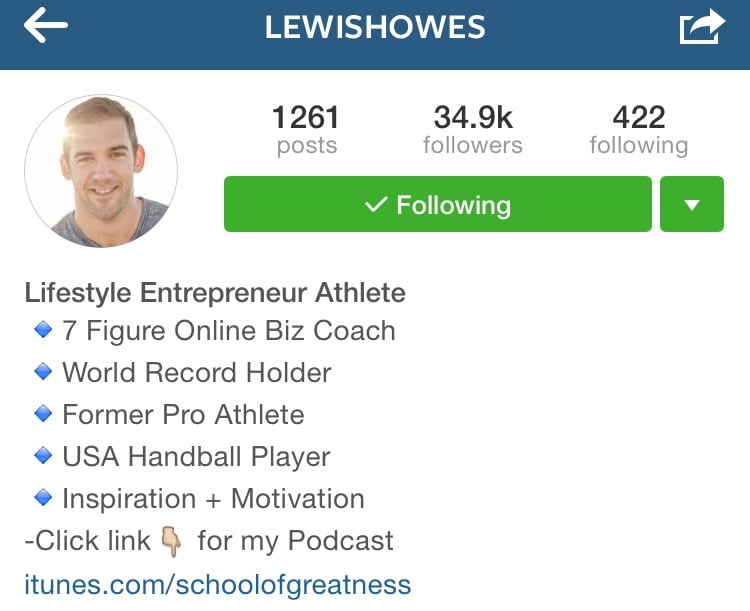 5.
Edit Descriptions
Oh, crap!... You just published a post with a typo. Maybe you misspelled a word or made a grammatical error.
No worries!
Fixing a mistake on Instagram is easy. And you don't have to delete the whole post!
Click the "..." icon on the lower right side to edit descriptions on Instagram.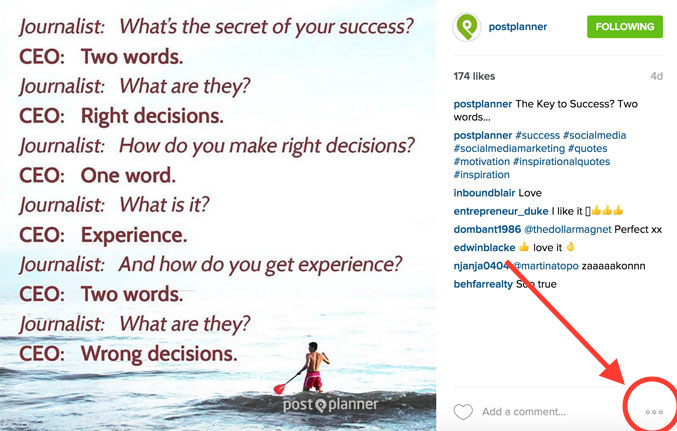 6.
Use Instagram for Editing
Love instagram filters? Want to edit your photo but don't want to publish it first?
It's simple, all you have to do is switch your phone to 'airplane mode.'
Once you've done that, you can edit your photos then click 'share.'
Since your phone is on airplane mode, your image will fail to publish -- but the edited image will be saved on your phone.
It's that simple! #winning.
Conclusion
Cool tricks, right?
Whether you're a beginner or an Instagram pro, these 6 tricks are gold!
Please comment about which of these Instagram tricks worked best for you.
And add your favorite tip to the mix so I can write about your best Instagram advice.
Now that you've gotten all 6 tips, are you ready to take it up a notch?
Ready to up your visual game on Instagram?
Grab your copy of our free ebook below and learn how.