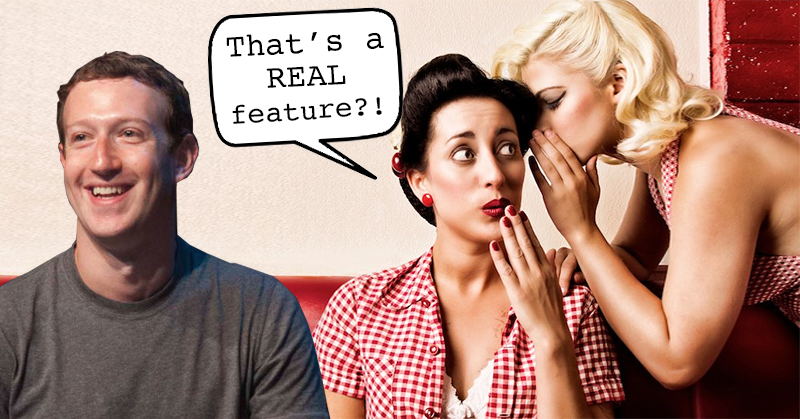 More than than a billion people use Facebook daily.
Yes, I know... that includes you. :)
But did you know there's a bunch of secret Facebook features you're probably missing out on?
Stop for a sec and think about how you used Facebook yesterday... and the week before that... and the month before that.
Are your tactics only scratching the surface?
Probably so -- because even though Facebook's been around for a decade, most marketers are still only using the standard features.
This needs to stop today -- with this article.
Facebook is a goldmine of functionality! So I'm going to show you how to tap into it.
Below are 12 secret Facebook features that you've probably never heard of -- but you're GOING TO LOVE!
Facebook is a goldmine of functionality! Learn 12 secret Facebook features every marketer should be using.

Click to Tweet
12 Secret Facebook Features EVERY Marketer Should Be Using
To help you navigate this article, I've categorized the 12 features into 4 groups:
Features for Facebook CONTENT CURATION
Features for Facebook COMPETITIVE INTELLIGENCE
Features for Facebook PAGE MANAGEMENT
Features for Facebook AD MANAGEMENT
Features for Facebook CONTENT CURATION
1. Save articles with "Save for Later"
Have you tried Facebook's "Save" feature?
According to Facebook,
You can save items like links, places, movies, TV, and music.
With more and more link posts creeping into your news feed every day, the Facebook Save feature is a neat tool to help you curate relevant content you can rehash and reuse for your Facebook page.
Whether for your personal profile or business Page, you can leverage this feature to get more Facebook Likes for your efforts.
Saving a link on Facebook is easy. On the post you want to save, click on the arrow on the top right corner and choose "Save ..." Here's a screenshot to show you what I mean:
2. Leverage Interest Lists to stay organized
Interest Lists are one of the tools I use most frequently on Facebook.
I work on a variety of projects, in different industries, so I need to keep up with info, news, and updates.
If you have the same need, you should definitely check this tool out.
There are many publicly shared Interest Lists you can follow, so you don't have to build one from scratch. In fact, I always make sure to search for related or similar lists before I create one.
Why duplicate the effort?
If you need inspiration or examples, our Post Planner team has put together a comprehensive list of 100 interest lists:
Here are some ways you can go about creating and segmenting interest lists:
Create a Facebook list by country/region/state/city
Create a Facebook list by industry: advertising, aerospace, consumer goods, etc.
Create a Facebook list by medium: traditional journalism vs citizen journalism, for example
Create a Facebook list by interests: biking, hiking, movies, books, etc.
To make sure you remember to utilize your lists, set aside 5 minutes each day to review them. Once you develop the habit, you'll go to your Facebook lists instinctively when you need to find relevant content for your page!
You won't have to wonder where to find the best Facebook Pages -- you'll already have them!

Features for Facebook COMPETITIVE INTELLIGENCE
3. Monitor your competitors' top posts
Did you know you can see top posts from pages you watch within Facebook Insights?
This makes monitoring the content of your closest competitors extremely convenient!
To see these posts, go to Facebook Insights and do this:
Click on the "Posts" tab
Click on "Top Posts from Pages You Watch"
I've included a screenshot here to show you where to find it:

4. Download your Facebook history for business analytics
Yep, you can download your entire Facebook history!
Within the archive you can:
Review all the posts, photos, and videos you've shared
Recover your messages and chat conversations
Get past info from the About section of your profile
See all the ads you've clicked on
Find historical data, like the IP addresses recorded when you log into and out of Facebook
Pull up facial recognition data
Once you've downloaded your own history, you'll be able to see the AMAZING AMOUNT OF INFO Facebook has about you.
For example, did you know you can design your ad campaign to reach people who have clicked on certain ads?
You may be amazed to see the extended demographic targeting options. They go way beyond just age and gender.
Downloading your Facebook history is simple.
First, go to your settings (see the screenshot)...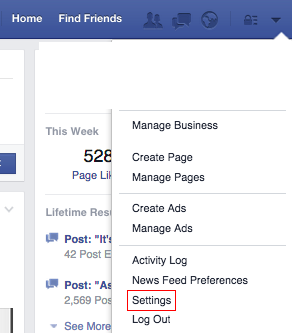 Then, click on "Download a copy" (screenshot)...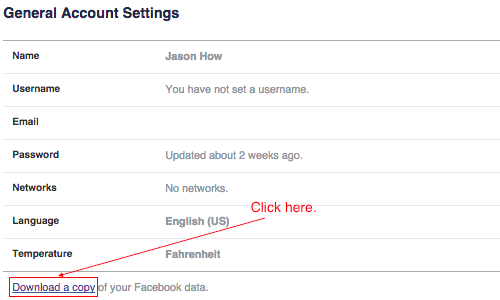 That's it! You will receive an email when your archive is ready to download.
Features for Facebook PAGE MANAGEMENT
Have you ever wanted to tag people on your Facebook Page, but couldn't figure out how?
You needed to notify winners of a contest
You shared a post from an influencer, and you wanted to let the influencer know
You wanted to alert someone, but without having to send an email or direct message
Here's good news: you can TAG personal profiles on your page posts with this neat trick!
FIRST, write a post on your page like you normally would.
THEN, go to the post and click on the downward-facing arrow on the top right corner (see the screenshot).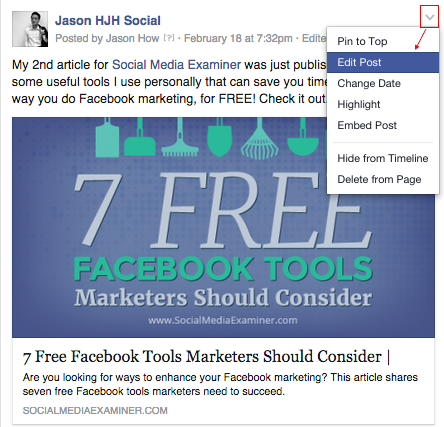 NEXT, click on "Edit Post" in the dropdown menu.
In the editable textbook, type @ before the person's name you want to tag in the post, just like you would tag a person normally on Facebook.
Let's say that I wanted to tag Massimo Chieruzzi about an article just published. I'd type @Massimo and a list of suggestions will come up.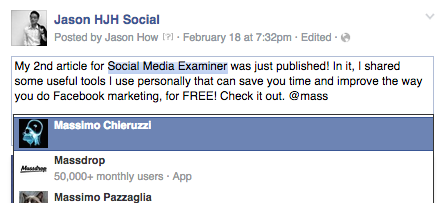 If you don't see the profile of the person you want to tag, then make sure to type the full name of the person's profile on Facebook --it should appear.
FINALLY, Once you've finished, hit "Done Editing," and the person you just tagged will receive a notification!
6. Pin posts to the top of your timeline to increase visibility
It is surprising how many Facebook Page managers still aren't aware of this feature:
Pinning a post to the top of your Facebook Timeline increases post visibility. So, why not do it?
Here's how:
Click on the downward-facing arrow on the top right hand corner of the post and hit "Pin To Top" (see screenshot).
That's it!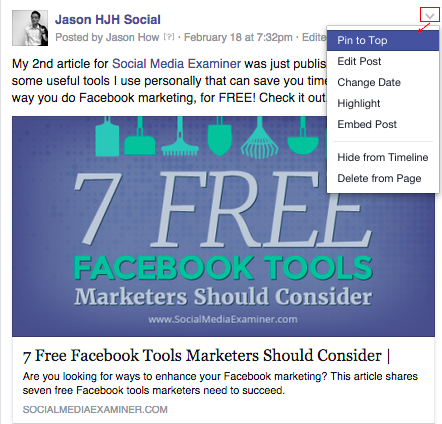 7. Find evangelists and weed out fakes with your fan list
One of the posts on my blog that consistently receives search traffic is a short tutorial on how to see your list of Facebook fans.
Since I penned that article, Facebook has updated the user interface for Facebook pages, but you're still able to access your list of fans!
It's incredibly easy to do so:
Go to your page settings
Click on "Banned Users" on the left sidebar
Then, click on the menu that says "Banned" to reveal the dropdown menu
Click on "People Who Like This"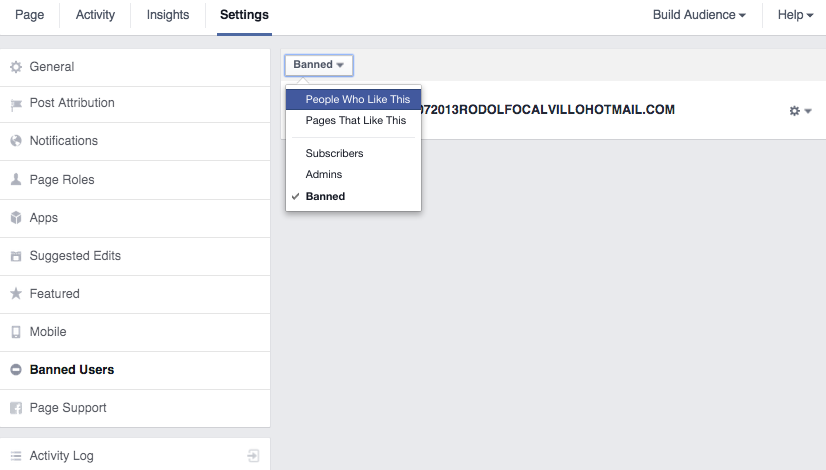 One thing I like to do with my list of fans is to check the latest "likes" from time to time to see if they're real profiles or if they're click farms.
I usually do this every other day if I'm running Page Like campaigns for my clients -- or if there is contest going on.
(As long as I can keep the number of suspected fake accounts to real accounts under the ratio of 2:8 (Pareto's 80-20 rule), I usually let it go.)
It's impossible to completely eliminate fake accounts and prevent them from Liking your page. I find it incredibly unproductive to take the time to keep them weeded out completely.
Trust me, your efforts can be better focused elsewhere.
8. Mark all Facebook notifications as read to stop the stress
Have you ever felt overwhelmed by the barrage of notifications on Facebook, especially if you manage more than 10 pages?
Or perhaps you could be running ad campaigns with a lot of different ads and each time someone Likes, comments, or shares your ad, you get a notification.
But you can't simply turn them off -- something important may need your attention.
So what can you do?
There's a simple solution: simply mark all notifications as read!
Here's how: go to your page settings and click on "Mark all notifications as read" on the top right corner!

9. Use Post Attribution settings to keep your identity straight
Are you sick of posting on your Page with a wrong identity?
Or do you frequently see your other Page admins "Liking" or commenting on a Page post -- as the Page -- when they shouldn't have?
I am.
To solve this problem, I make use of the default Post Attribution settings and make sure that other Page admins do the same.
In other words, I set the default Page Post Attribution settings as below:
If I use Facebook on mobile more often: I will set my Post Attribution setting as my Personal Profile
If I use Facebook on desktop more often: I will set my Post Attribution setting as my Page
To do so, go to your Page settings, click on "Post Attribution" on the left sidebar (see screenshot).

Then simply choose your preferred default identity.
10. Filter your page posts by type to save time
There are times when I want to look back at the image posts I've used before. For example, I may want to consider:
When did I last post an image?
What image was it?
What copy did I use?
What time did I post?
Or maybe, I vaguely remember posting a particular image, and I want to find it again.
The ability to Filter your Page Posts by post type will save you a ton of time.
Here's how: click on "Activity Log" on the left sidebar of your Page settings and choose the appropriate post type (see screenshot).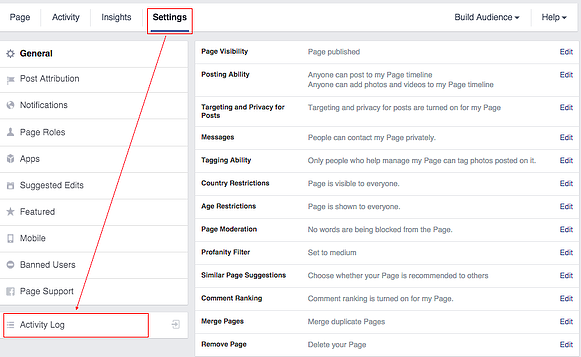 You can Filter Page Posts by the following categories (see screenshot).
Image posts
Video posts
Posts marked as spam
Your posts
Comments
Posts by others
Questions
Notes
Events
Offers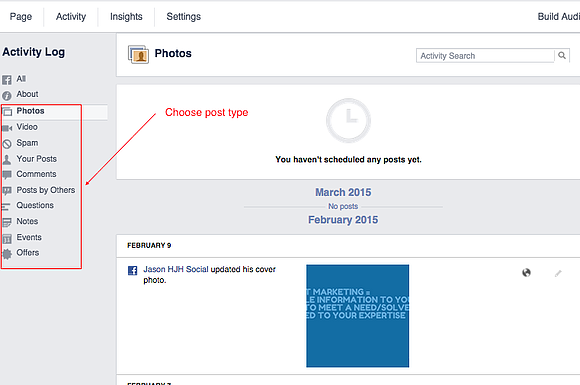 Features for Facebook AD MANAGEMENT
11. Manage your ad notifications and emails to keep your inbox clear
Earlier I mentioned that you can clear your page notifications easily with one click.
What if you don't want Facebook to send you a barrage of emails when your ads are approved, rejected, coming to an end, or when your scheduled ad report is ready?
Here's how to do it:
First, go to Facebook ads manager and click on "Settings" in the left sidebar (see screenshot).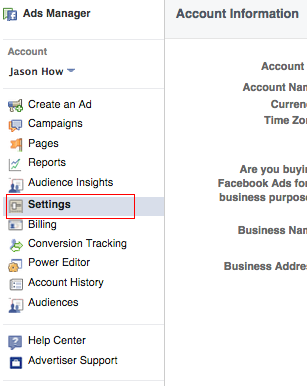 Next, scroll down to the Ads Emails Notifications section. You can choose which notifications you want to receive.
For example, I make sure to receive notifications when my ads are rejected or paused by Facebook -- because it is important to respond and rectify the issue.
For my situation, the rest of the notifications aren't necessary. They only add to the clutter in my mailbox.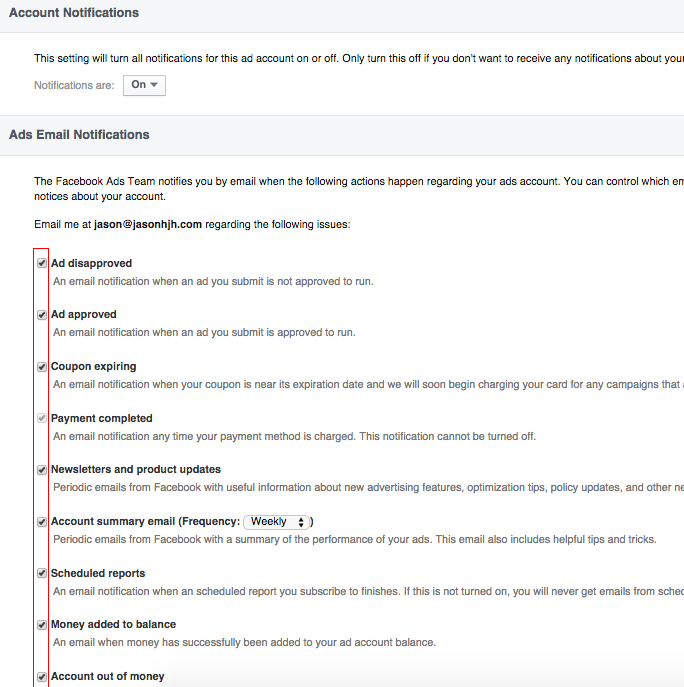 12. Keep tabs on Ad Relevance
An exciting recent addition to the ad analytic tool is the Relevance score.
Making these scores transparent to advertisers is Facebook's latest drive to ensure ads are delivered to appropriate audiences, thereby helping YOU improve your ROI.
Thank you, Facebook!
Apart from just improving under-performing ads, Facebook hopes that the relevance score can help advertisers in two ways:
Relevance scores let you pilot test new ad creatives before setting the budget. After the pilot ad gets 500 impressions, the relevance score is calculated and shown.
Relevance scores can lower the cost of reaching your audience in the long run. A high relevance score provides a good signal to the advertising system. That means your ads will be more favourably ranked (and displayed) compared to other ads
This is a relatively new feature and may not be available to you yet.
Here's how to see if you have access:
Go to Ads Manager
Click on "Campaigns" on the left sidebar
Click on your Campaign name and go into the ad set
Look at the 5th column from the right
Here's a screenshot:

I am currently monitoring the CPMs of ads with different relevance score.
If you're keen to find out whether my results show that a higher relevance score indeed lowers the CPM of your ad campaigns, stay tuned to the Post Planner Blog!
The Bottom Line
In this post, we considered some of the most underused features on Facebook -- from Content Curation and Competitive Intelligence to Page and Ad Management.
Learn to use these features and you will save time, get more Likes, and improve ROI.
Deal?
Tell me how you have used these features -- or let me know about other features you've found -- in the Comments below.
____________________
RECOMMENDED ARTICLES: