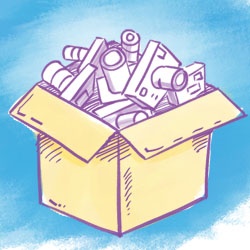 More interaction, more reach, more engagement and more sales.
Are those your Instagram objectives?
Yes?
Then you've come to the right place!
In this post, we'll walk step-by-step through the process of creating a KILLER INSTAGRAM BIO!
With a few cool tweaks, you'll create a bio that can boost business and help you speak directly to your desired audience.
>> Click to Tweet <<
8 Cool Tweaks for a Killer Instagram Bio
Before we dive into brand examples -- let's take a look at the structure of your Instagram profile, including your bio and the details it should contain.
First: Set up your Instagram profile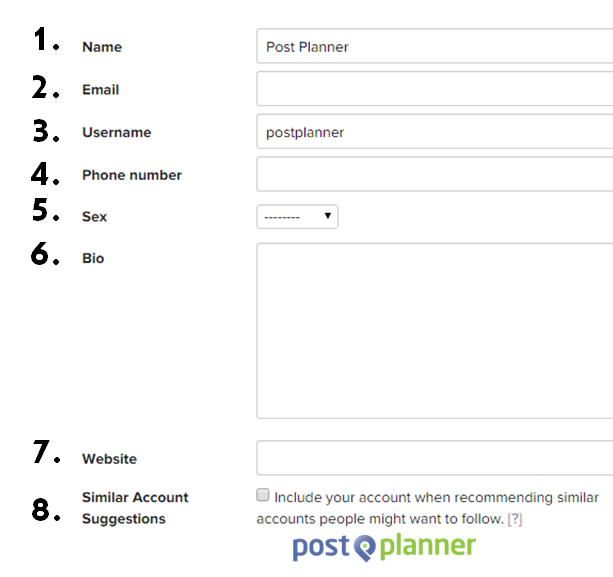 1. Stay consistent with your name
What's in a name? Everything!
Whatever you type here -- a business or personal name -- will appear at the beginning of your Instagram bio when users view your profile page.
Pro Tip: Your name should be the same across every social network. This keeps your brand consistent and makes it easy for potential clients to find you.
2. Do the same with your email address
The email address you enter here will be used to verify the account and let you know of any account changes.
Pro Tip: Keep this consistent across all of your social media accounts to make your notifications easy to track!
>> Click to Tweet <<
3. Give some thought to your username
This is the first thing your fans will see when they land on your profile and when you leave a comment. Your Instagram username also lets fans know how they can reach you.
Choose one that makes sense -- one that reflects and supports your brand.
Pro Tip: Want to notify people that you've mentioned them? It's simple! Add an "@" sign in front of their username and they'll receive a notification.
4. Get texts by adding your phone number
Prefer text over email? Add your phone number for updates.
5. Add gender only if it makes sense to do so
Using Instagram for business? This question might feel a little tricky.
If you've created an Instagram account for your brand, you may want to leave this blank. This is totally optional and up to you.
6. Put real focus into creating an effective bio
This is where the magic happens!
Your Instagram bio is like your website homepage -- you need to make sure you make a great first impression.
In the final step (below), we'll get down to exactly how Instagram bios can shine!
Pro Tip: Always leave your followers wanting more -- or even better: give them a reason to contact you.
>> Click to Tweet <<
7. Highlight your website with your one allowed link
Instagram only allows you to create one clickable link (and that's in your bio), so link it to your prime content.
Pro Tip: Posting your latest blog article? Make it the link in your bio, then monitor traffic and click-throughs.
8. Leverage reach with 'similar account' suggestions
Ticking this box means that your profile will show up as a 'suggested similar page' to other users when they are looking for Instagram accounts to follow.
Second: Get some ideas and check out the Instagram bios of the competition
Now that we've gone over the key elements that make up your Instagram profile, here are 5 cool Instagram business examples to help you revive and revitalize your bio!
These 5 Instagram accounts demonstrate how businesses are using their bios to help attract the attention of their fans and help with their marketing campaigns.
These bios are particularly cool as they showcase how businesses in different niches have customized their bios to stand out -- offering you some great ideas and practical tips you can implement today!
Of course, you will want to look at the top performers in your own niche. They set the standard you have to beat!
Emirates
What works well: Emirates involves the community by clearly outlining their campaign hashtags. This makes it easier to find and share user-generated content.

Shredz Army
What works well: Shredz clearly outlines their official hashtag and provides contact details via email for fans who have questions.
This is a great way to save time, since users do not have to click a link. They can email the brand directly using the address provided.
For those who want a more immediate answer they also provide their "KIK" username -- a social network that allows users to chat in real time.

GoPro
What works well: GoPro clearly states what their product is. They have also encouraged their fans to submit their own videos by creating a video submission URL in their bio.

Michael Kors
What works well: Michael Kors found a very creative way to sell products directly over Instagram. Their bio clearly states the brand's campaign hashtag as well the steps needed to get started.
All photos tagged with the #InstaKors hashtag allow users to purchase the products featured on the account. A pretty neat way to bag your favorite items!

Hollister
What works well: Hollister used their Instagram bio to put the fans at the heart of their marketing. They have outlined a clear campaign hashtag that allows their fans to submit their very own pics.
In return, Hollister will then choose their favorite to feature on the account. This also makes it very easy for the brand to monitor and track submissions -- since all fans are using one single hashtag.

Third: Craft your killer Instagram bio
Okay, we've looked at the components of an Instagram profile and some pro examples of how Instagram bios can be put to use. The next step is crafting your own killer bio.
Below are 8 elements you should consider in order to make your Instagram bio world-class.
1. Choose your name wisely
Did you know -- the name and username you select is picked up by Google in search? Choose wisely!
Use keywords in the title (e.g., "John Smith Plumber"). Do a little research to help your brand stand out.
2. Get to the point with your profession
What do you do? This isn't a time to mince words. Get to the point and tell people who you are and who you can help.
But keep in mind -- you only have a single line, so be clear and to the point.
3. Share hobbies to show the personal side
While its great to have a business description in your bio, your fans and friends also want to get to know the real you.
A great way to share a more personal side is to include any hobbies or passions you have outside of work.
4. Don't forget the call to action!
Don't miss the chance to tell your fans how to connect or engage with your business. Include a call to action (CTA) in your bio.
5. Use keywords that fit for your business
As I mentioned above, your Instagram name and username are the only 2 items that are picked up by Google.
Include a few relevant keywords that will help give your audience a better understanding about what your business does.
6. Choose hashtags that will resonate with your fanbase
Although hashtags aren't picked up by Google, they are still important to your bio.
If your company is known for a particular term or hashtag, then use it to extend that familiarity with your fans.
7. Choose your URL judiciously and change as needed
While Instagram only allows you to use one URL in your bio, you can still take advantage of this to encourage more visits. A few ideas include:
Updating the link when driving users to a new blog post or content piece
Updating the link when your business has just launched a new product /service
Updating the link when promoting a new campaign
In all instances, it's a good idea to track your link. That allows you to monitor how many visits to your chosen landing page originate on Instagram.
8. Stand out from the pack with an attention-grabbing layout
There are many ways your business can display its bio info. Your main goals here is to stand out. As Instagram is a mobile network, using emojis can be a great way to add color and set yourself apart from the competition.
You can also add spaces to an Instagram bio -- that spreads out the lines so the bio is easier to read at first glance.
If you feel it's too difficult to configure lines using your phone, then login to your desktop Instagram profile and edit from there. Hey, Instagram makes it easy to shine!
For some added inspiration -- take a look at Post Planner's Instagram bio.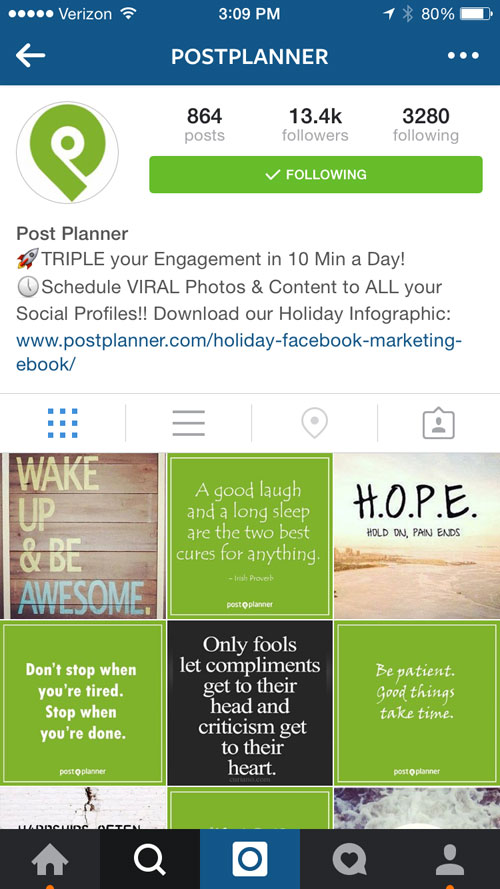 8 Cool Tweaks for a Killer Instagram Bio -- Conclusion
If you worked through these tips as we went, checking them against your current Instagram bio... then GOOD for you!
If you've not, then get with it. Now it's your turn to tweak! I'd love to see what your new Instagram bio looks like.
What's next?
Are you ready to up your visual game on Instagram?
Grab your copy of our free ebook below.
You'll be glad you did!