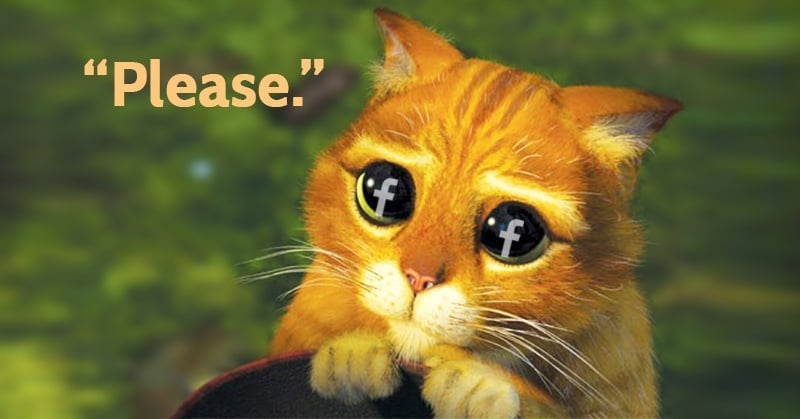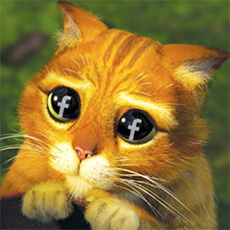 Think Facebook marketing is dead?
Think again!
Look at these Facebook stats:
1.39 billion active users
half of users log in daily
5 profiles are created every second!
30 million business have fan pages
$234 million dollars in virtual goods & gifts were purchased in Q2 of 2014
1 billion searches every day (Read that again... slowly... let it sink in)
What does all this mean for you?
It means Facebook marketing is as important as ever.
But at the same time, building a loyal following on Facebook is harder than ever.
So what's the solution to Facebook marketing in 2015? My advice is to move beyond any past cringe-worthy mistakes and into a new era of MASSIVE Facebook results.
To help you do that, I've compiled some of the all-time classic Facebook mistakes you should avoid (the DON'Ts) along with some important DO's that you'll definitely want to, yes, do! :)
>> Click to Tweet <<
Facebook Marketers: PLEASE Don't Do These 5 DON'Ts (but Do These 5 DOs!)
I'll start with 5 do's and then finish up with 5 don'ts. :)
Facebook Marketing Do's
1. DO be original
Herman Melville once said:
It is better to fail in originality than to succeed in imitation.
It's the same with Facebook marketing. If you want to die a quick death, just try to be something other than yourself.
>> Click to Tweet <<
This is because in the end, people what to know what makes you unique -- what sets your business apart.
So tell them!
What makes you special? Why should they work with you instead of your competition?
Use Facebook to provide answers to these questions.
Consider the boutique-style accessories company Stella & Dot and their light-hearted marketing approach.
Want to work from home? Love hanging with your pet all day? Then Stella & Dot is for you!
A day in the life of a Stella & Dot Stylist... working from anywhere, anytime (with the cutest companion, little Oz!). Join us and see what it's all about: http://bit.ly/1AQccTY

Posted by Stella & Dot on Sunday, March 22, 2015
They're popular and stand out to their fans because they're original.
You should aim to be the same! Aim to become a destination page by creating unmissable, can't-not-share posts!
>> Click to Tweet <<
2. DO value customer service above all else
Happy customers come back for more and, even better, recommend your company to their networks.
The best way to keep customers happy and coming back is by listening and responding quickly.
On Facebook, great customer service means you answer questions & comments made on your page immediately.
Nike does this well. In fact they're so committed to their Twitter followers that they created a separate account just to respond to customer concerns.
@chemjut We hear you. Let's have you give your Nike+ FuelBand a factory reset. Let us know if that helps

— Nike Support (@NikeSupport) March 23, 2015
Remember: people are paying attention! So if you claim to have great customer service, then prove it!
3. DO create a Facebook Page, not a profile
So you're using Facebook to market your business?
Ok, but I see you set up a personal profile for your biz instead of a fan page?
Not good. :(
Don't do it. Stop now and convert your personal profile into a page.
For one, you're in violation of Facebook terms which clearly state that you can't use a personal profile for business.
Secondly, using a Facebook profile instead of a page deprives you of the privileges reserved for Facebook pages -- including ads, apps, and analytics!
But most important of all, profiles don't scale!!!
Profiles are limited to 5,000 connections, while a business page can have an unlimited number of fans!

4. DO have a solid posting strategy
The keys to a great posting strategy are:
Content
Consistency
Post great content, and do it consistently.
But what should you post? Where do you find great content? How to create great content? When exactly should you post? How many times per day?
All great questions.
Before you attempt to answer any of them, you should back up and look at your overall marketing goals. What are you trying to accomplish and how can Facebook help you get there?
Once you've identified your goals, you can build a posting strategy to achieve them.
Then with a plan in place, you'll avoid last minute campaigns, which usually fail to achieve the desired results.
For example, do you want to make a splash like this post did?
Then put together a posting strategy! (And definitely use Post Planner to execute it!)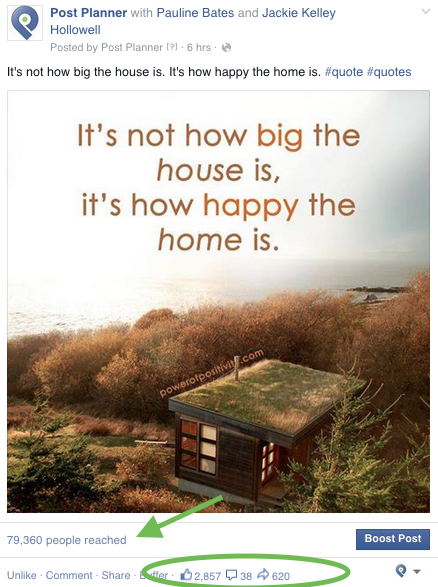 5. DO get feedback from customers & fans
Want to improve your product or services?
Then ask questions & listen to your customers!
With Facebook, it's possible to receive feedback soooo many ways. Fans can:
respond to a post
take a survey
respond to an informational video
Anyway you look at it -- understanding the needs of your customers is good business. And a Facebook page can help.
If you act on the customer feedback, you will create a better product or service -- saving time, money and man hours.
Facebook Marketing Don'ts
1. DON'T make Facebook Insights an afterthought
Facebook marketing requires consistent activity on your page to stay relevant & top-of-mind.
The challenge for many is knowing how often to post throughout the day and at what times.
Your page Insights can help you figure these things out.
To get started, go to:
Insights > Posts > When Your Fans Are Online
You'll quickly see what times mosts your fans are online.
But you can also learn:
Key post metrics

how many people your post reached
how many people who clicked your post
how many people liked, shared or commented on your posts

Page Likes, reach & engagement
Demographic data
Paid vs. organic engagement
2. DON'T spam your page
The worst thing you can do in any form of marketing -- whether e-mail, social media or print -- is spam people.
Do it on Facebook (by posting the same posts over & over every day, for example) and you're likely to lose fans and potential customers.
Instead, you gotta mix up your content!
Share articles, videos and quotes -- or ask text-based questions and offer your thoughts on a particular issue.
Spammy content that only pushes your marketing messages only shows a lack of originality & personality.
DON'T do it!
3. DON'T use numbers as your only success indicator
Popular opinion is that pages with thousands of fans are the most successful.
But using Like counts as a measurement of success is misleading.
Reach, engagement and conversions are the real measurement of success for marketers who know what they're doing.
This is because a Like does not mean a real connection. Interactions with customers and quick replies to questions are how connections are made.
It's common to have a Facebook page with a 10,000 likes make a bigger impact than a Facebook page with 100,000 likes.
>> Click to Tweet <<
Look at Peg Fitzpatrick's page. She has just over 13,000 fans -- with a HUGE level of engagement.
Awesome content & real conversation differentiate her page from all the massive pages out there that post a lot but get zero engagement. Just read through her posts. You'll quickly see it's all about the fans.
TAKEAWAY: focus on the needs of your fans and page size won't matter.
A handful of raving fans can spread your message far & wide.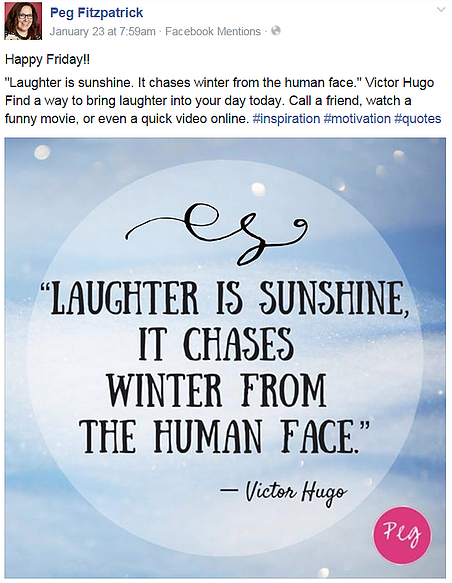 4. DON'T automate every tiny detail
Let's face it, it's impossible to manage your Facebook marketing without some automation.
You don't have an infinite amount of time, so you HAVE to automate some things.
But you DON'T want to automate every teeny tiny detail.
Personally, I use tools like Post Planner to find engaging content, then I use my own time to interact with fans.
When your page is over automated, it hides the personality your page -- which sends the wrong signal to your fans.
And in the end, it just turns them off.
5. DON'T use Facebook as a one-off tactic
As the saying goes, don't put all of your eggs in one basket.
Likewise, you shouldn't focus all of your energy on a single social network.
Facebook as a stand-alone marketing tool might be somewhat effective, but combined with an integrated social media marketing strategy -- your results will skyrocket.
You will reach a broader audience by spending time on other social media networks -- especially Pinterest, Tumblr, Quora and other more niche sites!
When you leverage these social networks through a cross-promotional strategy, you instantly expand your content's reach.
And who doesn't want that?!
Conclusion
Facebook is still the best tool for social media marketing!
And despite the negative chatter, it ain't going anywhere.
So don't stick your head in the sand and continue making mistake after mistake.
Today is the day to stop wishing for results and start putting a plan in place to create more DO's in your Facebook marketing and removing forever those pesky DONT's!
If you're with me, leave a comment below and let me know some of your ideas.
I'd love to know - which of these Facebook DON'Ts have you made and which of the DO's will you incorporate into your Facebook strategy going forward.
____________________
RECOMMENDED ARTICLES: