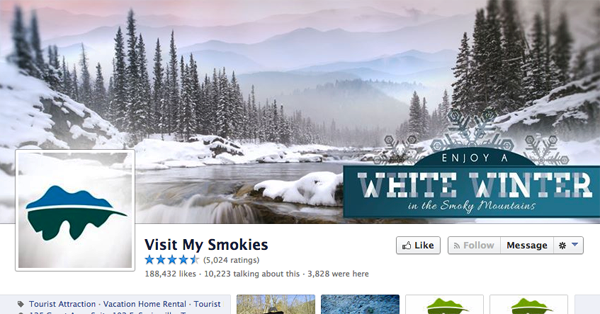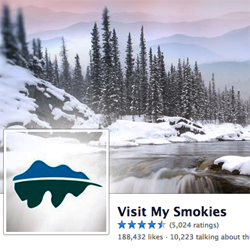 Post Planner fans are amazing!
I'm blown away by the high-quality Facebook pages run by our users -- and the wide array of niches those pages cover.
While looking for fan pages to review, I recently asked Post Planner fans to suggest Facebook pages for me to evaluate.
I loved looking through that list!
Of course, some pages stood out above the rest. And one of those pages was Visit My Smokies.
In this post, I'll dig into this fan page to show you 12 Facebook tips and tricks for anyone trying to run a successful Facebook business page.
12 Facebook Tips and Tricks for Running a Successful Fan Page
First I'll identify 6 things Visit My Smokies is doing right & then I'll offer 6 ways the company could improve the page.
Here we go!
6 Things this Fan Page does right!
1. Amazing Cover Photo
Right off the bat I want to point out their great cover photo:

The imagery is amazing and really draws me in -- I picture myself standing near this river enjoying the view.
Along with the image, the subtle banner saying "Enjoy a White Winter in the Smoky Mountains" is fantastic.
Here are some resources with tips for creating awesome cover photos like this one:
2. Creatively Embedded Profile Picture
Many business owners on Facebook can't pull this off -- and while it's not necessary, incorporating a profile pic into the cover photo well is something I love seeing.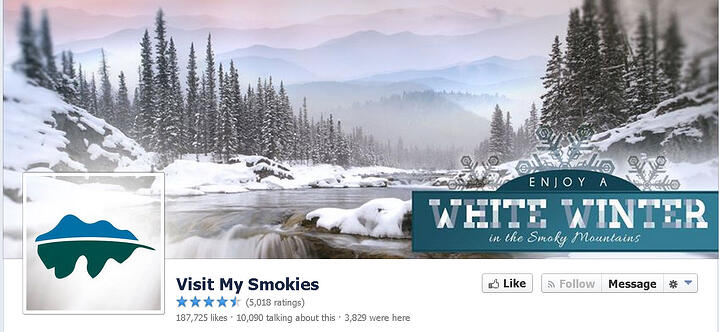 The creator of these images did a fantastic job aligning them -- something most people mess up!
I know I would, seeing as I'm horrible at designing social media graphics.
The combination is subtle & soft-spoken -- but it works.
Very impressive, guys!
3. Creative & Unique Profile Image
At first glance the profile picture looks like a leaf: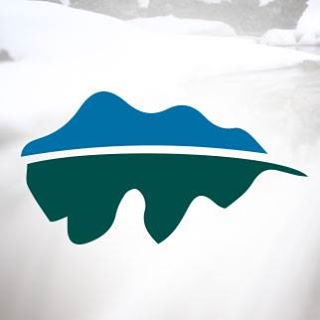 That made sense since the page (and business) is about the outdoors, trees & mountains.
But look again. I'm mean, really look at it.
The logo is also a mountain range -- blue Smoky Mountains reflected in green!
Mind BLOWN!... I love this!
Not only is the image creative -- it's memorable & provides strong branding.
I've explained before the importance of your Facebook profile pic -- making it clear that the profile pic is the image your company will be known for around Facebook.
This is the image people see alongside every one of your posts in the news feed.
And the profile image for Visit My Smokies instantly tells me where their posts are coming from.
4. Great Use of Facebook Page Apps

Not only do they have great apps on the page -- they get a gold star for not leaving the annoying Like count box visible above the fold!
Instead, I find the fan count by clicking the arrow with the 7 -- that's the number of apps not visible in the app thumbnails at the top of the page.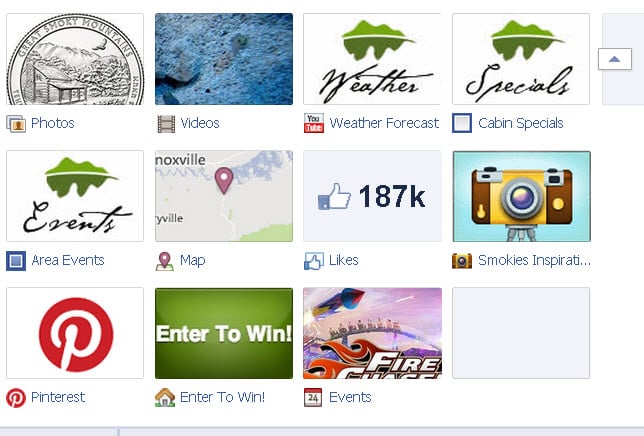 I like the Weather Forecast tab. Clicking it takes me to the page seen below: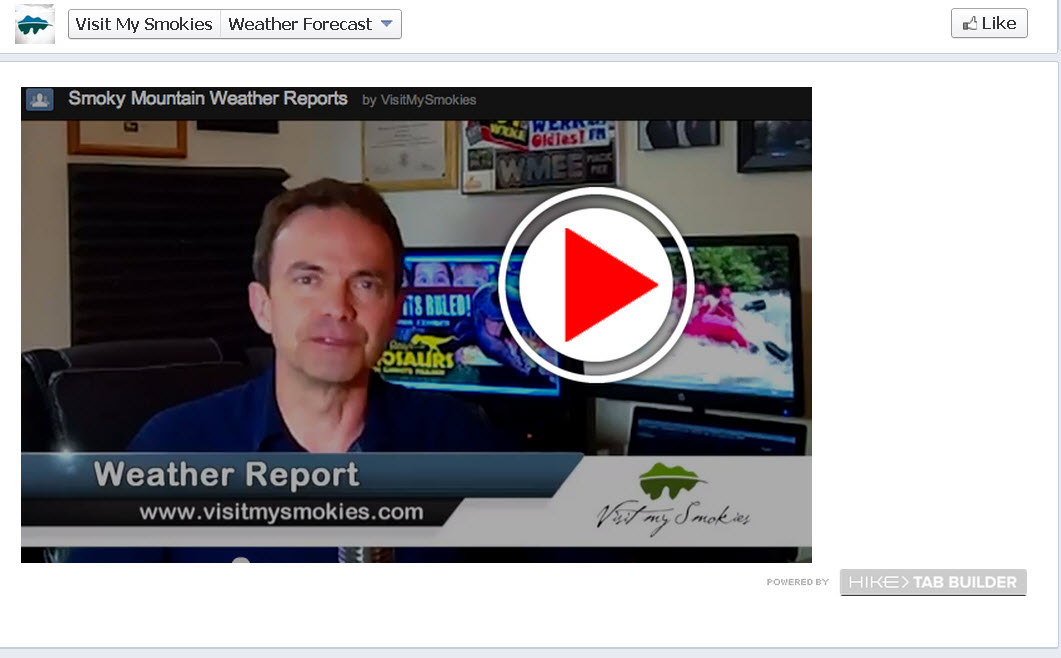 What is a bit sneaky -- and I love it -- is that this looks like a video.
But what happens when I click the play button?
I'm taken to their website where a YouTube video provides the latest weather information from a local weather forecaster.
Taking me away from Facebook to an interesting landing page is a fantastic way to drive traffic to their website.
Awesome!
Once you're on their site you can sign up for their newsletter, view local events, etc.
If the app had kept me on their Facebook page -- I'd have just watched the video & moved on.
The way it's set up now, visitors are spending time on their website watching the forecast & hopefully navigating to other pages.
I'll get into ways Visit My Smokies could improve the tab apps later in this post.
5. Posts Have Strong Calls-to-Action
When it comes to convincing followers to Like, share & comment on posts -- successful Facebook pages use clear calls-to-action.
>> Click to Tweet <<
Vague or boring posts do not get fans to take action.
Posts with strong calls-to-action get more Likes & comments.
The post below recognized Dolly Parton's birthday -- a singer who is an entertainment icon in the region:
Asking fans to "Click LIKE" to wish Dolly a happy birthday got Visit My Smokies about 7,000 Likes -- nearly 4% of their fan base.
That number may SEEM small, but once you get more than 10,000 fans on a page -- those percentages tend to decrease dramatically.
I'm not sure how many people visited the link in the post, but the call-to-action was clear & concise -- and the post compelled me to click!
This update also has 600 comments & has been shared almost 400 times -- a HUGE win for the page.
6. Replying to Comments
I see these page managers responding to nearly every comment left by followers -- which is imperative if you want to build a robust, engaged community of fans.
The worst thing you can do is blast out posts & never reply.
>> Click to Tweet <<
The page is large & receives lots of comments -- but folks at Visit My Smokies make it a priority to reply.
Many pages this size might just post & not worry about interacting with fans. But these page managers understand what it means to build relationships with fans!
All page owners should reply this well to members of their community.
6 Ways to Improve this Fan Page
As with any Facebook page, not everything on Visit My Smokies is done perfectly.
All page managers make mistakes on Facebook. And I would make these changes if I were running the page:
1. Add Descriptions to All Cover Photos & Include Links
Every cover photo should have a description & website link in the caption.
>> Click to Tweet <<

Not doing this squanders an opportunity to say more about your page & drive traffic to your website.
Simply load the cover photo then click "Add Description".
Write something about the image & include your business website & phone number.
This cover photo has been shared about 50 times & has more than 900 Likes -- which means many of the Facebook friends of these 950 people could have seen this image in the news feed.
If the average person has 150 friends -- that's possibly more than 142,000 missed opportunities to say more about your business & website.
That's a lot of revenue left on the table because of a non-optimized cover photo.
2. Add Descriptions & Links to Profile Images
As with the cover photo -- you MUST add descriptions & website links to your profile images.
>> Click to Tweet <<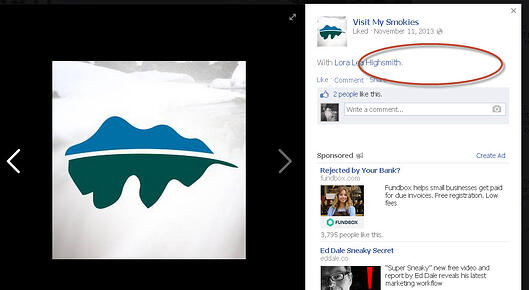 More missed traffic & sales.
3. Change the About Section
The About section is a critical part of your page. And your options change based on how you categorize your fan page with Facebook.
>> Click to Tweet <<
The folks at Visit My Smokies categorize themselves as a local business -- which lets an address appear in the About section:

This is a bad move in my opinion -- because it causes Visit My Smokies to miss the opportunity to drive traffic to the website.
They are providing a map with their address -- but it appears to be just an office in Tennessee.
Why do I need this map if I am visiting the Smokey Mountains? Visiting this office is likely not on my vacation itinerary!
The phone number is helpful, but the page still misses out on web traffic -- which should be one of the #1 goals for their Facebook marketing.
I would change the category from a local business to a "Company, Organization or Institution" or "Cause or Community" -- as shown in the category options when setting up a Facebook Page: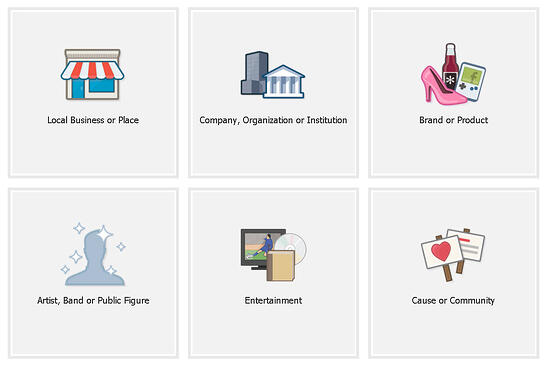 With the change, the page would show a short description in the About section along with a prominently displayed website URL -- as seen on this example from the Post Planner Facebook page: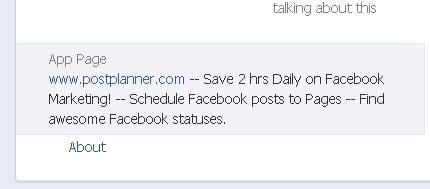 4. Use More Exciting Page Apps
While I love what they did with the Weather Forecast app -- I'm not crazy about other apps on the page.
Go to the Cabin Specials or Area Events apps & you're shown a page with an image like this: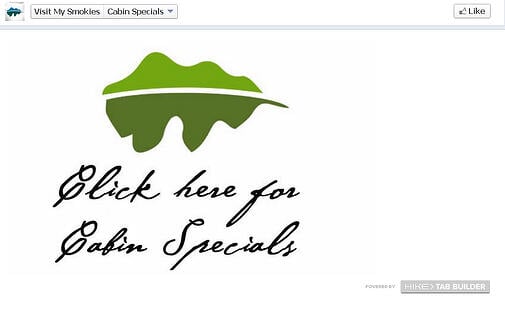 Click it & you're taken to their website.
I liked this tactic with the Weather Forecast app -- but the image here isn't as compelling.
I'm not motivated to click because I know I'm going to be taken away from Facebook to some website I may not want to visit.
Sometimes trying to be sneaky or cute can backfire!
I'd rather the specials be listed on Facebook & have them up to date -- or see a more enticing image that makes me click (like the fake video image on the Weather app).
These resources will help you choose the best apps for your Facebook page:
5. Get Rid of Dead Page Apps
This is a HUGE no-no!
And grounds for me to unlike a page.
Here's what I saw when I clicked the Smokies Inspiration Photo app thumbnail:

OOPS!!!
Perhaps there was content there at one time -- I don't know.
The Pinterest app is another bad example -- I don't think it's EVER been set up:

Never leave a dead app on your fan page. It's Facebook suicide!
Vibrant apps help Facebook pages succeed. But if you run a contest or promotion, remove the app from your page when the event is over.
>> Click to Tweet <<
Leaving a dead app on a fan page just looks unprofessional.
It's like inviting people to dinner & serving empty plates.
>> Click to Tweet <<
Get rid of dead apps by clicking the pencil icon on the upper right corner of the app thumbnail.
Then choose Remove or Uninstall: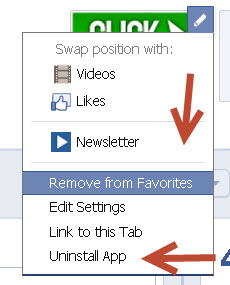 I personally pick "Remove from Favorites" so I can edit the app later & make it available again to fans for new promotions.
6. Make Page Apps Less Confusing
I'm kind of harping on page apps here -- but doing apps right is critical for any company trying to increase engagement on Facebook.
Click the "Enter to Win!" app & you're taken to a page that forces you to click Like before seeing the content -- a great strategy in my opinion: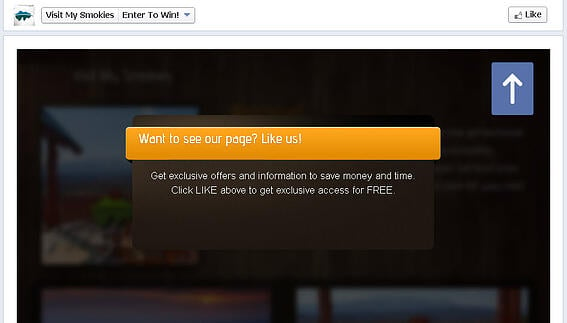 But I clicked Like & saw this: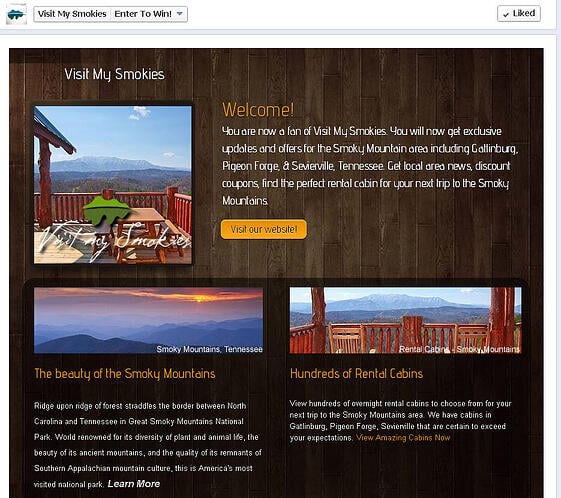 Great looking app, awesome content -- but did you notice that something is missing???
Where's the contest? Where do I enter to win?!
My guess is this app was done by a 3rd party app company.
Once the contest was over, Visit My Smokies changed the content but failed to update the name of the app & the app thumbnail.
Many will see this as misleading -- as you forcing them to Like the page to enter a contest that doesn't exist.
Changing the name & thumbnail to something like "Find Out More" would be less confusing -- and it's super easy to do
Just click the pencil icon on the app thumbnail & go to Edit Settings:

A lightbox opens that lets you change the tab image & name: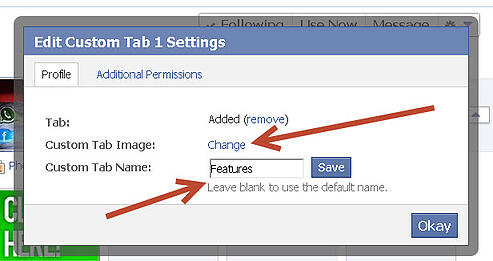 How does your Facebook page measure up?
Now that I've critiqued Visit My Smokies, head over to your own page & make sure you implement these 12 Facebook marketing tips.
Tell me in the comments below what you're doing right -- as well as the stuff you need to work on based on my advice.
Drop a link to your Facebook page in the comments & maybe yours will be the next page I pick it to review!